Theater
---
Christ School produces three productions every year, often a musical and two plays. Recent productions include And Then There Were None and Lord of the Flies.

Productions take place in Pingree Theater, which boasts a full proscenium stage, dressing rooms, lighting system, and excellent acoustics. This gives you room to explore set design, lighting, and sound techniques as well as acting. It also seats more than 250 people, which allows you to present your work to the entire Christ School community as well as the general public.
Putting on a play is a real-life skill that brings together academics, athleticism, and professionalism. Through Christ School's Theater Program, students are exposed to opportunities including technical work, set building, and lighting in addition to acting. Theater Programs improve scholasticism while also building confidence and leadership, teaching self-discipline, promoting communication, and increasing compassion - it is a vital element to a well-rounded education. 
Recent Productions
Winter Film | Winter 2018
Four stars. Two thumbs up. Even a 100 percent score on Rotten Tomatoes may not do justice to the program that longtime Theater Department director Mary Dillon thought would be a nice departure from a traditional play during the coldest months of the year.
The boys are having fun, not only making their own short film but delving into the finer points of acting and production. Everyone has a role, either on or off camera in "Poker Face," a seven-minute long movie that the Greenies began shooting just before Christmas Break.
"Poker Face" and other video selections were shown to the Christ School Community in mid-February.
Othello | Spring 2018
At the turn of the 20th century, in Cape Town, South Africa, the British Empire reinforces its Empire against the rebellious Dutch colonies, the Boer States.
Britain's most famous general, a native Zulu named Othello is called from his peace in London to once more aid the Empire. During his time among the British, he has wooed the daughter of a senator, the virtuous Desdemona. The disdain suffered in London is a prequel to the corruption Othello will face, even from within his own soldiers' ranks, when he arrives in Cape Town, when a slighted officer, Iago, embarks on a vendetta against the general. By planting the idea that Desdemona is cheating on the general, Iago creates a web of lies and mistrust among the others which threatens to destroy more than just their relationship, even their lives!
Too Much Light Makes the Baby Go Blind and Gem | Fall 2017
Written by the Neo-Futurists, a Chicago-based improv company, Too Much Light is a zany ensemble experiment that attempts to present "22 Plays in 44 Minutes." Each two-minute play was performed in random order chosen by an interactive audience. The onstage 44-minute timer kept everyone honest.
On November 2-3, 2017 a few weeks after their on-campus production of Too Much Light, Christ School Theater ventured to Gardner Webb University to participate in the North Carolina Theater Conference (NCTC) High School Play Festival. CS's entry into the competition was the original play, Gem, by Kobi Selby '19. The piece was an adaptation of Kobi's capstone project from an independent study, Social Justice in Performance, presented last May.
Too Much Light Makes the Baby Go Blind | Spring 2017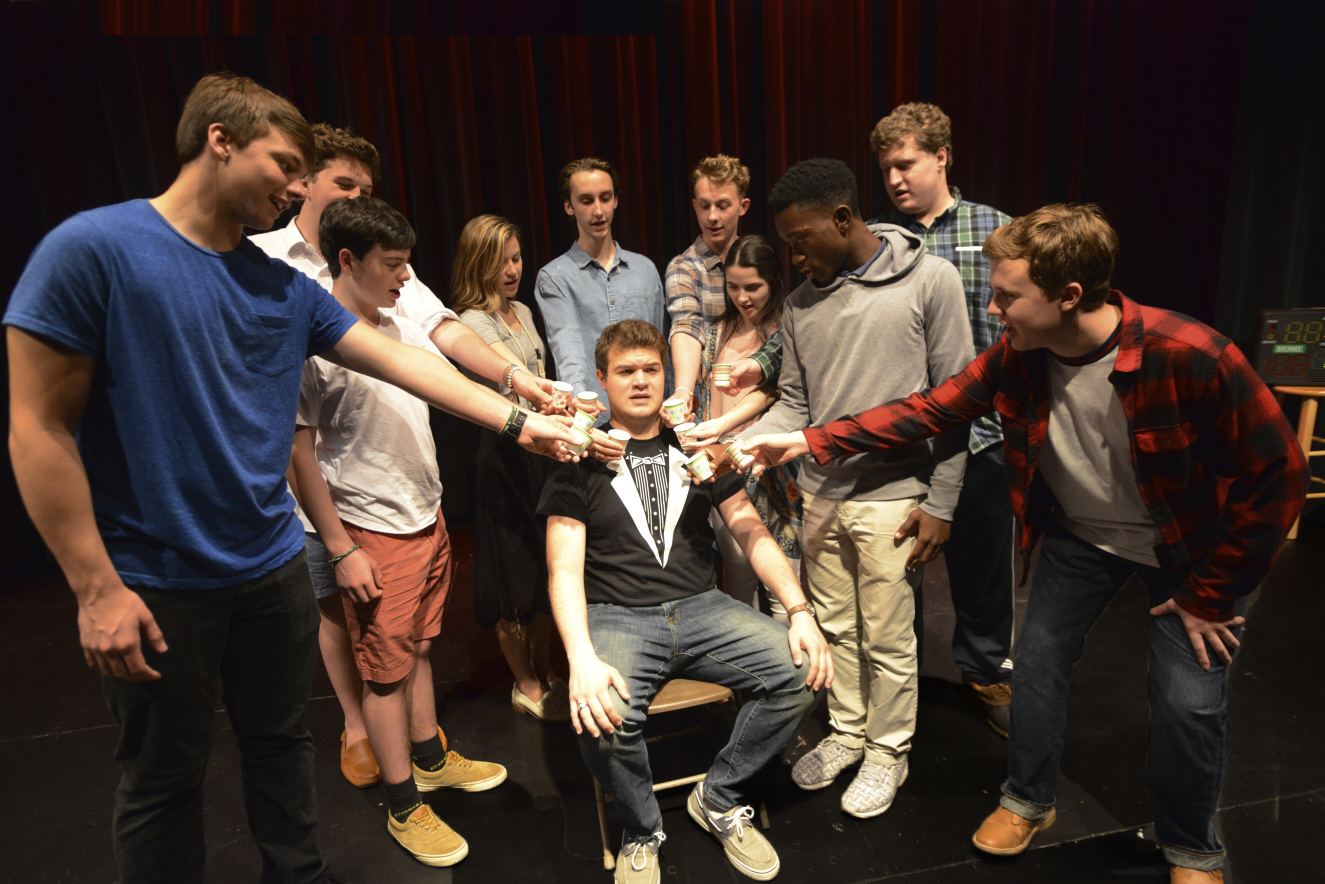 Christ School Theater's spring production was the experimental Too Much Light Makes the Baby Go Blind (30 Plays in 60 Minutes) by Greg Allen. The production ran from May 11-14, 2017 in Pingree Theater.
Written by the Neo-Futurists, a Chicago-based improv company, Too Much Light Makes the Baby Go Blind is a zany ensemble experiment that attempts to present "30 Plays in 60 Minutes." Each two-minute play is performed in random order chosen by an interactive audience. The onstage 60-minute timer keeps everyone honest. Can the Neo-Futurist Players get all 30 plays performed before the clock runs out?
And Then There Were None | Spring 2017

In Agatha Christie's classic And Then There Were None, ten strangers are invited to an island by an unknown host. Each has a sordid past. Then, one by one, they begin to die. Each is under suspicion.
Lord of the Flies | Spring 2016

Christ School Theater is proud to present Lord of the Flies by Nobel Prize winner William Golding, adapted for the stage by Nigel Williams.
William Golding's classic novel, a potent allegory about the loss of innocence and the decline of civilization, is brought to dramatic life in Nigel Williams's adaptation. A plane evacuating people from mass terrorist attacks on U.S. cities crashes on a deserted island. The only survivors are a group of schoolboys. By day, it's a tropical paradise of sun and sea; but each night, their dreams are inhabited by a terrifying beast. Myth and nature combine in a dynamic exploration of power, democracy, and the struggle between good and evil that exists within us all. Lord of the Flies brings up many issues central to the lives of today's adolescents – peer pressure, bullying, gang rivalry – in its depiction of reason versus chaos.
An Evening of One Acts | Fall 2016

After last year's success at the North Carolina Theater Conference One Act Play Festival, director Mary Dillon was looking for the perfect short play to show off the talents of Christ School's actors. The rules of NCTC are that everyone involved with the production must be enrolled in the school, which means it must be an all boy show. Because it's challenging to find quality all male scripts, Mrs. Dillon asked a local playwright to consider creating a new work for our boys to produce for competition.
Travis Lowe, an accomplished performer and writer, did just that in his piece called Green. The one act is set in a sci-fi dystopic world where its citizens are given a treatment that stops their bodies from aging at young adulthood. When the group of lads meet up after work at their regular watering hole, a pub next to a monkey house at the zoo, they are joined by a newcomer whom they welcome with jokes and stories. As the "boys" get to know each other, they discover that things are not what they seem. It's a powerful, dramatic work.
The Odd Couple | Winter 2016

Neil Simon's The Odd Couple follows the antics of two mismatched roommates: the neat, uptight Felix Ungar (Thomas Hoefer) and the slovenly, easygoing Oscar Madison (Will Janvier).