Music
The Christ School Music Program strives to nurture classrooms and ensembles by providing space and guidance to see the larger role of music in history and society. The music faculty helps students develop their own forms of musical creative expression and assists students identify ways that music can be part of their lives and enrich their understanding of other subjects, such as history, language, math, and science.
Performing artists have plenty of opportunities at Christ School to practice their creative passion, whether that be with the Christ School Choir, Instrumental Ensemble, or through private instrumental/voice lessons. Students have a variety of classes to choose from as well. They can learn about music theory or study music history and music appreciation.
Christ School requires that each student accrue one credit in Fine Arts, with 0.5 of that credit coming from Music. The rest (0.5 credits) may come from higher level music classes or Art classes.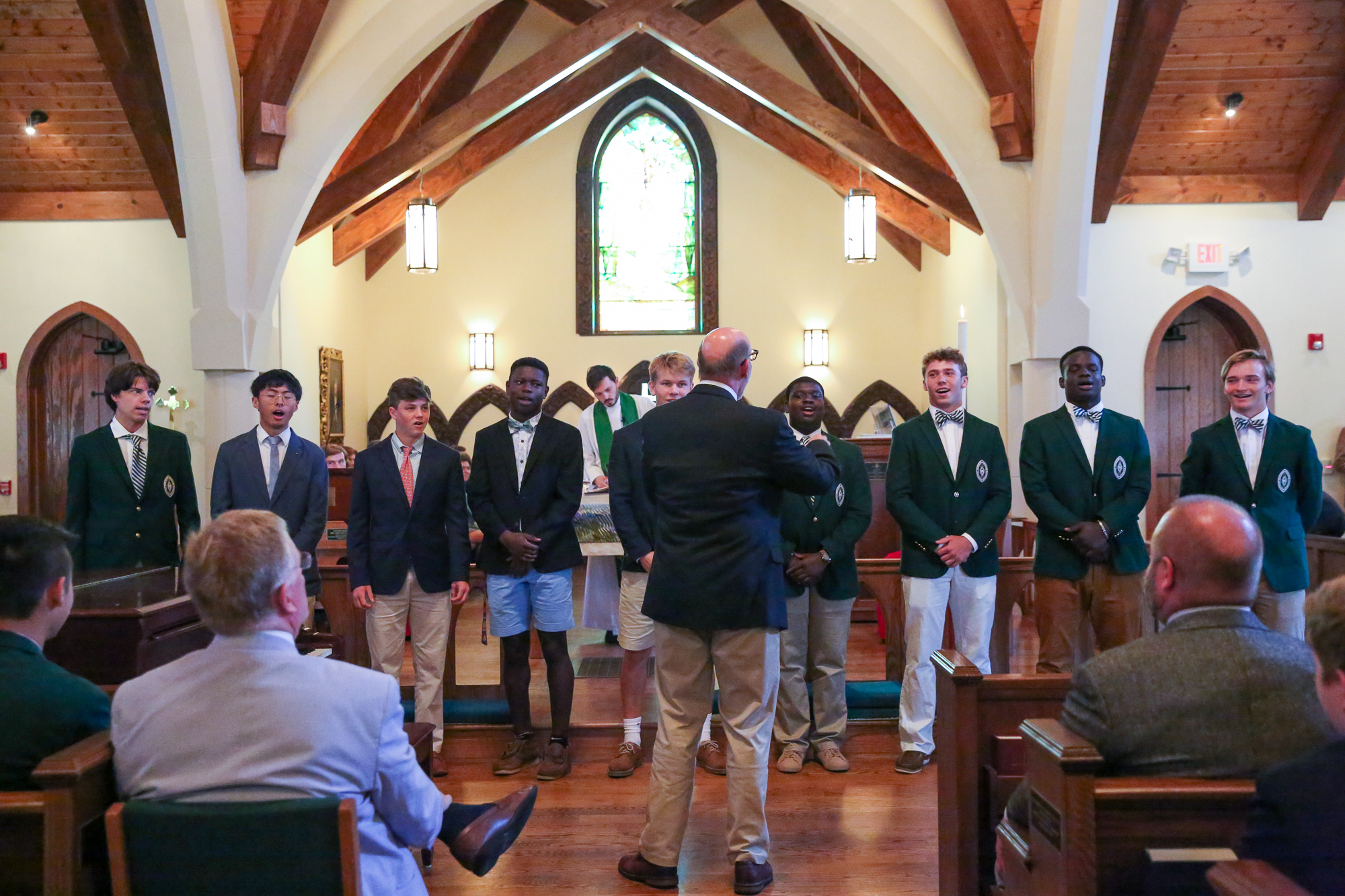 The Christ School Choir
The Choir is one of the oldest standing traditions at Christ School. It is open to all members of the student body as a creative outlet through singing. Performances of standard choral repertoire such as folk, ballads, and sacred music provide the group with a traditional focus, while exploration of other styles such as jazz and pop broaden and enrich the singing experience. Traditionally, one of the main purposes of the choir is to support the Chapel program, performing for Lessons and Carols, and at other special events on campus. An audition is not required.
Music Appreciation
Music is a part of everyday life and reflects the spirit of our human condition. This course is designed to help students develop their own understanding of music as a language and form of human expression. It will introduce students to the development of Western music from antiquity to the twentieth century. The course will help students learn how to critically listen to music and to develop skills needed to understand the significant contributions of composers throughout history. It will also introduce the various elements, forms, styles, and genres of music.
History of American Music
This course is intended to introduce students to the history of American popular music from the early Blues to Rock. Through lecture, discussion, listening, and research participation, students will experience first-hand, the diversity of American music from the past to the present. In addition, special attention will be given to the study of this region's rich folk and popular music styles.
Special Topics in Music
These course takes in specific themes, stylist periods, or genres in music. Special Topics in Music is designed to meet the needs and interests of students and is offered when circumstances make it appropriate. It is given a specific subtitle when listed in any semester's class schedule. Students may take this course more than once when a different subtitle is used.
Music Practicum
Private instruction in guitar, piano, organ, voice, strings, and other instruments are offered each semester. Weekly lessons help students by receiving constructive critiques of their past week's effort in the practice room. Each student is given the opportunity to perform in the Music Practicum Recital, in Chapel, or at Assembly.
Instrumental Ensemble
Instrumental Ensemble is designed for string and wind instrumentalists who wish to play in a group experience. The ensemble performs music from many genres including pep band, folk, jazz, pop, and classical styles.