THE PILLARS OF CHRIST SCHOOL LIFE
Who We Are
---
Nestled in the Blue Ridge Mountains in Asheville, North Carolina, Christ School is an Episcopal boarding school founded in 1900 with a full college preparatory curriculum for the more than 290 boys enrolled.
Hallmarks of the Christ School experience include small classes (10-12 boys per class), Advanced Placement and honors courses in all subjects, extensive extracurricular opportunities, and an outstanding faculty. The 500-acre campus and the surrounding Blue Ridge Mountains are home to Christ School's nationally recognized Outdoor Program. The athletic program features 19 teams in 11 sports. The Junior Varsity level puts emphasis on mastering the fundamentals, while the Varsity level focuses on providing a competitive level of play within our athletic conference. Graduates attend leading national universities.
Our mission is to produce educated men of good character, prepared for both scholastic achievement in college and productive citizenship in adult society. We achieve this mission through a four-fold process. First and most important, we challenge and encourage each student, in the nurturing environment of a close-knit campus, to develop academically to his maximum potential. Second, through competitive sports, student self-government, and a variety of extracurricular activities, we help each student to develop his physical fitness and leadership skills, and his respect for others regardless of their origins, cultures or beliefs. Third, by involvement in the care of our campus home, civic duty is learned, along with a sense of the dignity of honest labor. Finally, through religious instruction and regular participation in Chapel activities, each of our students learns the sustaining value of faith and spiritual growth throughout his life.
Academics
Christ School prepares you for the most competitive colleges in the nation. A blend of a positive learning environment, small class size, and individualized attention provides structure and encourages study as part of campus life.
Honors level and Advanced Placement courses add significant challenges and rigors to the curriculum. Gifted students are attracted to Christ School's high standards which enhance the positive academic environment. Classes are small but demanding and are built around critical thinking, thorough research, analysis, and skilled writing.
Distinctive fine arts, including impressive drama productions, choral and instrumental music, art, photography, and poetry, create opportunities to explore your abilities. Many discover incredible talents they never knew they had.
Leadership
You can do it. Athletics and after-school clubs comprise an important part of your day and your experience at Christ School. Where else will you get the chance to try your hand at drama, win a varsity letter in the process, and address the director as "Coach"? Whether it is a sport you simply enjoy or an activity about which you are passionate, at Christ School you will participate, learn, and grow.
Be a part of the team. Your growth depends on it. Sports help you develop emotionally as well as physically. The athletic program supports the philosophy of Christ School in providing you ways in which to understand your potential. Not only will you be able to pursue a broad range of traditional team and individual sports, you will also discover the value of being a team member for friendship as well as victory. Your performance promotes self-discipline, develops confidence, and creates a sense of belonging – which are elements you will discover.
Play forms an important part of your development. Christ School understands the innate need for boys to be rough and active, to run, throw, catch, and wrestle. There are plenty of opportunities to participate in a full range of spontaneous games alongside the more structured team sports.
One real distinction between Christ School and other schools is our faculty's enthusiasm and deep commitment to you. You will feel this on your first visit to the school. Hear the laughter between faculty and students. Feel the rapport. You will instantly sense their true interest and know that they are there for you. Here, they do not just choose a job, they choose a way of life – and their lives are dedicated to helping boys like you.
Your teachers live with you. Your relationships with faculty and staff at Christ School will be deeper because you live, work, eat, and play together. Your teachers and their families live on campus; many have apartments in the residence houses with you. They are a part of your community. They make your life a part of theirs.
Share your pride. You will want to work hard for people whom you know well, admire, and who encourage you. Your achievements will be more rewarding when you have earned the respect of those who care.
The Dignity of Work
A hallmark of Christ School is its emphasis on the development of your character and the evolution of your own values, as you give, serve, and lead others. What a rewarding feeling it is to be a part of a group that works to improve life in our campus community and beyond.
Community service, on-campus and off, has been an integral part of daily life at Christ School since its founding in 1900. Service means becoming a productive member of an active community. "Taking care of your space" begins in the residential houses, where you will work closely with student and faculty leaders, who will get you started. It then extends to the entire campus, where each boy helps for 20 minutes each morning with a specific duty. Duties rotate each season – from sweeping a walk or working in an office to even filling the ice cream machine in the Dining Hall.
Our student-run Community Service program further underscores selfless commitment to the greater Asheville community. Roll up your sleeves to help build a house for Habitat for Humanity. Join a group that tutors elementary students. Work with friends to clear trails in a wilderness park. You just might discover within yourself a gift to keep for a lifetime.
Spiritual Growth
Christ School is affiliated with the Episcopal Church, yet open to all faiths. You can see for yourself that religion is one of the main pillars upon which this school has been built. The Chapel is both the spiritual and physical center of campus. Finding your place within a tradition of faith will strengthen your confidence and ability to ask tough questions about God and man.
Discover yourself. Go ahead. Ask the tough questions. Look into your soul to realize that – along with fellow students – you are on a spiritual journey. Through traditional worship and informal groups, you will explore your ideas and hear those of others. The Chaplain is a guiding presence who encourages you to tap into the depth of your own spirituality.
Which style is for you? Does the Outdoor Chapel by the lake help you see God's hand in the beauty of creation? Does leadership in the Chapel, serving as acolyte or reader, bring a new meaning to "going to church?" For many, the favorite service occurs one evening every week when a group gathers with guitars and drums to make music and then discuss topics such as acceptance, friendship, fear, and faith.
Christ School is a place where you know it is okay to ask those questions about which you have always wondered, even if there are doubts. And you will know you are not alone.
Learn More ABout Our Community
Rich with Tradition
Christ School History
---
Christ School was founded in 1900 by Father Thomas Wetmore and his wife Susan Allen Wetmore as a mission of the Episcopal Church. Mrs. Wetmore's family gave them four acres of hilltop land just south of Asheville, North Carolina for the purpose of educating the rural mountain children of the area at a time when there were no public schools. In addition to academics, the mission school also taught students a trade, such as industrial arts, crafts like weaving, basketmaking, and cabinetmaking, and nursing for the girls. These trades helped support both the school and the families of the students. The Wetmores had a tremendous outreach into the poor rural community, providing nursing care and clothing. When Father Wetmore died in 1906, Mrs. Wetmore became Principal and continued her fundraising efforts on behalf of Christ School for another 40 years.
Christ School was co-ed until 1927 when public schooling became available and provided transportation for the children of the area. At this point, Christ School became a true college preparatory Episcopal boarding and day school for boys.
The school has grown to over 500 acres of academic and residential buildings, athletic fields, wooded trails, and green space. Christ School currently has over 290 boys in grades 8-12, and students come from all over the United States and across the globe, adding cultural depth to the rigorous academic education. The school is still affiliated with the Episcopal Church as an unfunded mission and accepts boys of all faiths. St. Joseph's Chapel at Christ School is the longest continuously operating Episcopal church in western North Carolina, and the tradition of a Chaplain conducting regular Chapel services has continued unbroken for over a century.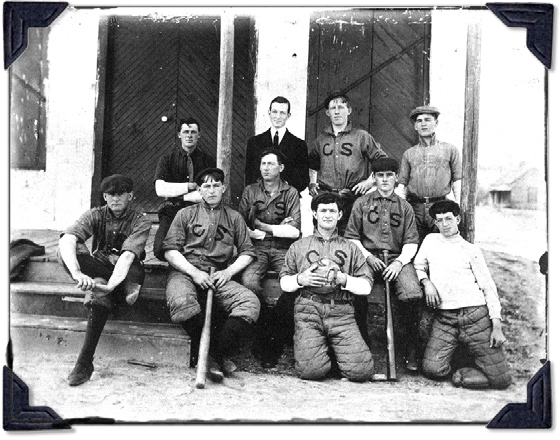 What is a Greenie?
From "Dishwashers" and "Warriors" to "Greenies"
In 1917, the Christ School baseball team defeated the Bingham Military Academy 2-1 to win the Western North Carolina baseball championship. As a reward, the team earned new uniforms and J. Mitchell Taylor '19, a player/manager ordered green ones to replace the mismatched hand-me-down uniforms the teams received from other schools.
The team first wore green in 1919 and since then Christ School's athletic teams have been known as "The Greenies." Prior to that, the teams had sometimes been called the "Warriors" but more frequently the "Dishwashers," alluding to the necessary work each boy had to do.