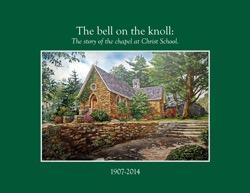 The Bell on the Knoll: The Story of the Chapel at Christ School - $15
---
The center and soul of the Christ School campus, St. Joseph Chapel, is known to all generations who have spent time as students, teachers, and administrators here. Everyone who sees the chapel is affected by it... but those who know her best, those whose lives have intertwined with hers, experience the chapel as the center and soul of Christ School.
The Bell on the Knoll: The Story of the chapel at Christ School, has been ten years in the making. This book is a pictorial history of this special place, accurately and carefully crafted by Mr. Dave's granddaughter, Dabney Johnson (Durward '41) and Christ School's Director of Communications for 19 years and current archivist, Linda Cluxton. 
Proceeds from book sales go to support the Christ School Archive Fund.