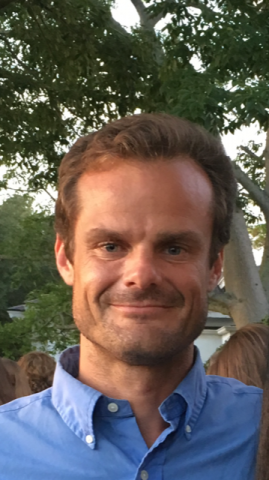 William Ballenger comes to Christ School with a wealth of experience as a teacher, AP exam reader, coach, and houseparent.  
He will be a part of the History Department, Head of House in Young House, coach basketball, and guide backpackers in the Outdoor Program.    
Mr. Ballenger launched his boarding school career at Blue Ridge School (Va.) in the late 1990s where he crossed paths with longtime Christ School faculty member Jamie Auch.  
He and his wife, Kristin, most recently lived five transformative years overseas in Jordan, where he chaired a department and shepherded aspiring, young teachers as Director of Teaching Fellows at King's Academy.  
Mr. Ballenger's favorite fictional character is Indiana Jones and he has lived out his own share of adventures, including thru-hikes of the Appalachian, Pacific Crest, and Camino de Santiago trails, as well as two complete coast-to-coast bicycle treks. He is a believer in the educational value of travel, bringing history alive for students by integrating his personal, globetrotting experiences at historic sites in over 50 countries across five continents. Mr. Ballenger has been recognized several times with teaching and leadership accolades.  
Mr. Ballenger is a boarding school alumnus (The Lawrenceville School in New Jersey) who graduated with honors in History from Alma College, later going on to get his master's degree in Social Studies Education from the University of Virginia. 
Mr. Ballenger and Kristin are both major animal lovers and thrilled to live in Young House.