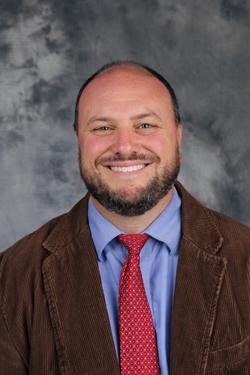 Mr. James Uhler
Instructor, History
Coordinator of Eighth Grade Program
Coordinator of Faculty Mentoring
James Uhler, a two-time Christ School Teacher of the Year (2004 and 2017), believes so much in the school's mission that he is willing to put his words into action.
In the past, Mr. Uhler has shown students firsthand the dignity of hard work through the summer crew.
Mr. Uhler provides education and encouragement to the youngest Greenies as our Eighth Grade Coordinator. He is also a History instructor and a house parent in Young House. 
Mr. Uhler, who has been at Christ School since 2002, won the P.H. Broyhill Teacher Award in 2013. He was twice selected to the Who's Who Among America's Teachers list in 1998 and 2005. Mr. Uhler has served as a Consultant and Reader for the College Board for the AP U.S. History Exam in the past, chaired the History Department, and been a Greenies baseball and swimming coach. He is the Chair of the Board of Education at Asheville Catholic School, where his children attend. 
Mr. Uhler earned a B.A. degree in History from Xavier University as a University Scholar in 1996. He went on to receive a M.A. in History from Ohio University five years later. Mr. Uhler and his wife, Becky, have two children, Stella and Colin.
Watch Mr. Uhler discuss 8th grade education at Christ School.