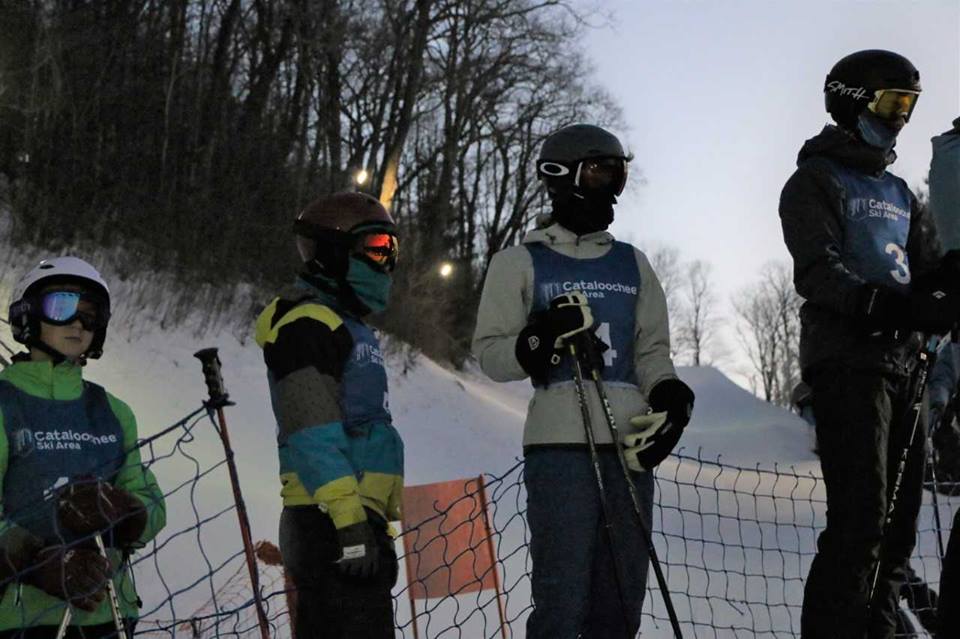 Head coach Michael Amato was rendered pleasantly speechless after the first competition of the season for the Christ School Ski and Snowboard team.
Fifteen Greenies joined about 150 other high school racers Wednesday at the at the Cataloochee Ski Area.
Jack McCloy '22 (seen here in the video) stood out with the best run of any skier on the mountain (14.83 seconds). Trent Cooper '20 (16.12) and Jack Slattery '20 (16.20) were the second and third-fastest, respectively, for Christ School. The team's top snowboarding time belonged to Justus Borchardt '21 (20.35), followed by Chapin Mohney '23 (21.58) and Max Masiello '20 (21.87).
Each racer was given two runs down Cataloochee, which is situated about 50 miles from campus in Maggie Valley, N.C.
The rest of the Greenies' roster was Weston McGrath '21, Johnny Wehner '21, Gil Cooper '22, Noah Graham '23, Reese Ballard '24, Kaleb Burks '24, Byron Park '24, Conner Rowe '22, and Caleb Fountain '21. Amato's assistant coaches are Duncan Barnes and Marcel Duhaime.
The Ski and Snowboard team will race weekly from now until late-February. The Cataloochee High School Racing Program includes other western North Carolina schools and there is a season-long team competition. The Greenie placed third in 2019, their best showing in Amato's six seasons as coach.