Please join Christ School in congratulating several faculty on their promotions effective for this school year.
Betsy Ellis P'24, who has led the Advancement Team with distinction and success, will serve as Christ School's first Assistant Head for External Affairs. Fundraising at Christ School has soared under Betsy's leadership. The last several years have been among the most successful in school history, an upward trend that continued this past year. In Betsy, Christ School has a leader with the highest personal qualities, robust experience, great vision, humility, and deep care for our community.
Betsy leads an Advancement Team that welcomes former Athletic Director, Eric Thorp '01, as Associate Director for External Affairs, Jeff Joyce as Associate Director of Advancement, and Sarah Benton, Assistant Director of Advancement who will work alongside Christ School beloved veterans Kathy Belk, Director of the Christ School Fund, and Dan Stevenson '72, Senior Endowment Gifts Officer.
Benjie Colberg will assume new responsibilities supporting Christ School's work ahead with strategic planning and special projects. As Special Assistant to the Head of School and Dean of Campus Life, Benjie will continue to oversee residential life. He will work with Head of School Dr. Sean Jenkins, the Strategic Planning Steering Committee, and on several other strategic initiatives in support of Christ School's future. Last winter and spring Benjie guided several task forces comprised of faculty and staff across disciplines and functional areas to improve faculty and student life and create a new duty model. We want to thank Benjie for his work and accomplishments as Christ School's Head Varsity Lacrosse Coach. Christ School's lacrosse teams had an overall record of 31-7 in Benjie's three years leading our program. He established a culture of uncommon excellence that is a lasting legacy.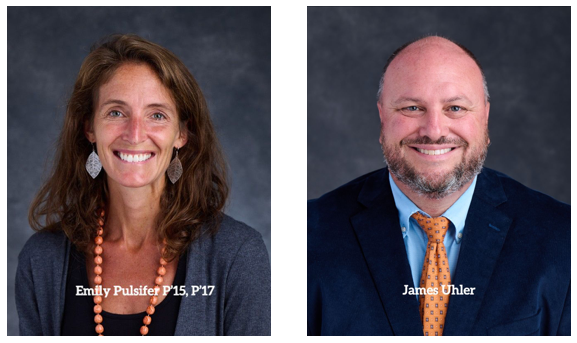 Emily Pulsifer P'15, P'17, will serve as Christ School's Dean of Academics and James Uhler will serve as the Associate Dean of Academics. Emily has been a member of the faculty since 2009, was formerly the chair of the English Department, and was named 2019-20 Teacher of the Year. James joined the faculty in 2002, has twice been named the Teacher of the Year (2004 and 2017), and has served in many roles, including serving as the 8th grade advisor.
Emily and James combine for 33 years of experience at Christ School. They will use their knowledge and history to ensure excellence in teaching and all aspects of academics at the school. They have worked tirelessly to identify and recruit new faculty and staff, create class offerings, and make improvements for this school year. Christ School is fortunate to have their passion, experience, creativity, and dedication.
Chris School is grateful for its dedicated faculty and staff who continue the school's 122-year legacy.