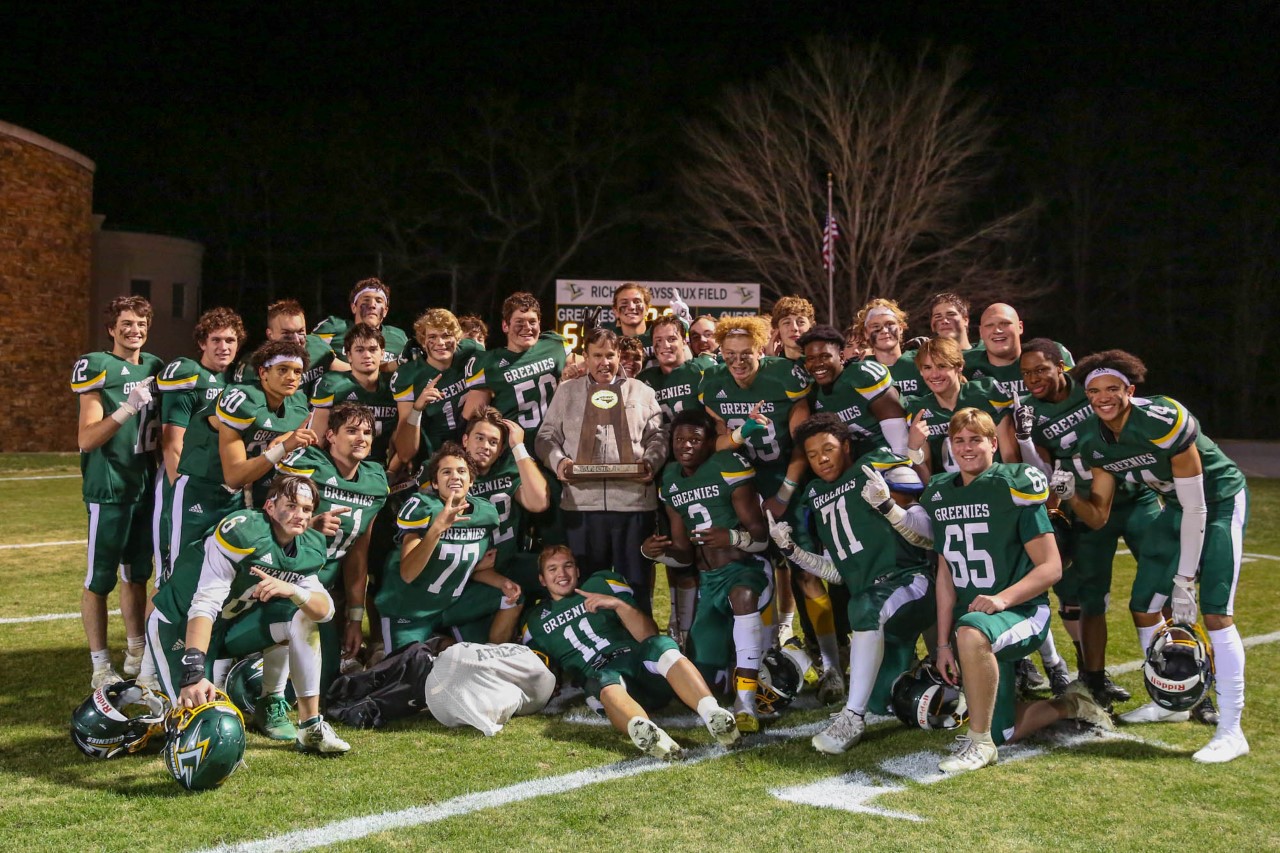 Christ School football defied the odds all season long, playing a contact sport week-to-week during one of the worst health crises America has seen in more than a century.
Friday was a just dessert for the Greenies.
Christ School has been in existence for 120 years and has played football since 1911. No team had ever hoisted a state-championship trophy until Friday's convincing 55-21 win over visiting Harrells Christian Academy in the NCISAA Division II finals.
Cade Mintz '21 scored the first of his three touchdowns at the 4:59 mark of the first quarter and the Greenies (6-2) never relinquished the lead on a chilly night at Fayssoux Field.
A.J. Simpkins '22 and Tray Mauney '23 combined to throw five touchdowns – two each to Cade (31 and 50 yards) and Zack Myers '24 (41 and 80 yards) – and one to Dartmouth recruit Painter Richards-Baker '21 (83 yards). Bryce Sain '22 kept the Harrells defense honest with rushing touchdowns of 8 and 18 yards, and Cade broke another for 58 yards.
The offense scored on its first four second-half possessions after Christ School had taken a 28-14 lead to halftime. As for the defense, the unit held its own against the previously-undefeated Crusaders (8-1) and their best weapon, 5-foot-11, 240-pound running back Devin Gardner. On special teams, Wilson Handy '21 recovered a fumble and Charlie Bednar '22 blocked a kick.
The Greenies could not have achieved what they did without their 16-man senior class. Not only did the team close out the 2020 season with six consecutive wins, but set a school record for margin of victory in "The Game," a 63-7 win over Asheville School on Oct. 31. Christ School only had one game cancelled due to the COVID-19 pandemic - an Oct. 9 home matchup with High Point Christian Academy - but was able to find a late replacement by trekking to South Carolina power Abbeville. 
Friday also happened to be the last day of in-person learning for the Greenies until January.