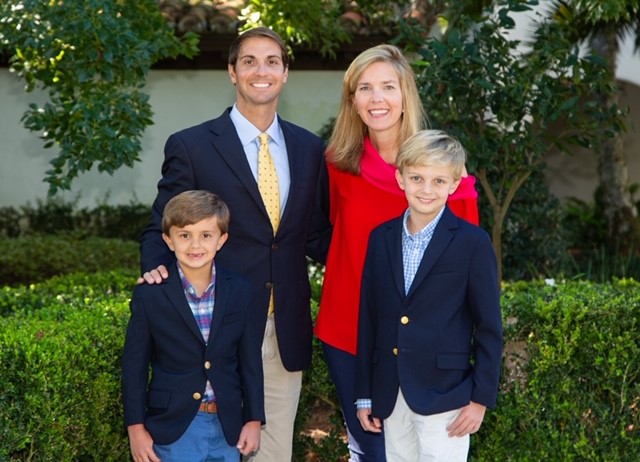 Christ School Board of Trustees Chairman Bert Scott P'08 announced to the school community Thursday morning that Dr. Sean Jenkins will be the school's next Headmaster, effective in the 2021-2022 school year. "This is an exciting day for the Christ School family," said Mr. Scott. "After an extensive, nine-month national search, the Board has made an outstanding selection for the 14th Headmaster in the school's history. The future of Christ School is in very good hands." 
Originally from Knoxville, TN, Dr. Jenkins received his B.A. in English from Wake Forest University and his M.Ed. from North Carolina State University. He completed his Ph.D. in higher education from the University of Virginia, where he served on the honor council and was inducted into the Raven Society.
Sean is a graduate of the McCallie School and a member of its Board of Trustees. His other civic associations include serving as senior warden at Christ Episcopal Church, serving on the Board of Trustees for the Virginia Episcopal School (VES), and the Charlottesville Free Clinic.
Dr. Jenkins joins the Christ School community from the University of Virginia, his home since 2004, after serving stints at Duke University and UNC-Chapel Hill.  Dr. Jenkins served UVA Presidents John T. Casteen, III, Teresa A. Sullivan, and James E. Ryan as a senior assistant where his responsibilities included admissions, accreditation, development, board-governance, education policy, global programming, strategic and academic planning, and operations. More recently he has served Provost M. Elizabeth Magill in enrollment management. 
At UVA, Dr. Jenkins taught and advised undergraduate and graduate students.  He was recognized for outstanding leadership and teaching by The Society of the Purple Shadows in 2015. His broad range of experience and expertise will benefit our community in his role as the 14th Headmaster of Christ School.
"I am thrilled to be joining Christ School," said Dr. Jenkins. "Its most precious resource is people, and this dynamic community is brimming with talented and diverse students and faculty from around the globe.  With parents and alumni who prize excellence, we share those common values, and I look forward to instilling and promoting them to every young man who comes to our campus and whose family entrusts us with their son's growth and education."
Dr. Jenkins and his family – wife, Lawson, a Spartanburg, SC native, and a fellow Wake Forest and UVA graduate, and sons Coleman, 9, and Jack, 6 – are thrilled to join Christ School's community.
Dr. Jenkins will succeed Paul Krieger, who is stepping down as Headmaster after 21 years at Christ School. "Dr. Jenkins is student focused, which is firmly in the Christ School tradition," said Mr. Krieger. "His experience and genuineness are readily evident. He is a natural 'fit' which will assist him in his important work to continue to move Christ School forward and meet the new challenges of growing boys into men."
Please join us in welcoming Dr. Jenkins and his family to the Christ School community.