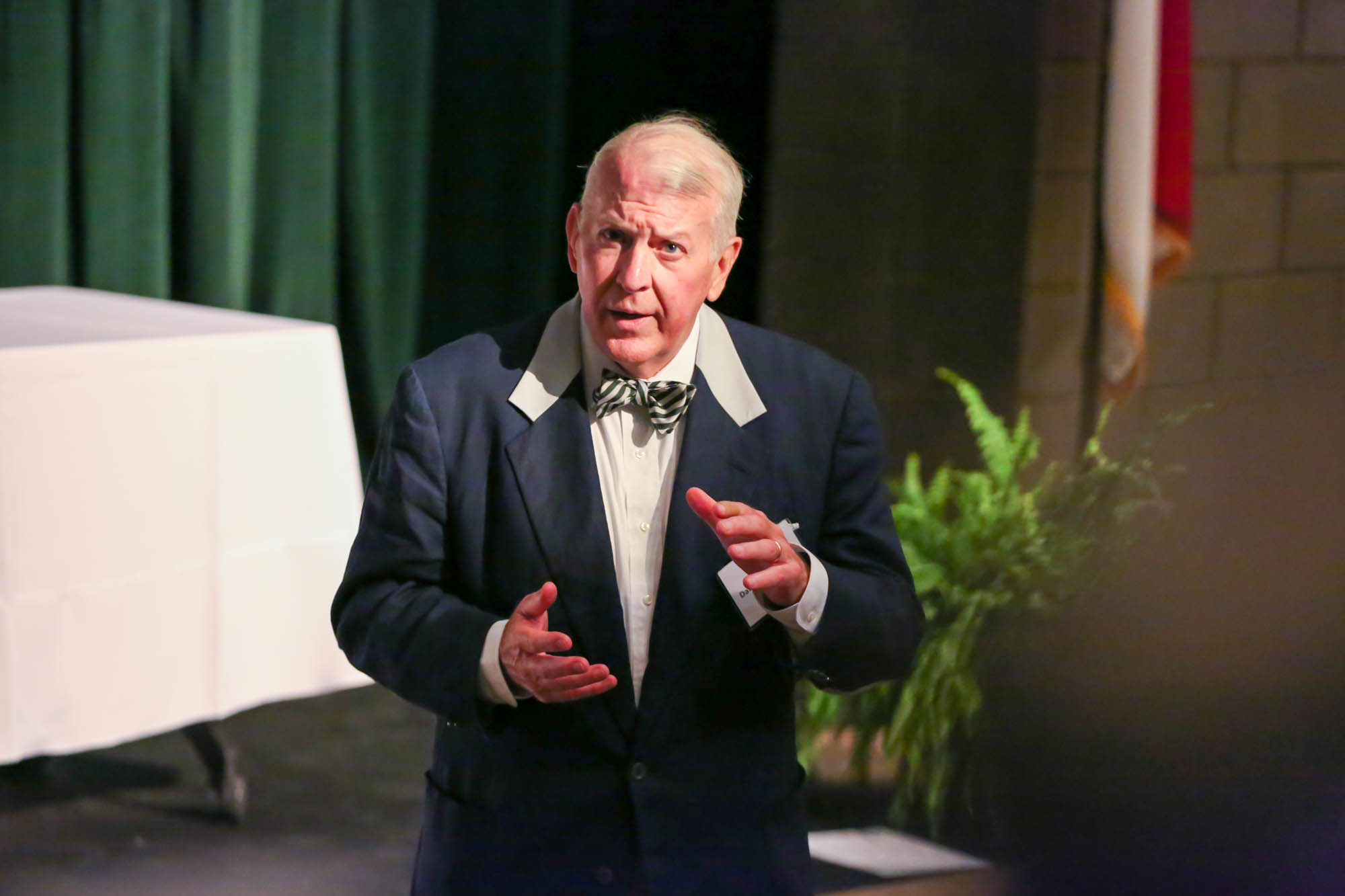 There is no physical manifestation of a Greenie, a school mascot if you will.
But if there were, you would have to imagine he would look a lot like Dan Stevenson '72, P'15.
Christ School doesn't have a bigger fan or a better ambassador. Dan's commitment to all things green made him an obvious choice to receive the Distinguished Alumnus Award, part of Saturday's Alumni Awards and Hall of Fame Inductions program in Pingree Auditorium.
"Two great things have happened in my life: Jill (Dan's wife) and Christ School," Dan said in his speech.
"As I tell people often, you don't always get to play on a winning team. Here at Christ School, we get to play on a winning team."
The Distinguished Alumni Award is the highest honor given out on Alumni Weekend. Past winners are a who's who of Greenies who have excelled in their professional lives as well as made positive contributions to the school and society in general.  
Dan began his career in business and finance, which included working as a stockbroker for 20 years. He returned to his alma mater in 2011 to become Christ School's Director of Alumni Relations and is currently serving as Senior Endowment Gifts Officer.  
This year's Alumni Weekend was especially meaningful for Dan and the Class of 1972 as it is their 50-year reunion.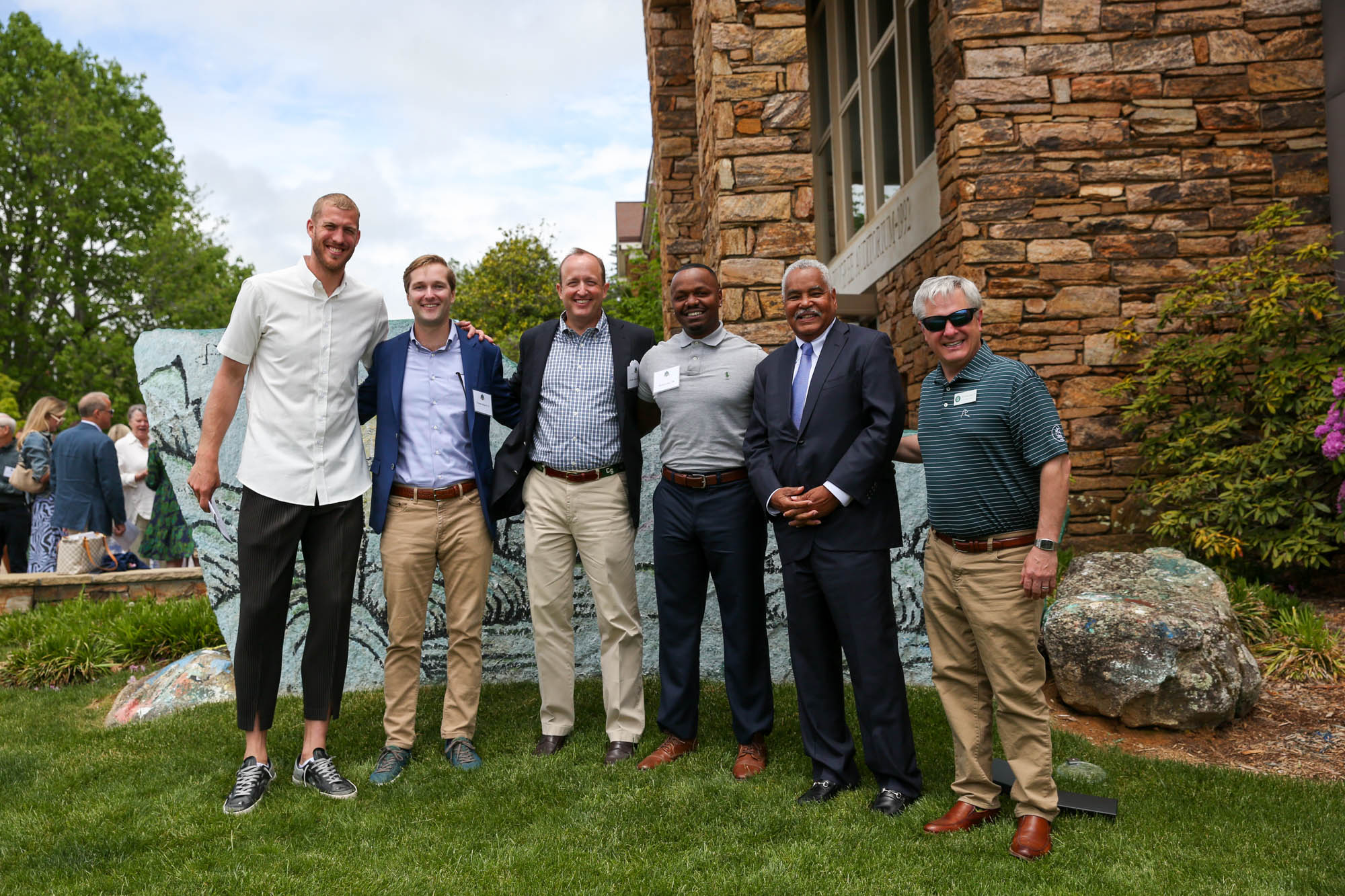 Saturday's other award winners were Thomas Beard III '12 (Robert Moore III '90 Young Alumnus Award), Bertram Scott P'08 (Head of School Award), Richard Haake '87 (Bill Sewell '57 Service and Loyalty Award), Charles Allen '86 (Robert Boylan '66 Class Agent Award), and Christopher Seitz '72 (Alumni Achievement Award).   
Two members of the Class of 2009 – Ali Knowles '09 (baseball, football, and basketball) and Mason Plumlee '09 (basketball and track) were inducted into the Athletic Hall of Fame.
Mason has been active in the NBA since 2013 and was a post player for the Charlotte Hornets this past season. Ali is a detective in the Criminal Division of the Birmingham (Ala.) Sheriff's Department and thanked Christ School for the direction it gave him.
"I was a 15-year-old in the Bahamas and needed a change," Ali said in his speech.
"I was reluctant to come to an all-boys school, but I was welcomed with open arms and made some great relationships. The four pillars of Christ School (academic rigor, leadership, spirituality, and the dignity of manual labor) have helped me through so much adversity in my life."
In his opening remarks, Head of School Dr. Sean Jenkins told everyone that Christ School has proudly not strayed from the beliefs, values, and principles that it was founded on by Thomas and Susan Wetmore in 1900.
Colin Brazas '22, Jack Shimer '23, Kennedy Achugamonu '23, Hardy Johnson '24, and Wiley Kessler '25 made up a student panel that talked about their time at Christ School and answered questions.
"I've made some of the best friends of my life," Jack said. "I never had that connection before, that brotherhood."
Saturday's Alumni Weekend events also included the Pig Roast, a 20-year celebration of Christ School lacrosse, a gathering at 12 Bones Smokehouse, and Reunion Class Dinner at Biltmore Forest Country Club.
More photos from Alumni Weekend can be found at this link.