2023 Alumni Weekend
September 29 - October 1, 2023 | Registration & Schedule Below
---
Alumni Weekend and The Game are coming together for a weekend that you will not want to miss. Mark your calendar, and make plans to come home September 29-October 1.
Please RSVP by September 15th using the form at the bottom of this page.  We have a list of hotels with discounted Christ School rates here. If you need assistance, reach out to the Advancement Office at advancement@christschool.org or 828-684-6232 ext. 103.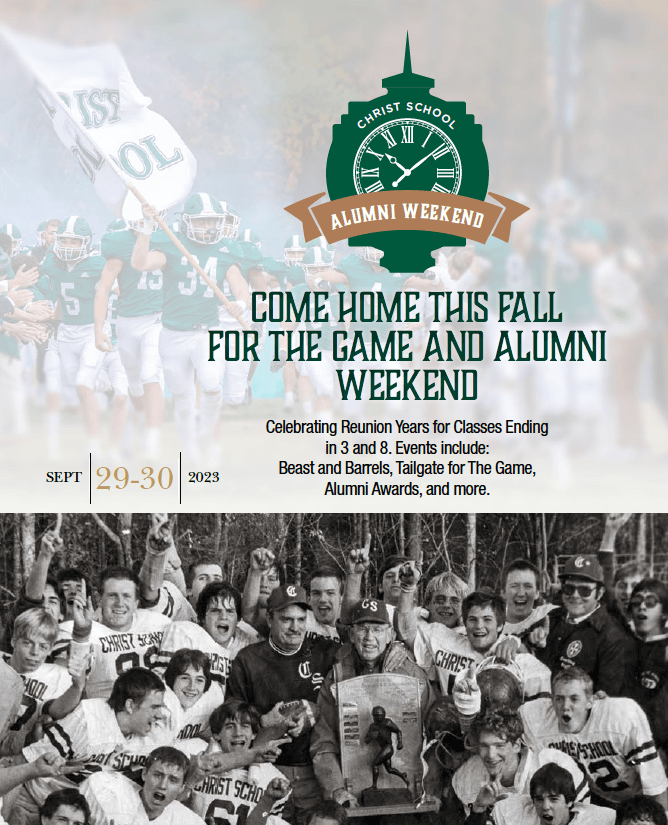 Friday, September 29th 
10:30 AM | Attend Friday's assembly with students and faculty

Join faculty, staff, and students for Friday's assembly featuring a senior speaker.

12:00-1:15 PM | Lunch in Stolz Hall

12:30-1:30 PM | Scholarship Meet and Greet in the Bradshaw Room (by invitation only)

2:00-3:15 PM | Student-led campus tours

See campus from a current student's perspective! This is an opportunity to learn about the improvements that have been made since your time and Christ School and spend time with a current Greenie.

4:00-6:00 PM | Open Fall Sport Practices

Fall sport practices open to those interested in watching

5:00-6:00 PM | Drop-In Welcome Reception at Boxwood with Sean and Lawson Jenkins

This event will take place at the Head of School's home to welcome Alumni home and give you the opportunity to chat with Head of School, Dr. Sean Jenkins and his wife, Lawson.

6:00-9:00 pm | Alumni Weekend Kickoff featuring Beast & Barrel

Featuring dinner, libations, and live music, this event will take place in the newly renovated Patrick Beaver Student Center. Beast and Barrel is an event hosted by the Alumni Council that has a range of exotic meats and libations to celebrate Greenies being back together.
Saturday, September 30th
10:00 aM | "Christ school currently" Program in Pingree Auditorium

What's going on currently with your alma mater? Join fellow Greenies for an update on the school and where it's headed. 

10:30 am -12:15 pm  | Tailgate Picnic on the football field

A brunch style tailgate will be held on the football field before heading to Asheville School for The Game.

1:00 pm | The Game at Asheville School

Kick off is at 1:00, be sure to come support our Greenies as they compete to win the Fayssoux-Arbogast Trophy for the 12th consecutive year!

5:00-8:00 pm | Gathering at Village Pub in Biltmore Village

Let Christ School buy you a beer and celebrate the end to another meeting of The Game! This is a great place to hangout with your classmates or gather to make plans for the remainder of the evening.
Sunday, October 1st
10:00 am | Memorial Service in St. Joseph's chapel

A time to reflect and remember the Greenies that are no longer with us

11:00 am | Brunch in Stolz Hall

Enjoy lunch or brunch to close out Alumni Weekend after the memorial service