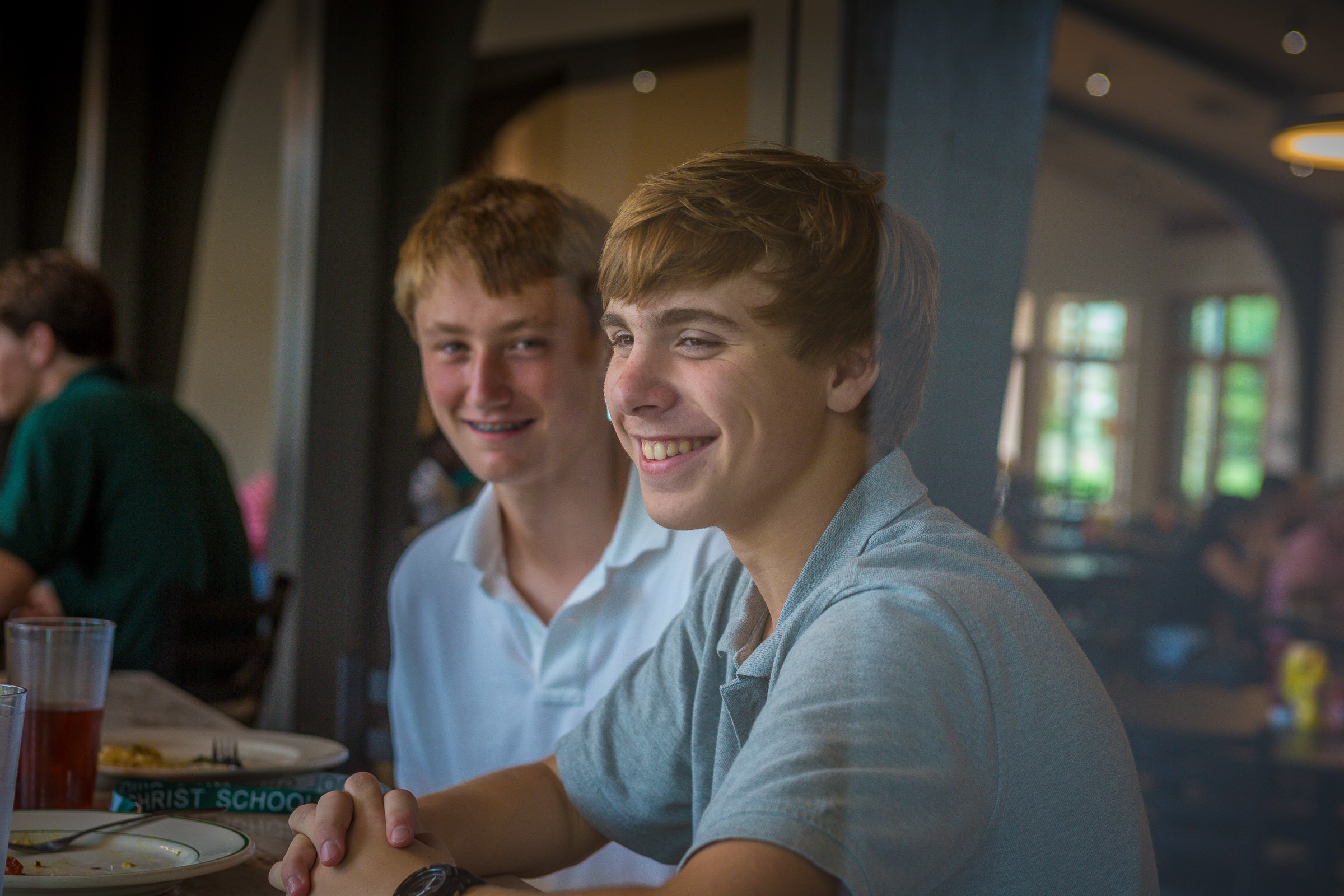 SAGE Brings Change to Dining Experience
Company promises chef-driven, restaurant-style food for Greenies
Scattered around Stolz Hall are signs that read "Fresh," "House Made," "Local," and "Scratch Cooking." These are not merely buzzwords for Timothy Green, a District Manager for SAGE Dining Services.

SAGE took over food service for Christ School on May 25. And moving forward, Green said that Greenie diners can expect a chef-driven, restaurant-style approach to everything they consume.
"There is a stigma to dining hall food," Green said. "Where we differ is we use as much fresh and local ingredients as possible, and as little processed food as possible. We batch cook, which means our idea is to cook things to order, and only as much as we need. I don't want people to panic if we are out of something for 30 seconds or a minute. Our idea is we will cook so the food you are getting is fresh instead of pulling out something in the back that we've been keeping warm."
Early reviews from Christ School students have been positive.
"It's fantastic," said Will Clarke '18. "The food and beverages are nice, and the service is great. The thing I'm most impressed by is the creativity that goes into it."
Read Sunn '19 echoed those sentiments. He is a first-year Christ School student from Alaska.
"SAGE changes things up every day," Read said. "It's been great."
Pamphlets available in the lobby of Stolz further explain the culinary standards put forth by SAGE:
Using fresh fruit and vegetables
Offering fresh salads and house-made dressings
Offering a wide variety of whole grain breads, bagels, and rolls
Roasting deli meats in-house
Cooking with trans fat-free oils and MSG-free seasonings
Serving antibiotic and hormone-free milk
Sourcing antibiotic-free chicken
Using cage-free, Certified Humane eggs
Offering substantial vegetarian and vegan options
Other than special occasions, all meals served to the Christ School community in Stolz are buffet-style. The daily menu will not only be posted on TV screens above the food, but through "The Touch of SAGE" app that is free for download on mobile devices. Through the app, Christ School families may enter in their son's allergens, and the app will gray out unsafe food on the menu while highlighting safe choices.
App users will also notice that menu items are color-coded by dots. Green dots are reserved for the healthiest items, Yellow should be eaten in moderation, and Red is for food with higher amounts of cholesterol, fat, and sodium. Those color determinations have been made by a team of six nutritionists in the SAGE office, Green said. He also added that SAGE hopes to offer improved quality, but will not do away with kid-friendly food.
More information regarding SAGE Dining, which is based out of Lutherville, MD, is available through the company's website.