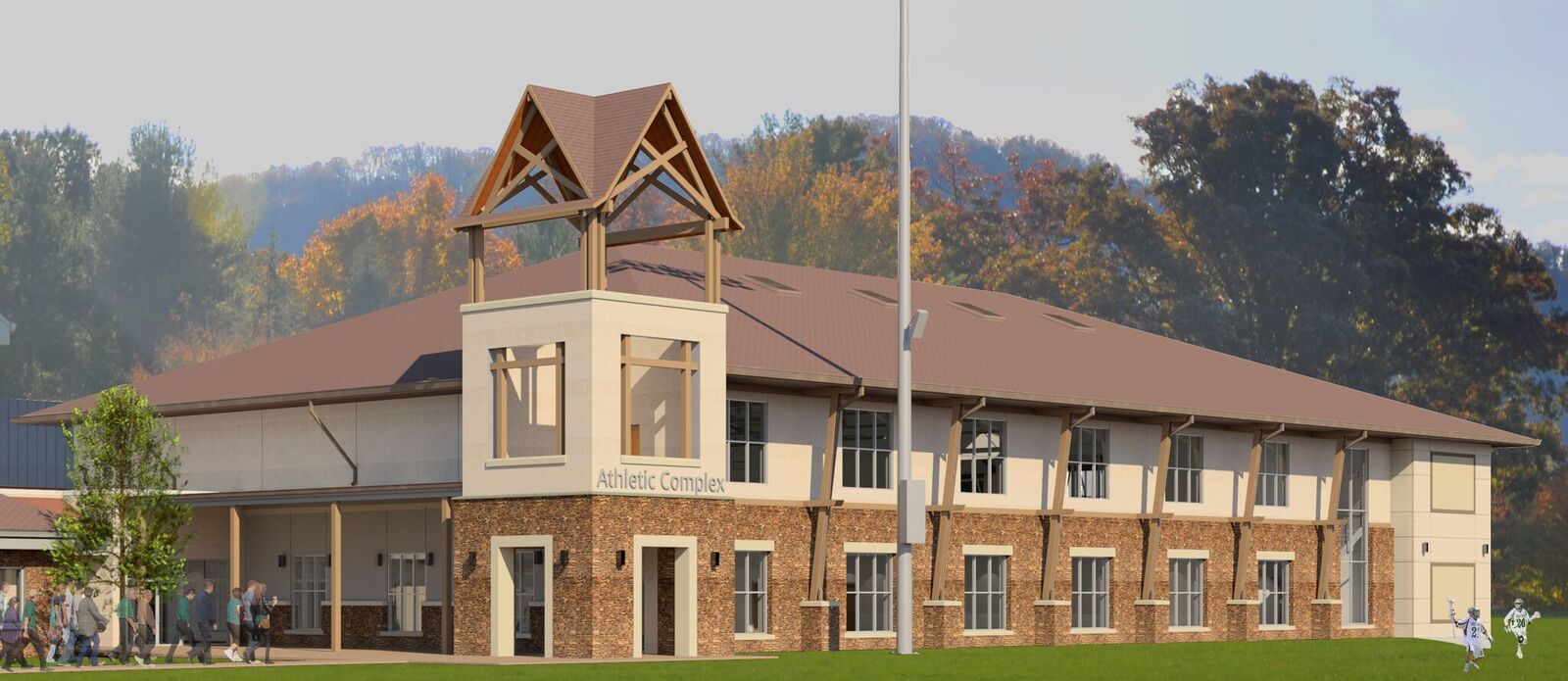 Render of New Athletic Center


New Athletic Center Taking Shape
Construction on Schedule for January Completion
Steel beams protruding out of the ground next to Mebane Fieldhouse and a crane swinging its long arm overhead can only mean one thing: a new Athletic Center for Christ School is closer to a reality.
Construction has been ongoing since the spring. But as of this week, some real signs of progress have been visible with the Athletic Center's steel frame beginning to take shape. Despite a rainy summer for the Asheville area, the newest addition to Christ School's infrastructure remains on schedule for completion in January. "It is truly a college-level facility that is going to meet the needs of our student body," Athletic Director Scott Willard said.
How so? The Athletic Center will contain a Hall of Fame that celebrates more than 100 years of Greenies sports, a state of the art, two-tiered weight room, and indoor artificial turf practice field. Not only will Christ School athletes be protected from inclement weather for workouts, there will be new locker rooms and office facilities for coaches and training staff.
Like the Hall of Fame, which will have a more archival feel than the past, the weight room is a major upgrade from existing facilities. "We're going to have college-level weight racks and enough room for 50 to 60 kids, or two teams at one time, in the weight room," Willard said. "There will be weights on one level and room for conditioning and free weights on the other level. And with the turf, our Football, Lacrosse and Soccer players have a temperature-controlled indoor space to practice, which is going to be great."
Willard said he toured at least 15 different colleges and high schools in the planning stages for the Athletic Center. Lots of ideas from many different sources were incorporated into the final design by Alan D. McGuinn of Asheville's ARCA Design. In all, the Athletic Center will measure nearly 24,000 square feet.
The Athletic Center is the first indoor addition to Christ School's athletic facilities since Mebane was built in 1989. "The Greenie Dome" will continue to be the game site for Christ School Basketball.