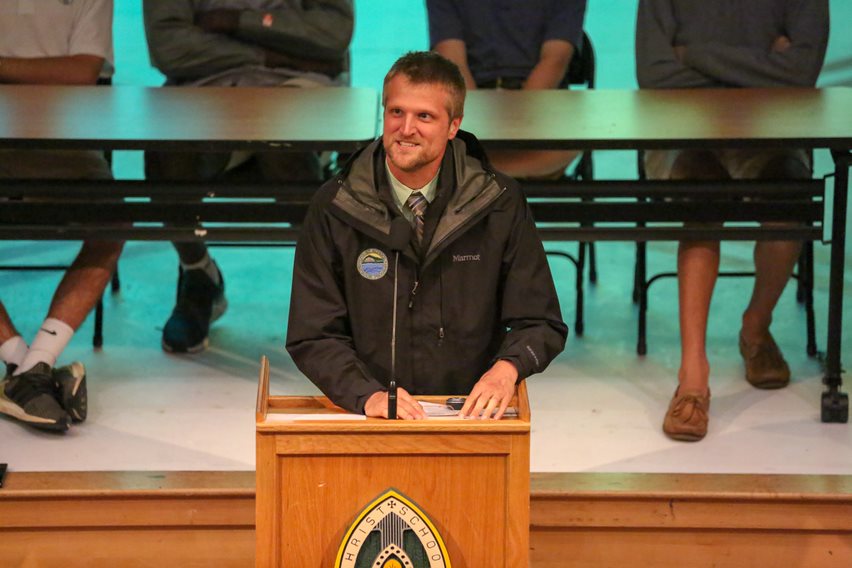 Dr. Brent Harris did not have an acceptance speech prepared Friday, but all was forgiven.
The second-year member of the Science Department was voted Teacher of the Year by Christ School students, an announcement made in the final Assembly for 2018-19.
"I didn't realize I was in the running for this," Dr. Harris said. "I've had the time of my life here at Christ School, and I've been to a lot of places. Thank you, I appreciate this."
Dr. Harris teaches AP and Honors Chemistry as well as works with the Greenie swim team and Outdoor Program. He did doctoral work in astrochemistry at the University of Virginia (where Dr. Harris received his Pd. D in 2014), and has recently been leading the effort to make astrophotography possible from Christ School's observatory. Surface photos of the moon and sun were captured through an observatory lens just this week, and Greenies should be able to study other celestial objects moving forward.
Commendations were also given Friday to the following faculty and staff who have given five or more years of service to the school – Mary Jane Morrison (30 years), Drew Hyche '94 (20 years), Coco Parham (15 years), Mike Mohney (15 years), Heather Bower (15 years), Kirk Blackard (15 years), Emily Pulsifer (10 years), Olga Mahoney (10 years), Paige Wheeler (five years), Ross Weathersbee '10 (five years), Dwight Phillips (five years), Nick Luhm (five years), Matt Chisholm (five years), and Michael Amato (five years).
Representatives from Asheville's Great Beginnings Pediatric and Orthodontic Specialists presented a special School Scholarship Award to Greenie senior T.J. Bell '19. T.J. will be attending UNC-Chapel Hill after he graduates Sunday at 10:15 a.m. along with the rest of Christ School's Class of 2019. For more information regarding Commencement Weekend, go here.