Eighth Graders Imagine Their Ideal Civilization
Greenies expand their horizons through semester-long project
Making it up as you go along is not always a bad thing.

Christ School's Eighth Grade Program has existed for 14 years. But this is the first in which the boys have taken everything they have learned in a matter of months and put it into an exhibit.
The exhibit was shown just before Christmas Break in Mebane Science Center.
Borrowing from each of their classes, the eighth graders imagined what an ideal civilization would look like. They came up with everything from a fictional name to a made-up landscape, language, motto, symbol, and value system.
"There were guidelines, but for the most part, we had the freedom to do what we wanted," Colin Brazas '22 said. "I liked seeing how all the subjects came together for the exhibition. Everything we did ties in, everything comes together in each of our civilizations."
"I enjoyed the language part the most. I made my own rules," Sheldon Clements '22 added.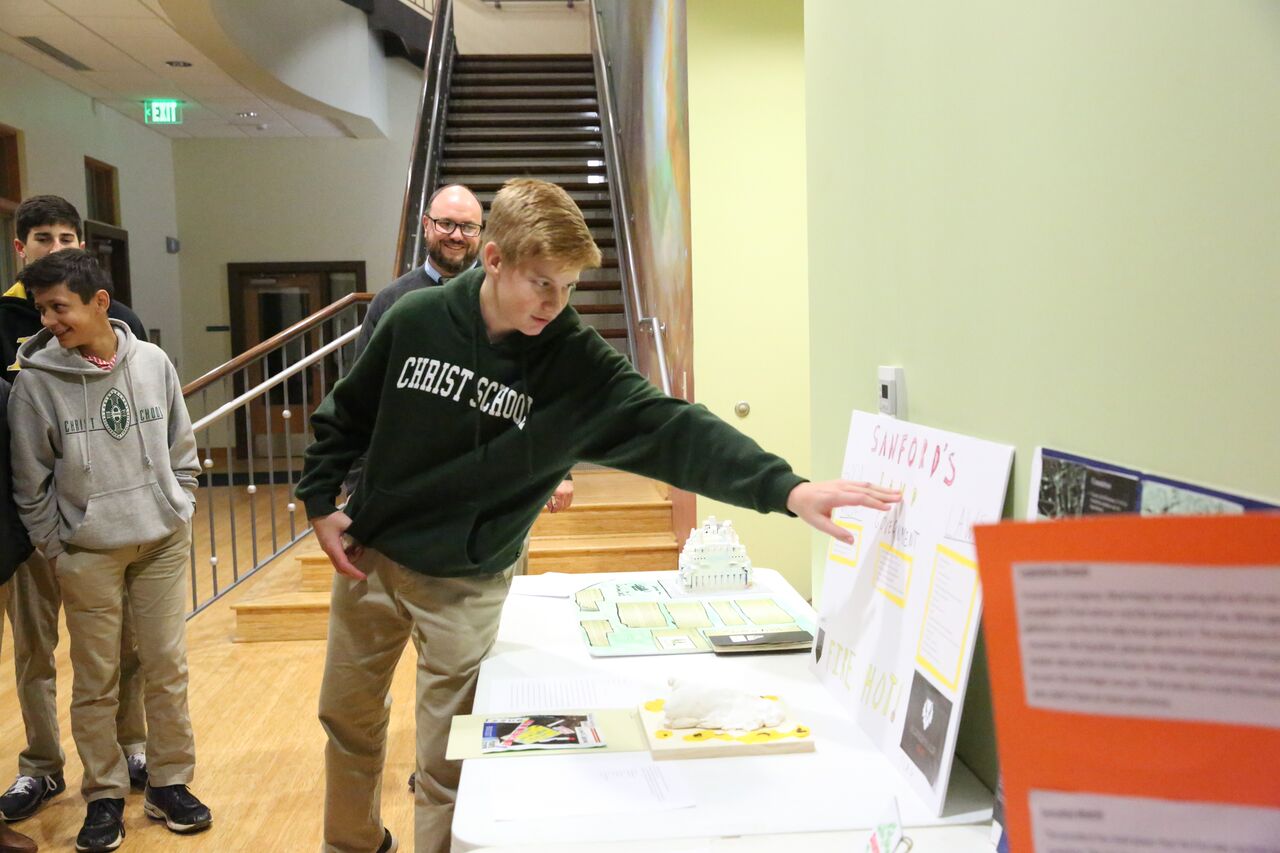 Names of the different civilizations are colorful and unique. Some examples are "Kodu," Genuspiscus," "Muerreway," and "Gurtenburg."
The exhibit is a tangible representation of the Eighth Grade Program's core principles.
"It's the first year we've done it and something that I've wanted all along," Eighth Grade Coordinator James Uhler said. "Our curriculum is built around introducing the values we want them to have as a Christ School students. It is built around helping them become gentlemen. This is a great way to learn more about citizenship, and the role of that citizenship."
Moving forward, Uhler said the boys will build on their work over the second semester.
Members of Christ School's eighth grade are Colin, Sheldon, Jack Cross '22, Robert Freeman '22, Luke Gardner '22, Sanford Gardner '22, Charles Howden '22, Frank Howden '22, Michael Jaber '22, Sam Jarrett '22, Jonathan Mennell '22, Hampton Sexton '22, Jack Sherrill '22, Ben Wiznitzer '22, Thomas Worth '22, and Tobenna Okoli '22.