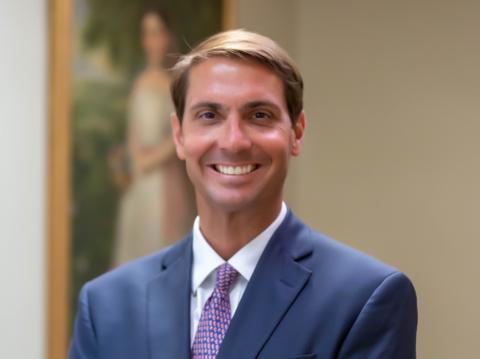 Dr. Sean Jenkins became the 14th Head of School at Christ School in July 2021.
Originally from Knoxville, Tenn., Dr. Jenkins received his B.A. in English from Wake Forest University and his M.Ed. from North Carolina State University. He completed his Ph.D. in higher education from the University of Virginia, where he served on the honor council and was inducted into the Raven Society.
Dr. Jenkins is a graduate of the McCallie School and former member of its Board of Trustees. His other civic associations have included serving as senior warden at Christ Episcopal Church, serving on the Board of Trustees for the Virginia Episcopal School (VES), and the Charlottesville Free Clinic.
Dr. Jenkins joined the Christ School community from the University of Virginia after serving stints at Duke University and UNC-Chapel Hill. Dr. Jenkins served UVA Presidents John T. Casteen, III, Teresa A. Sullivan, and James E. Ryan as a senior assistant where his responsibilities included admissions, accreditation, development, board-governance, education policy, global programming, strategic and academic planning, and operations.
At UVA, Dr. Jenkins taught and advised undergraduate and graduate students. He was recognized for outstanding leadership and teaching by The Society of the Purple Shadows in 2015. His broad range of experience and expertise benefit our community in his role as Head of School.
Dr. Jenkins' family - wife, Lawson, a Spartanburg, S.C. native, and a fellow Wake Forest and UVA graduate, and sons Coleman and Jack - are also members of the community.