Christ School Soccer Camp
---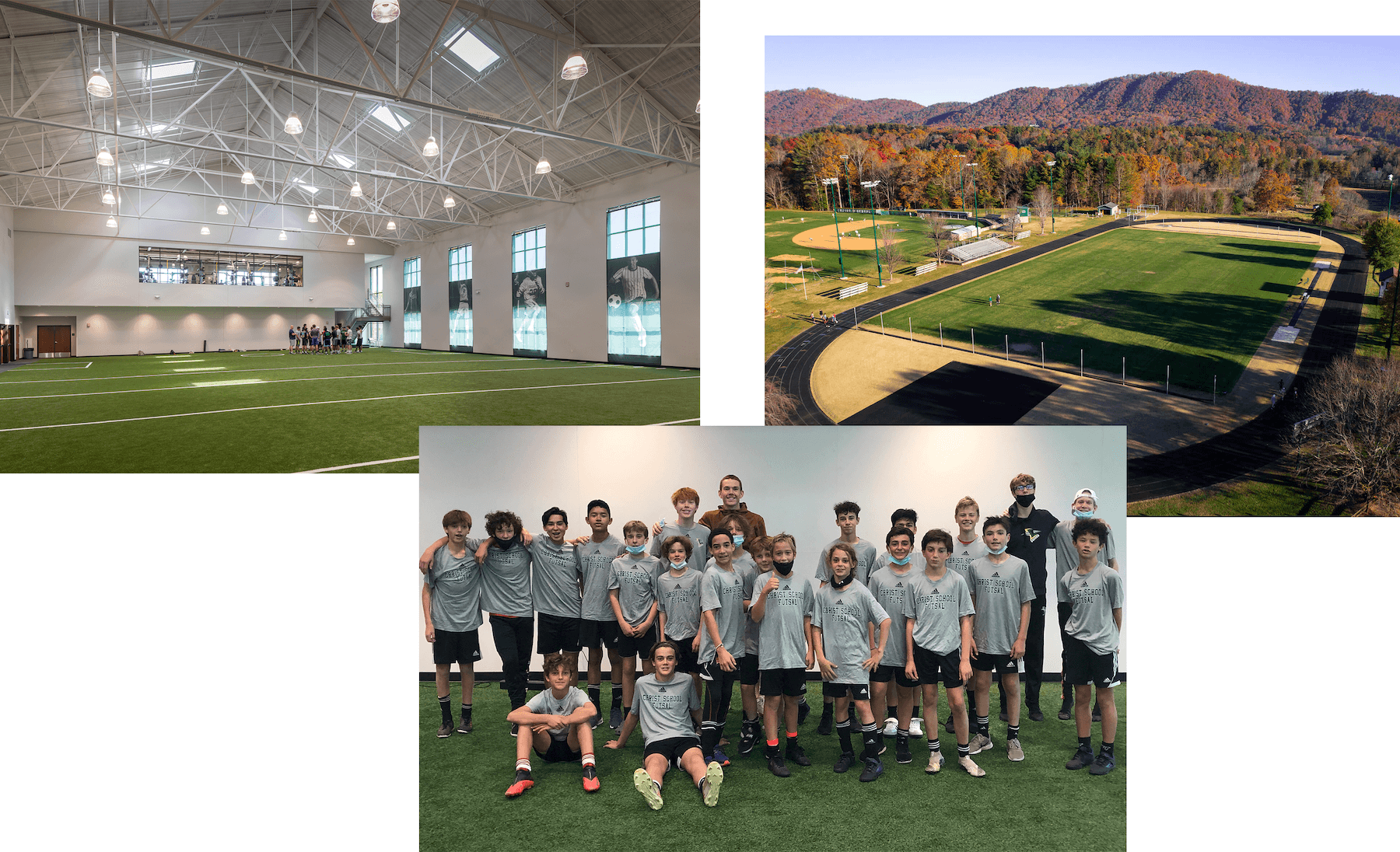 Christ School Soccer Camp provides programming for high-level players looking for advanced developmental opportunities led by Christ School staff, former players, and top club/college coaches in the area. Camp opportunities will include on-field sessions, snacks, meals, as well as individualized plans and feedback for all players involved.
There will be additional opportunities for players to get an "extended" camp by staying after to work on more extensive individualized development plans, learn more about nutrition/sleep workshops, understand and watch film, as well as other developmental areas for improvement and introduction for young players. The camp is open to rising 6th to rising 9th graders.
Meet the Camp Staff
Stuart Jacob
Stuart Jacob is UEFA qualified soccer coach and native of England.
Jacob has worked in various roles for Crystal Palace F.C. since 2013, working to develop players and expand new programs. Stuart has worked with numerous players who have gone on & signed Pro Contracts.
Jacob brings a wealth of experience working with talented young players. He currently serves as Academy Director with Asheville Shield. Jacob has also been named Head Coach of the Asheville City Academy Team.
Prior to coaching, Jacob played semi-pro soccer in his early 20's before a career ending injury derailed his plans and set him on the path to coaching.
Mason Marcey
Mason Marcey is a former High Point Men's Soccer player and current assistant coach. Mason joined the High Point coaching staff in Spring 2022. As a player Mason spent two seasons at HPU where he served as the captain of the team and was an All-Conference and All-Tournament performer both years. Prior to High Point, Mason played at Division 1 Valparaiso University. Mason grew up in Charlotte, NC. 
Ali Simmons
Ali Simmons joined the Elon University men's soccer program in the role of associate head coach of Marc Reeves' staff in June of 2021. Prior to Elon, Ali spent two seasons as an assistant at Seton Hall University.

While at Seton Hall, Ali assisted the program to the 2020 Big East title as the Pirates advanced to the quarterfinal round of the NCAA Tournament.

Prior to Seton Hall, Ali was a member of the coaching staff at Barry University and helped the Bucs to the 2018 NCAA Division II national title by way of a 16-4-3 ledger. In 2017, he was an assistant at the University of Charleston in West Virginia and helped lead the Golden Eagles to a 21-1-1 record and the national championship.
 
Ali has also served as the director of football and men's first-team head coach at Brunel University in London, England, where he had previously been an assistant coach. He was voted coach of the year for 2016-17.
 
He has also served as an analyst at Football Radar, helping develop a world-leading scouting software. He was a senior lecturer and lead coach at ProFootball Academies, the director of coaching at Seashore Youth Soccer Leagues and the youth technical director at the United States Sports Academy in North Carolina.
 
He holds an NSCAA National Diploma and an NSCAA Goalkeeping Level 1. He is also certified by
UEFA with a B License and A Preparation Course.
Daniel Shaw
Daniel Shaw was a 4-year starter at Christ School 2009 - 2012. He played under Coach Guy Campbell for 3 years, earning All-State, Citizen-Times All-WNC Team Junior & Team Captain Junior & Senior Year. He scored 32 Goals & had 17 Assists as a Greenie.
From 2013-2017 he played soccer at Berry College where he was a regular starter in an attacking role. Daniel played a major role in the team's success: 2014 SAA Conference Champions & NCAA 1st round win vs Emory University, 2017 SAA All-Tournament & All-conference team selection.
Following the end of his college career in 2017, Daniel debuted for Peachtree City Moba in the USL-2 and appeared in every match of the season, scoring twice against Atlanta Silverbacks. Following the 2017 season, Daniel played for the Tri-Cities Otters during the 2018 USL-2 season.
During this time, he began coaching at Christ School from 2017 - 2020. In the spring seasons, he coached the 09 Red & 02 Red in Highland Football Club's classic program.
He now resides in Tampa, FL where he is playing for the UPSL for the St. Petersburg Aztecs.
Faris Serafim
Faris Serafim joins our staff this year but is no stranger to Christ School. Faris played for Coach Guy Campbell for 3 years 2016 - 2018. Faris was a starter for the Greenies & was a 2-time Conference Champ. He helped the Greenies advance to the NCISAA State Quarterfinals 2 years in a row. He was a part of the 2017 Greenie Team that went undefeated in Regular Season play.
Faris signed with Lees McRae in 2018 but injuries turned him into a student assistant coach the last 3 years. Faris has worked under Head Coach Shane Calvert.
During the 2021 Season, Faris helped lead LMC to a 9-6-1 record.
Faris spent his youth playing with both NC Fusion Academy and Highland Football Club.
Faris will graduate from LMC '22 with a degree in Sports Management & Psychology.
Camp Dates
June 27 – 30, 2022
Camp is 9 a.m. - 3 p.m., but campers will be able to sign up for "extra development" sessions from 3 p.m. - 4:30 p.m. for an additional fee
---
Camp Costs
$285 (includes lunch each day), $100 for optional individual training
---
Camp Location
The Christ School campus is nestled on 500 acres in the Blue Ridge Mountains near Asheville, N.C. Facilities include six athletic fields, a state of the art indoor turf field, five dormitories, multiple weight room, a dining hall, and lake. The student activity center has three pool tables, foosball, ping pong, a full snack bar, and a 40-seat movie theater.
---
Want to register or have a question?
Please e-mail Jonny Wangrin (jwangrin@christschool.org) with any questions about the camp.