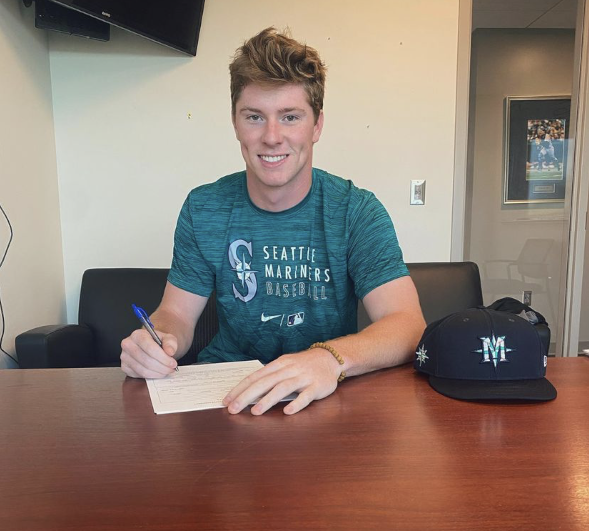 With a few swipes of a pen, William Fleming '17 called Wednesday the fulfillment of a lifelong dream.
Every boy who ever picks up a ball, glove, or bat has the same dream as William. What separates the Christ School alumnus is his talent.
William became just the second Major League Baseball draft pick in school history earlier this month and signed with the Seattle Mariners on Wednesday at their spring training facility in Arizona.
Wake Forest University baseball coach Tom Walter is among those with high hopes for William, a 6-foot-4, right-handed pitcher out of Asheville, who wrapped up his college career for the Demon Deacons in May.
"Will is one of the great sleeper picks in this year's draft. This young man will pitcher in the major leagues," Walter said.
"He is big, physical, and athletic. He throws four pitchers for strikes and has a very good sinking fastball. As his command continues to grow and the breaking ball sharpens, the sky is the limit."
William was drafted July 13 in the 11th round with the 324th overall pick. He compiled a career record of 7-12 for Wake Forest with 74.2 innings pitched, 60 appearances, and 18 starts. His ERA during that time was 5.39 with 125 strikeouts and 52 walks.
Christ School's only other previous draft pick was outfielder Champ Stuart '10, who was taken by the New York Mets in the sixth round (No. 176 overall) of the 2013 MLB draft. Champ would go on to reach the Double-A level before the end of his pro career in 2018.