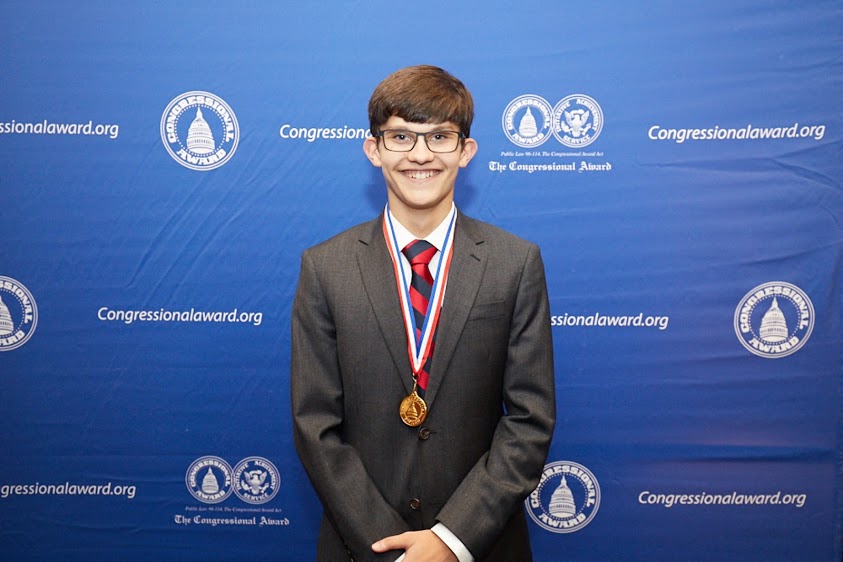 Initiative, Achievement, and Service are inscribed on every Congressional Award Gold Medal. Those three words could not sum up William David '21 much better.
The rising junior from Christ School was one of 538 youth across 42 states and territories to receive a Congressional Award Gold Medal on June 20 in Washington, D.C.
"It was both an honor and a privilege to attend the Gold Medal events and to get to interact with the members of Congress. It was also wonderful to meet the other Medalists," William said.
"I am very grateful to Mr. Mike Mohney, who is my Christ School advisor as well as my Congressional Award advisor, and to my other supervisors for the award. I highly recommend other students consider participating in the Congressional Award program at any of the six award levels. The program allows you to earn the lower level awards, then you can decide to make a larger commitment to the next level. You also have until age 23 to complete the program."
The Congressional Award Gold Medal is the highest honor a member of Congress may bestow upon a youth civilian. 
For a minimum of two years, each Gold Medalist has logged at least 800 hours across four program areas: Voluntary Public Service, Personal Development, Physical Fitness, and Expedition/Exploration.
William, who is from Asheville, was one of only three Gold Medalists to be selected for and given a scholarship to attend the 2019 Global Youth Forum. It is an annual event, sponsored in part by People to People International, and will be held this year from July 21-25 at the Menaul School in Albuquerque, N.M.
While in Washington, William's work in STEM (Science, Technology, Engineering, and Math) education for disadvantaged students was also recognized with a STEM Star Award that the Greenie received during an event in the Kennedy Caucus Room.