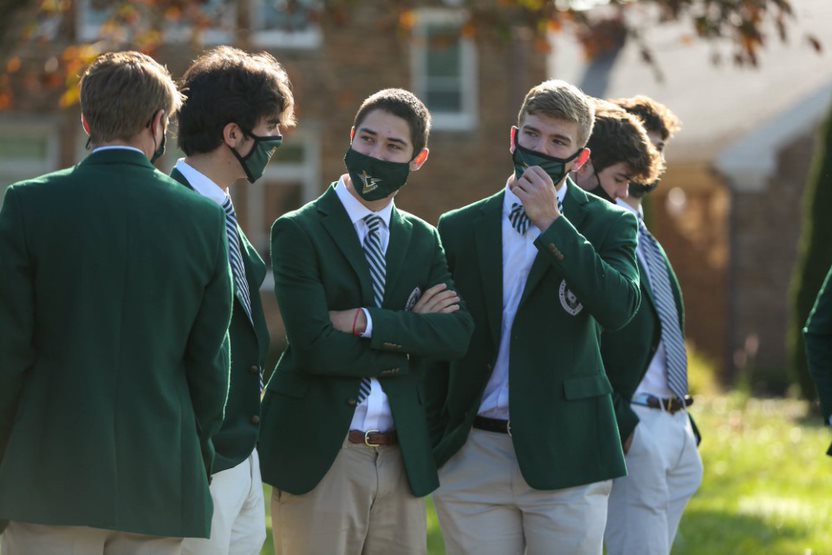 Christ School boys are carrying forth their legacy of character and commitment through this difficult time, as reflected by the latest winners of the Student and Residential Life Awards.
Dean of Students Drew Hyche '94 and Director of Residential Life Benjie Colberg announced the winners Friday in Assembly. Nominations come from Christ School faculty with consideration given to each boy's attitude and contributions to the school community.
Following is a transcript of the announcements made by Mr. Hyche and Mr. Colberg.
Students of the Month:
Kevin Yang '23
"This student has not allowed the challenges of COVID to offset his innate desire to be positive and optimistic. He is one that does not allow mistakes to bring him down nor to stop his progress. For instance, as he was testing his prototype robot in his Engineering class, he noticed that the motors were not turning the right directions, he immediately began a troubleshooting and design modification without getting frustrated or loosing focus. During a chilly, windy afternoon with frozen red fingers, he was determined to help Mr. Najafi in connecting, and reconnecting other students' connections for the season's radio project. Dr. Houston and Mr. Najafi say he can be counted on as one to always help others. Exhibiting the Greenies' level of character, a willingness to help, and an eagerness to learn in every situation."
Owen Riley '23
"This student has really come into his own. A curious learner and someone that works hard to achieve his goals. Mr. Chester comments he has been a great contributor in his class. He consistently gives his best effort, is always ready to learn, and has a positive attitude at all times, Mr. Britto mentions. Mr. Embler writes he is very nice and polite, and usually always makes an effort to come in to the Bookstore and say hello. He always shows up, on time and ready to work. Respectful to others and a true gentleman."
Turner Brooks '24 and Hardy Johnson '24
"The next two I want to group together from something that came to my attention in Cuningham (House) this past week. These two are Turner Brooks and Hardy Johnson. Hardy and Turner became the Cuningham construction crew when rearranging the rooms. Another student's bed frame took a beating while moving, so Turner and Hardy put it back together properly. They then proceeded to raise four beds in the dorm to fit the dressers underneath them. This was a huge help, and they worked tremendously. Both are engaged, energetic, and helpful to those around them. They have become true leaders in Cuningham."
Roommates of the Month
Gabe Fricks-Starratt '21 and Caleb Fountain '21
"This month, our Roommates of the Month come from Gardner House. These two guys are constantly friendly and respectful, keep a clean room, and enjoying listening to their music and playing games at a level that is respectful to the rest of the dorm."
Senior Leader of the Month
Robert Donovan '21
The Senior Leader of the Month is from Harris House. This senior has taken his responsibilities seriously and has been creative in the way in which he assigned job, staggering the assignments so that people weren't crowding in the halls at the same time. He is consistently being reported as doing a great job."