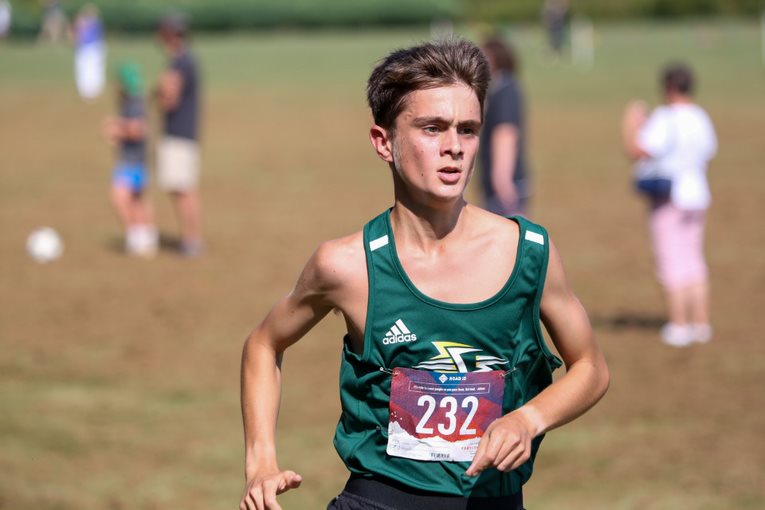 From start to finish this fall, Andrew Hammel '20 was the fastest cross country runner in the N.C. Independent Schools Athletic Association's largest classification.
In fact, make that the entire NCISAA.
The third-ever state champion in the sport for Christ School has been rewarded with his first 2019 postseason honor – the NCISAA Cross Country and Track & Field Coaches Association has voted Andrew to be its 4-A Runner of the Year.
The coaches association had this to say about the Greenie in a press release: "Season-long success! Andrew has clearly worked hard during his three years in the NCISAA. He has dealt with a number of injuries but has persevered. Andrew won the 4-A (state) title by running confidently from the front and really making it a pace no one else wanted to go with. Good way for him to go out as a senior with a win. A 15:37 is an impressive finish, almost 20 seconds ahead of the competition. Sub 15:40 multiple times."
Andrew is a senior from Clyde, N.C., and has run the first and second-fastest times for 5 kilometers in Christ School history – 15:31.80, and 15:37, with the latter coming in his final cross country race as a Greenie. Andrew won his first career state championship on Oct. 25, covering the McAlpine Creek Park course in Charlotte with the quickest time by any boys runner in any NCISAA classification.
The full list of NCISAA coaches association award-winners is as follows: 
BOYS
4-A Runner of the Year: Andrew Hammel, Christ School
3-A Runner of the Year: Isaiah Arnold, Coastal Christian
2-A Runner of the Year: Alex Hibs, Trinity Academy of Raleigh
1-A Runner of the Year: Taylor Anthony, Christ Covenant
GIRLS
4-A Runner of the Year: Sophie Spada, Charlotte Country Day
3-A Runner of the Year: Ryan Aycock, Cary Christian
2-A Runner of the Year: Anna Richard, St. Thomas More Academy
1-A Runner of the Year: Keegan Lisiecki, United Faith Christian Academy