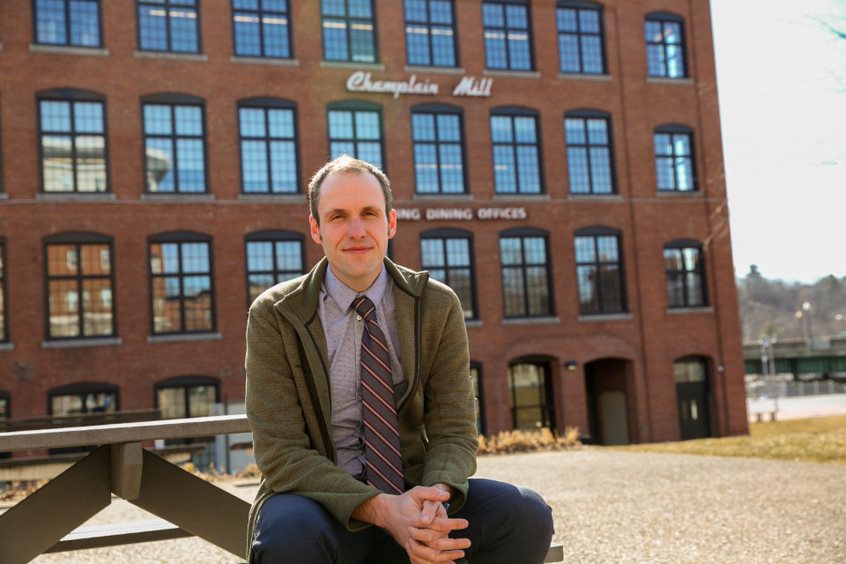 Seth Leonard '01 may have attended Christ School for only one year, but that year – his senior year – was impactful for both the school and his future. Leonard received the Phil Tilghman Award, given to the student who has had the greatest positive impact on the school in his first year, and he was a key member of the Greenie varsity basketball squad. Today, as Leonard looks back on that year at Christ School, he recognizes the ways it paved his path to a career as a successful mayor and community advocate.
Leonard grew up in eastern North Carolina and attended Gettysburg College, UNC-Charlotte, and UNC-Chapel Hill. He majored in Political Science and History, studied African American and Asian Studies, and volunteered for presidential campaigns. After spending time campaigning in New Hampshire and vacationing on Lake Winnipesauke, Leonard decided to make the Northeast his home. He flirted with the idea of law school and worked various jobs before finding his calling – and home city – at the Opportunities Credit Union in Winooski, Vermont.
"It is what is called a 'community development financial institution (CDFI);' they do more than banking; a lot of it is social enterprise and economic development in underserved communities and for individuals who might not be bankable in other places." Leonard enjoyed the job and its location. "Winooski is the most densely populated city in northern New England, the most diverse city in the state, and has a long history of being an immigrant community," said Leonard.
He spent four years working at the Vermont Housing Finance Agency (VHFA) and then became the USDA Office of Rural Development's Housing Program Director for New Hampshire and Vermont. During this time, he was elected mayor of Winooski, using this office to advocate for affordable housing and new development. This past January, when he returned to VHFA as the Managing Director of Community Development, he stepped down from serving as mayor. "I accepted a position that manages the largest pool of affordable housing resources and federal funds that are very competitive between communities, so it did not work to maintain the mayor position due to a conflict of interest," said Leonard.
Over the past 10 years, Leonard has witnessed what was once a mostly abandoned, run-down mill town transition into a vibrant community, full of rich cultural happenings and businesses. "Most people will tell you that in the early 2000s Winooski was not a place where you would want to visit or live," said Leonard. Walk by the beautiful old brick mills lining the Winooski River today and you will find a new, multi-phase building project, full of thriving companies. Downtown, near retail shops and restaurants, there is Spinner Place, providing student housing for local colleges, as well as a mixed income housing development.
Pointing to this new development that serves so many citizens, Leonard has a lot to celebrate. "What we are doing is trying to make strategic affordable housing investments that spark broader community development initiatives and create opportunities. Last year we allocated a total of about 41 and a half million dollars of tax credit equity and built around 200 units of affordable housing, and this year we will do the same."
In his free time Leonard enjoys backpacking with his wife, Jen, whom he married last September on the summit of Camel's Hump, one of Vermont's Green Mountains. Leonard says his love of the outdoors began with Leigh Harris and the Outdoor Program. "He introduced me to so many different things," said Leonard. "It was the first time I had hiked up a mountain with everything I needed on my back." Christ School also introduced him to the arts. "I took a pottery class with Ms. (Betty) Weil and Choir with Mr. (Patrick) McMurry. I did Chess Club and went to my first Off-Broadway shows, Les Mis and Rent."
"When I arrived at Christ School for my senior year, I was really interested in playing basketball, but I was also a pretty distracted and unfocused student, and I realized I needed to be refocused."
Teachers, coaches, and administrators helped Leonard find that focus. In the classroom, his teachers insisted he meet expectations, and he learned a lot by watching Paul Krieger transition from Principal to Headmaster. "You could feel that institutional handover, and I learned from watching him navigate that newness," said Leonard.
"The lessons I learned that year, the ability to listen to people and understand," Leonard explained, "are the same things that made me comfortable running for office after only being in Vermont for two years. I'm a big believer that leadership is not something you take or acquire, it is something that people give to you. I also have a philosophy that you should use whatever you have to give back as much as you can and make as big a difference as you can – it has treated me well both personally and professionally – and I'd like to think that even though I was on campus for one year, I contributed to the community in a positive way."