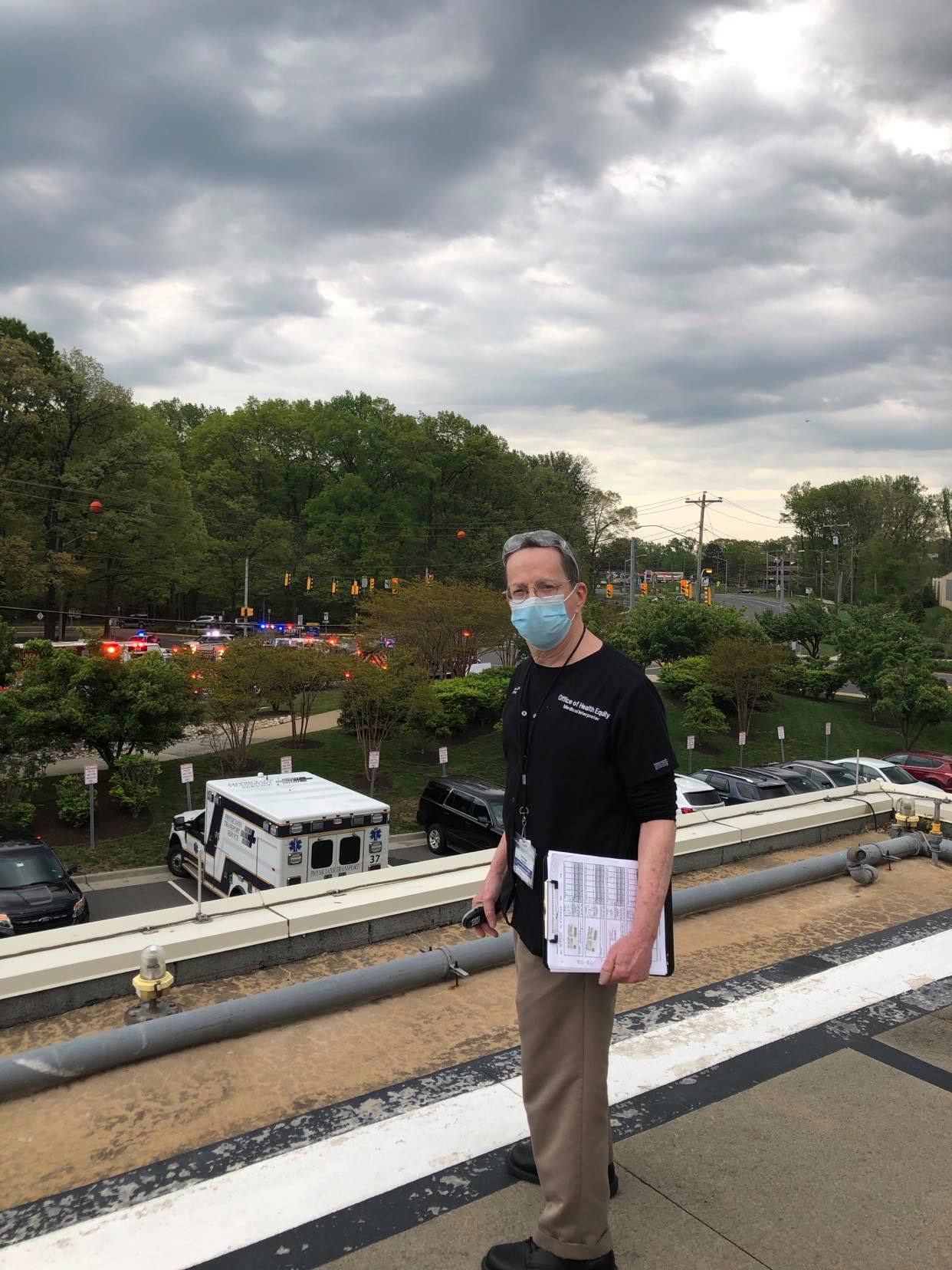 George Donald '75 has learned to turn off the part of his brain that controls fear.
The Christ School alumnus turns 63 this month, making him old enough to at least consider retirement. But Donald said he feels a sense of duty instead, working 12-hour shifts as a Senior Staff Interpreter at an Inova Health System hospital in Falls Church, Va.
Along with English, Donald is fluent enough in Spanish and Russian to assist with all services – from the emergency room to operating room, and labor and delivery. As of Friday, Falls Church had experienced 26 cases of COVID-19, with three hospitalizations, and two deaths.
"I am at ground zero of the pandemia," Donald said.
"The state of siege here is being met with a dedication and cooperation and spirit I admire and am proud to be a part of, and these things will be the things of legend in the generations to come. I am irretrievably moved each time I participate in the effort. This is tiring though, we admit. I lift weights to keep my strength up. I am only able to see my kids and my granddaughter by video, and my elder daughter has recovered from the virus and is making masks to send where they are needed."
Inova is a non-profit health organization with more than 17,000 employees in northern Virginia and the official provider of both the Washington Nationals and Washington Redskins. Donald has been with the company for 16 years. Prior to that, he lived and worked in California after originally growing up in South Carolina.
He said the COVID-19 outbreak was a good reason to put creative projects and retirement on hold.  
"I need to be active in this. Whatever opportunities I was going to try and explore can be put off. I'm staying at the hospital for the near future," Donald said.
"We're seeing a whole range of cases at the hospital. You just pray to God they are going to isolate when they leave. I do think about (getting it), but you worry less if you know you are taking the right precautions. I have been in the medical field or medical environment if you will for going on 30 years. Some of this is ingrained as far as personal protections and barriers. When this is all over, I think there is going to be lots of literature and studies done on what everyone did right and where it was messed up. I'm not going to whine, moan, or feel sorry for myself, and everyone I work with feels the same way. Not to make a bad pun, but the positivity of this is contagious."
Donald fondly recalls his days as a Christ School student and has returned to campus for Alumni Weekend in the past.
"I remember Dad was sad about leaving me (the first time) and got out of there as quick as he could," Donald said.
"Everything was radical to me. You were obligated to be academic, to be athletic. Because of the teachers there, I had a life in languages. I was in the choir which later led to me being involved in music in California. All of these things about my life began at Christ School."