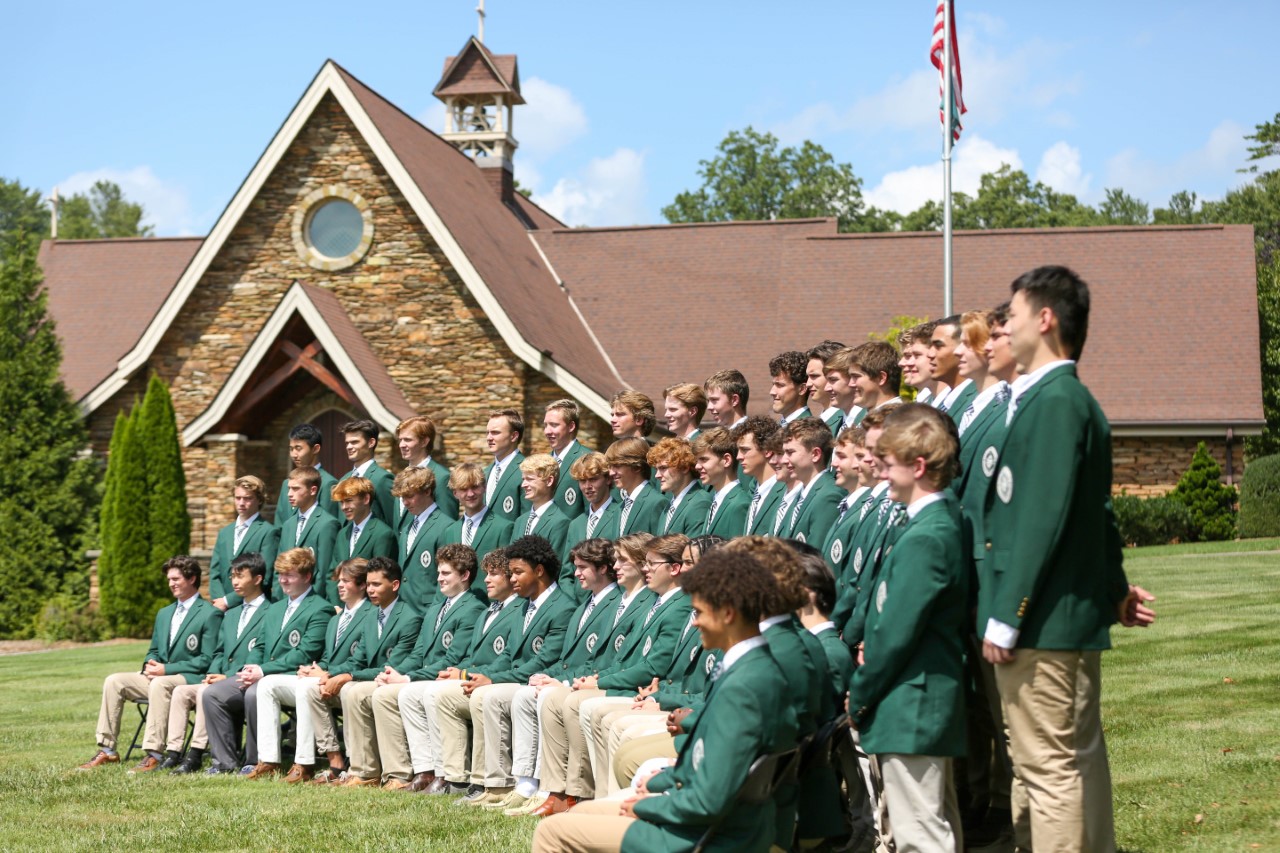 Just because Christ School is 121 years old, does not mean there is no room for new traditions.
Head of School Dr. Sean Jenkins presented each of the 61 seniors with their green blazer Wednesday during a formal ceremony that was the first of its kind for the school.
The Class of 2022 entered St. Joseph's Chapel in a procession. Following the usual Eucharist service, John Beard '84, President of the Board of Trustees spoke to the student body. Following his speech, the seniors received the jackets from Dr. Jenkins before posing as a group for their Class Photo in Yard A. 
Christ School's senior class consists of the following boys (in alphabetical order): Sam Bassett '22, Charlie Bednar '22, Jimmy Belcher '22, Gabe Berardi '22, Ty Besses '22, Caleb Booth '22, Eli Brasher '22, Colin Brazas '22, Sawyer Breiter '22, Jack Britts '22, Jackson Burch '22, Sam Chandler '22, Myles Clarkson '22, Gil Cooper '22, Jack Cross '22, Nick Crowley '22, Parker Davis '22, Daniel Du '22, Joshua Edgecomb '22, Colson Etheridge '22, Tommy Ferguson '22, Donavon Fitzgerald '22, Sanford Gardner '22, Luke Gardner '22, Jack Godwin '22, Jacob Halfacre '22, Tony Hao '22, Matthew Henderson '22, A.J. Hesselson '22, Charles Howden '22, Frank Howden '22, Webb Hughes '22, Brady Ioannidis '22, Michael Jaber '22, A.J. Jacobs '22, Sam Jarrett '22, Nate Kelley '22, Mac Kimel '22, Tommy Li '22, Durant Long '22, Matthew Luke '22, Edwin McAlister '22, Robby McAlister '22, Ivan Mora Hernandez '22, Jackson Ogren '22, Tobenna Okoli '22, Emmett Paradine '22, Bowen Perry '22, Will Purvis '22, Jake Regan '22, Bryce Sain '22, Collin Schott '22, A.J. Simpkins '22, Will Snyder '22, Spencer Strickland '22, Wesley Thomas '22, Trey Wagner '22, Samuel White '22, Ben Wiznitzer '22, Jack Young '22, and Mark Yu '22.
Seniors are the only boys allowed to wear the green blazer at Christ School. In the past, they have picked up the blazers at a designated time from Dean of Students Drew Hyche '94, but there was no ceremony of any sort.