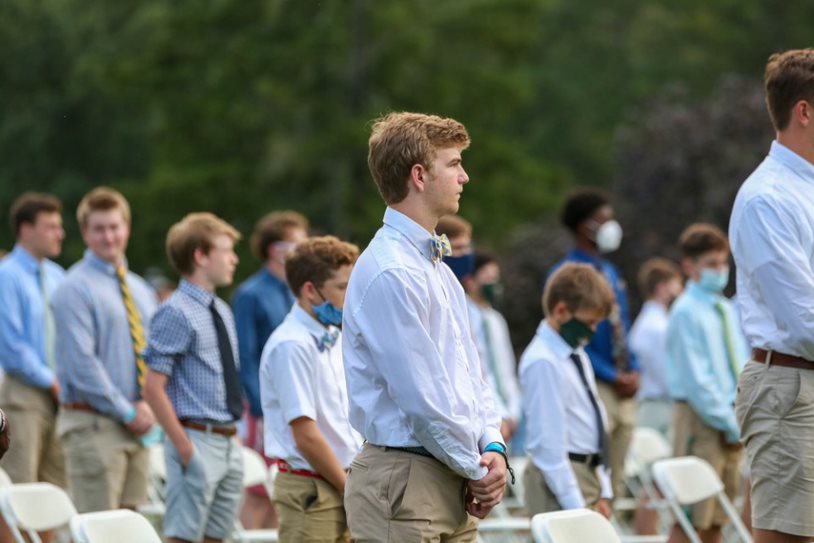 Successfully navigating this first month of in-person learning in a pandemic has been uncharted territory for each of Christ School's 293 boys.
Many individuals deserve credit, especially 30 seniors who were inducted into the National Honor Society during Monday's Assembly. Dr. Brent Harris announced the names and said this group represented the very best of Christ School in terms of scholarship, leadership, character, and service.
Requirements to be part of the National Honor Society are a cumulative 3.75 grade-point average for at least three consecutive semesters (a minimum of two at Christ School), no disciplinary issues, and meeting all service-learning requirements.
The seniors who were inducted Monday were: Tyler Bell '21, Sam Brie '21, Charlie Browder '21, Garrett Clapsaddle '21, William David '21, Robert Dong '21, Caleb Fountain '21, Andrew Graham '21, Wilton Graves '21, Grant Haldeman '21, McCauley Hardison '21, Connor Jones '21, Jack Lee '21, Tommy Li '21, Daniel Liang '21, Edward Lin '21, Mickey Meguiar '21, Daniel Neuman '21, Drew Redmond '21, Luke Rheney '21, Painter Richards-Baker '21, Cade Rodriguez '21, Ollie Searle '21, Luke Stone '21, Billy Thackston '21, Johnny Wehner '21, Patrick Wilds '21, Mark Yu '21, Bevin Zhang '21, and Kevin Zheng '21.
Classes began at Christ School on Aug. 31 and graduation for the Class of 2021 is scheduled for May 16, 2021.