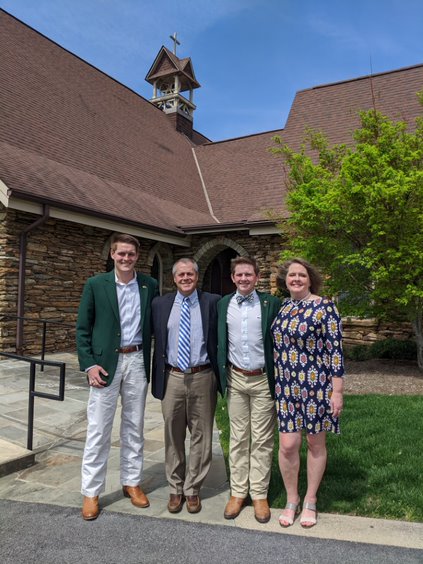 Wesley Garbee '20 was diagnosed with cancer at age 8, meaning his childhood and life in general have been far from ordinary.
"I was dealt a bad hand, but I had to persevere and fight it," he said.
Wesley believes that difficult circumstances reveal the character inherent in each of us, he explained in Christ School's first Senior Speech since online learning began on March 23. And Wesley sees a lot of parallels between his youth and society's plight with the COVID-19 pandemic.
"Life isn't always going to be easy. There will be roadblocks that try to stop you, but you have to overcome them," he said. "Once you can beat them, then you will conquer something that you once saw as an impossible challenge. There will be times where you think you are doing everything right, but something will come along and change everything. What makes you who you are is how you react to these changes. Because ultimately the person who you are is decided by your actions."
Wesley is from Asheville and his Senior Leadership position is Job Prefect. Wesley returned to campus earlier this week with his parents, Hank and Sarah, and older brother, Thomas '16, to fulfill a long-held wish in St. Joseph's Chapel. Less than 10 people were allowed inside Chapel during the speech, in keeping with North Carolina's Stay at Home Order.
"Four years ago, I sat in the pews in Chapel, watching my brother give his speech. And I couldn't wait until I was standing up in front of everyone giving mine," Wesley said. "But I stand in front of empty seats. I never imagined I would spend my last month of high school away from the school that I have grown to love. This is not the end to the Christ School career that I wanted, but the one I was given. It is now the reality that we live in. I know that sitting around and complaining about how it is won't change anything. So I know I have to make the best out of this awful situation."
Christ School's Senior Speech series began in 2003 and restarted with Wesley's speech. Every boy who speaks volunteers to do so, and their message to the school community is encouraged to be sincere, thoughtful, and loving. Greenies, check your school e-mail for a link to Wesley's full speech and text of the introduction from his advisor, Isaac Rankin. Expect to see more Senior Speeches in the weeks to come.