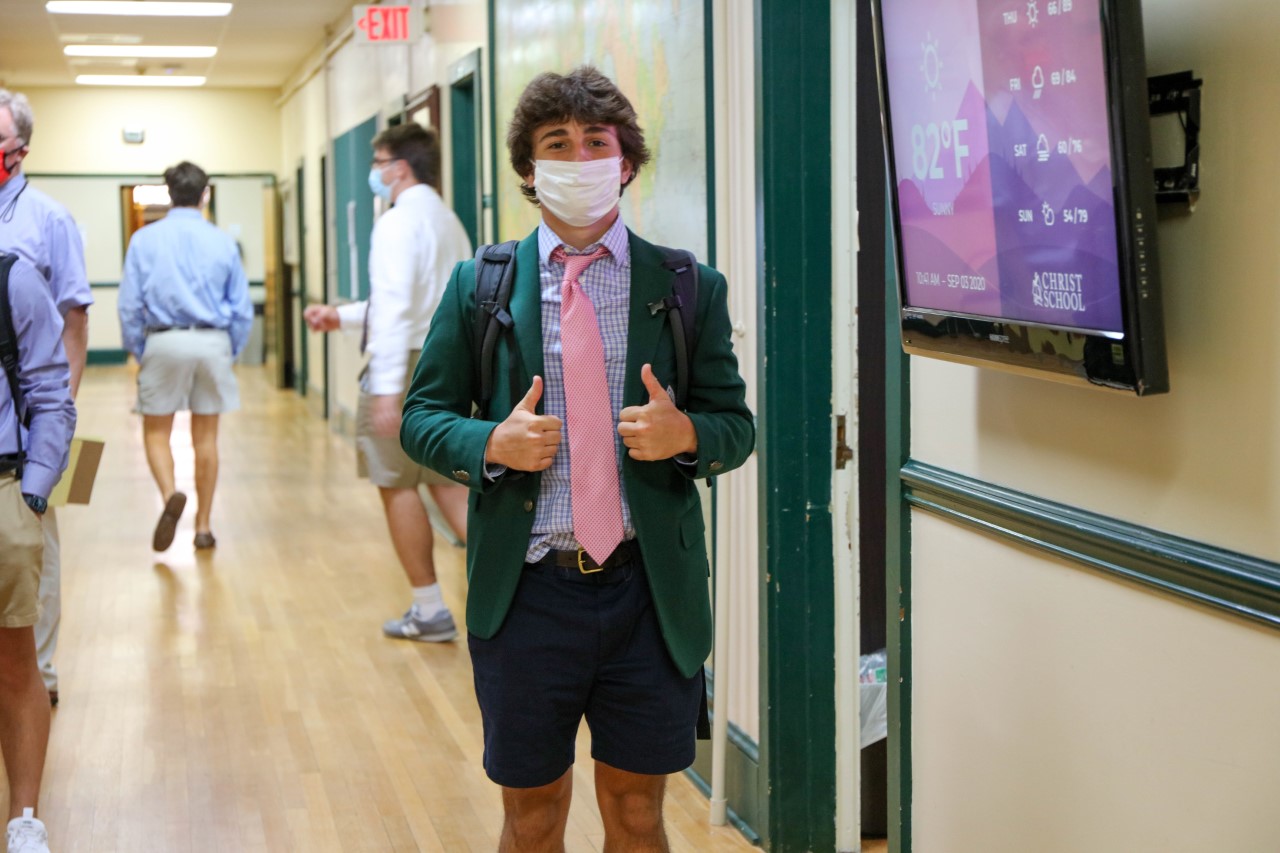 Dean of Students Drew Hyche '94 once had the distinct honor of wearing a Christ School blazer. Now he feels privileged to hand out the green jackets to a new group of seniors each year.
The Class of 2021 got its turn Thursday in Wetmore Hall. Each of the blazers were tailored specifically for the seniors and will be worn throughout the 2020-21 academic year for formal occasions, culminating with graduation on May 16, 2021.
The Class of 2021 is one of the largest senior classes in school history and consists of these 76 boys (in alphabetical order):
Ian Adams, Noah Beaulieu, Charlie Bell, Tyler Bell, Sam Brie, Max Brodeur, Charlie Browder, Stewart Buchanan, Parker Byrd, Carson Campbell, Ben Capel, Bruce Capel, Marshall Carter, William Chaffe, Garrett Clapsaddle, Lennox Cummings, William David, Mitchell Donahoo, Robert Dong, Robert Donovan, Sean Dow, Jake Easler, Jackson Fender, Coker Ford, Caleb Fountain, Gabe Fricks-Starratt, Aidan Galpin, Andrew Graham, Andrew Grande, Wilton Graves, Grant Haldeman, Ashe Hamrick, Wilson Handy, McCauley Hardison, Connor Jones, Mason Lamb, Will Laney, Jack Lee, Tommy Li, Daniel Liang, Edward Lin, Lex Long, Alex Lontz, Weston McGrath, Mickey Meguiar, Cade Mintz, Daniel Neuman, Mike Peralta, Austin Perkins, Garrett Rathburn, Drew Redmond, Henderson Reynolds, Luke Rheney, Painter Richards-Baker, Cade Rodriguez, Grant Ruch, Grayson Scott, Ollie Searle, Cameron Seifried, Fox Smith, Luke Stone, Jackson Swango, Tom Tang, Coleman Taylor, Corey Taylor, Bill Thackston, Charlie Thomas, John Thomas, Johnny Wehner, Patrick Wilds, Aidan Williams, Trip Yarborough, Mark Yu, Bevin Zhang, Kevin Zheng, and, Keese Zugehoer.