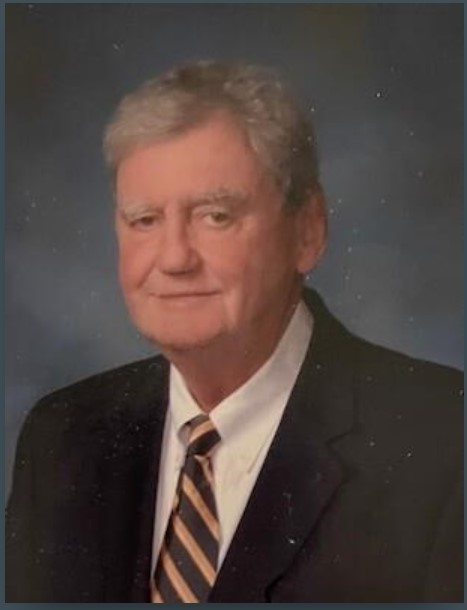 The Christ School community is saddened to learn of the passing of Eugene L. Presley '55. Gene was 83. He was a faithful supporter of Christ School and a past chairman of the Board of Trustees.
Gene chose to come to Christ School as a fifth former in 1953. From the beginning, he enjoyed the spiritual component of an Episcopal education and thrived with the freedom the school had to offer.
"It was the first time in his life that someone showed him that he could do things on his own," says JoJo Presley, Gene's wife of more than 50 years.
He also excelled in basketball, lettering for two years, and was named team MVP during both his junior and senior seasons. For much of his life, Gene would refer to Headmaster David Page Harris, Sr., known as "Mr. Dave", as a key influence in his development as a young man and a leader. Fittingly, he would be selected as a member of the Senior Council for his senior year. Gene also cut corn and stoked the furnace during his time here, activities that built character and gave him purpose.
"I think dad felt like Christ School made him who he was," says his son, Mike Presley '87.
For the Presley Family, the Christ School tradition runs deep. In addition to Mike, Gene's brother, Phil Presley '57, graduated from Christ School and remains a loyal Greenie.
Upon graduation, Gene went on to study at UNC Chapel Hill and eventually earned a master's degree from UNC Asheville. He also served in the United States Marine Corps.
Gene and his family owned and operated Hayes & Lunsford Electrical Contracting, Inc., where he spent much of his career. Hayes & Lunsford specializes in providing commercial, industrial, healthcare, and design-build electrical throughout Western North Carolina and beyond. Gene served as President & CEO of Hayes & Lunsford for many years and, under his family's leadership, the company expanded beyond this region to serve other areas and states. He also served on the board of National Electrical Contractors Association and Carolinas Electrical Contractors Association.
Gene loved Christ School and gave back in many ways. Beginning in the 1980s, he served on the Board of Trustees for more than 20 years, including two terms as chairman from 1995-1998. He retired from the board in 2003.
Wherever he went, Christ School was never far from Gene's mind. "I'm not sure a week went by where CS wasn't a part of the conversation. It was a very significant part of his life," says son Mike.
Headmaster Paul Krieger remembers him as a warm presence who helped guide him in the early days of his time at Christ School.
"Gene was on the Board when I started at Christ School.  He had a good sense of humor and was enormously kind and helpful as I learned the ropes." 
Gene was also instrumental in recognizing the need for endowment giving. He and his family established the Presley Faculty Endowed Fund, which supports professional development and other resources for Christ School faculty members.
Beyond Christ School, Gene was dedicated to serving other organizations and causes. He served as Chairman of the Buncombe County Republican Party, as well as serving on boards at UNC-Asheville, Salvation Army, and the YMCA. Gene was a long-time member and a Paul Harris Fellow of the Asheville Downtown Rotary Club. Lastly, he served an active role in the parish life at St. Mary's Episcopal Church.
In addition to JoJo, Mike, and Phil, Gene is survived by his brother, Richard H. Presley, daughter, Cynthia Lynn, his granddaughters, Margaret Ann and Sarah, and many other loving friends and family.
The family will hold a private family graveside service. A memorial service will be at a later date. The family ask memorials to be sent to St. Mary's Episcopal Church, 337 Charlotte Street, Asheville, NC or to The Presley Faculty Endowment, 500 Christ School Road, Arden, NC 28704. Morris Funeral & Cremation Service is serving the family and condolences may be sent to them through their website at www.morrisfamilycare.com.