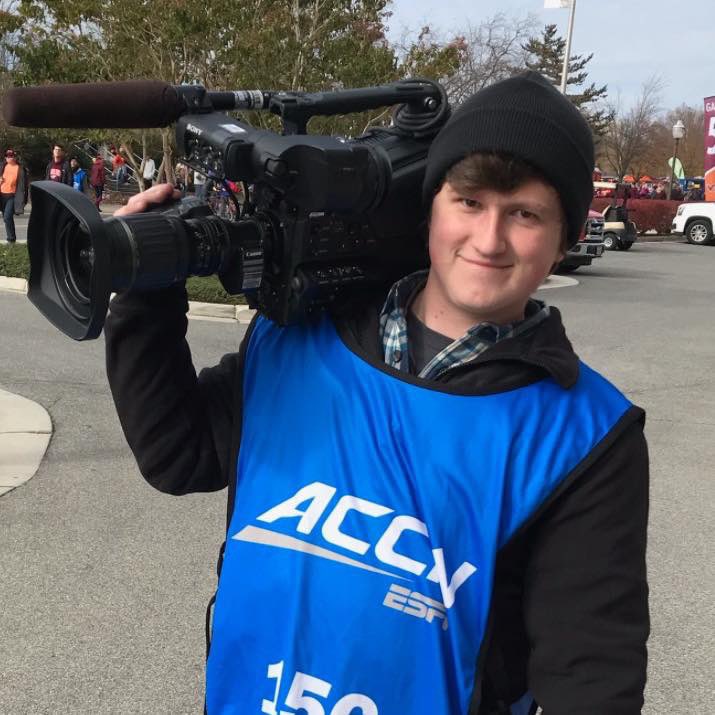 Patrick Cunningham '17 will always bleed green. And maroon and burnt orange, too. The Virginia Tech junior and aspiring TV producer found his niche after graduating from Christ School two years ago. Cunningham entered college as an Engineering student only to discover a passion that better suited him – working as a Student Production Assistant with the athletic department's video staff, called HokieVision. Cunningham is not only behind the scenes for broadcasts suited to hardcore Hokie fans, but games shown to general audiences on ESPN and the ACC Network (which launched in August). His tasks are varied, from camera duty to assisting with replays and other technical support. Cunningham was putting a bow on his fall semester in Blacksburg, Va., when he took time out for this interview.
Question: You are over halfway through with your college experience at Virginia Tech. How has it been so far?
Answer: I cannot love it anymore than I do. It's a blast. Honestly, it was not my first choice of college coming out of Christ School, but it's a dream now and I'm having so much fun. I have made so many lifelong friends here and I have the best professors ever. I'm doing some of the most incredible things and the campus is just to die for. I stay pretty busy, I'm also an officer with the Sigma Nu fraternity.
Question: And how about academics?
Answer: Going into sports media is relatively new for me. I was always involved in sports at Christ School, but not (the Christ School Broadcast Network). I didn't realize how much I wanted to do this until my freshman year. My major is Multimedia Journalism with a Sports Media Analytics concentration. I think my dream now is to end up being a producer, doing live broadcasts with sports. I could see myself in the studio, working with people like I do now. I like having that direct line to the talent and being able to talk with them.
Question: Tell me more about HokieVision. Do you get much feedback on the broadcasts from fans, coaches?
Answer: It's something that I didn't realize how big it was. Originally, HokieVision was in a small office with small monitors. Then we got approved for a $10 million upgrade (in 2018). We have everything we can imagine, so that's pretty cool. We have had coaches and the athletic director say 'you guys have no idea how much you are helping us. We are getting recruits from foreign countries and getting so much more attention as a school.' And for me, it's a great opportunity to have a bigger stage to show what I can do.
Question: I know you have only been away for a short while, but what are your memories of attending Christ School?
Answer: It was all so much fun. I loved Asheville School Week, Christmas in the Greenie Dome, and being in the dorms with everyone. Having a roommate and the study structure really helped me with college. I knew how to be self-sufficient and I felt miles ahead of everyone. They were all homesick, missing everyone, and calling their moms. For me, it was just another day at the office. The only transition to make was I was taking college-level classes now.