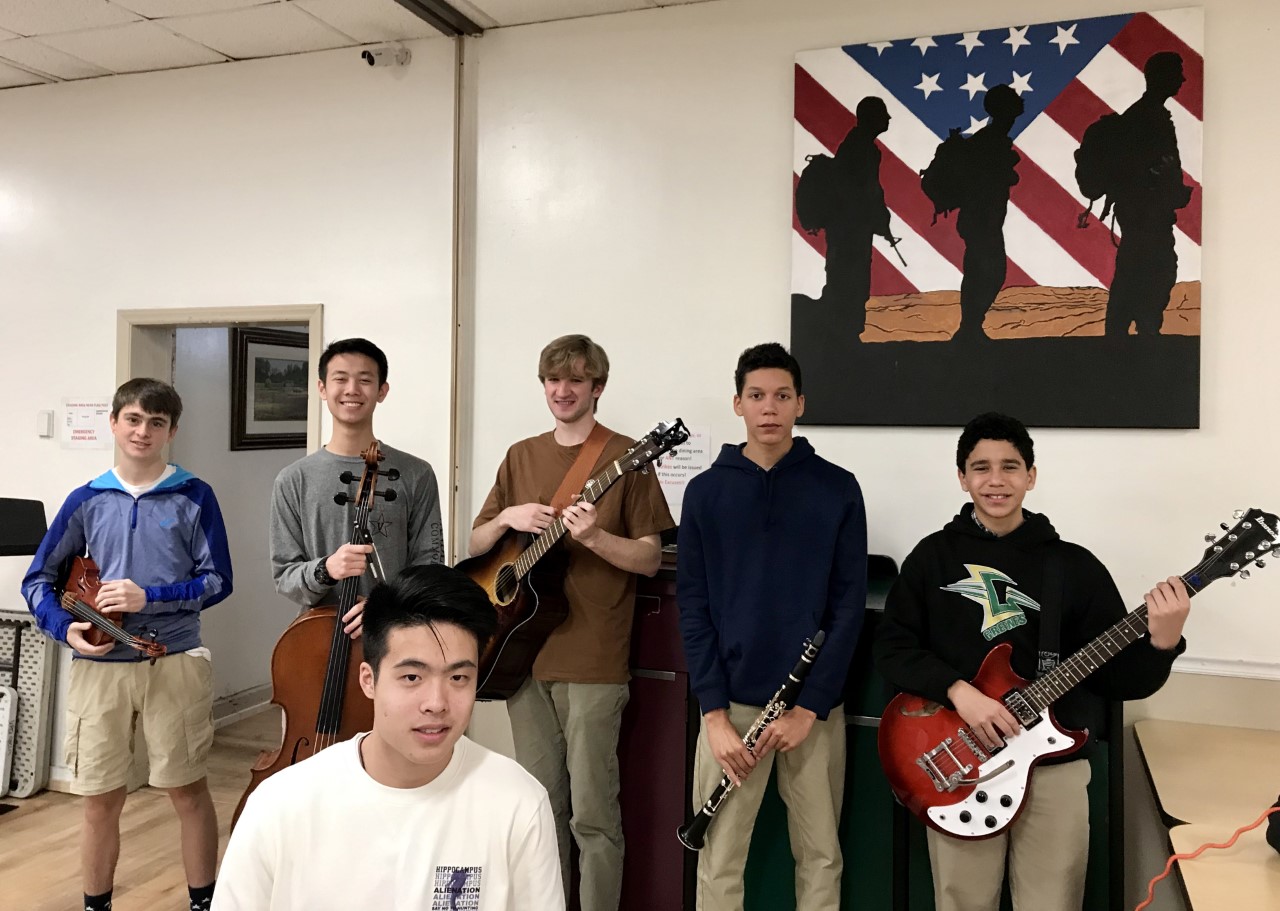 Ears perk up, smiles grow wider, and toes reactively tap when a Christ School boy touches his musical instrument.  
Whether the audience is local retirees, veterans, or schoolchildren, they tend to have a visceral reaction to Notes from the Soul, a service-learning outreach group still going strong in its ninth year. The continued success of Notes from the Soul is twofold. Greenies with a penchant for performance art are given a way to express themselves. And bettering the lives of others through music is consistent with Christ School's commitment to community service.
Most recently, Notes from the Soul sang and played for residents of the Veterans Restoration Quarters in east Asheville.  
"One of the biggest takeaways for the students is how something so simple can bring so much joy and change someone's day," faculty advisor Olga Mahoney said. "In many cases, I've seen it totally change the mood of a room. The boys realize how important it is to give back to the community and how something so small can make a difference."
Notes from the Soul was founded by Chambers Loomis '13, a pianist who went on to attend Harvard University. Since its inception, Notes from the Soul has performed for thousands of people, with Christmas concerts as one of its staples. For most performances, there is little organized rehearsal and the boys have been known to play not only cover songs but their original compositions. For example, Kobi Selby '19 recited his own poetry during his time in the group. 
"I enjoy being part of Notes from the Soul for many reasons," Phillip Lopez '23 said.
"One of the main reasons is it allows me to share my passion for music with other members of my community. I am able to serve members of my community, and have fun doing it. It also allows me to meet new people in the Christ School community that I wouldn't have met otherwise."
State cross country champion Andrew Hammel '20 is also a violinist.
"Notes from the Soul is a great way to give back to the community," Andrew said. "It's awesome to see people's eyes light up when I am playing my instrument."
In addition to Andrew and Phillip, this year's members of Notes from the Soul are: Jack Adams '20, Aaron Chen '20, Trent Cooper '20, Josh Edgecomb '22, Matthew Hammel '23, A.J. Hesselson '22, Jack Lee '21, Steve Lin '23, Lex Long '21, Ivan Mora '22, and Kevin Zheng '21.