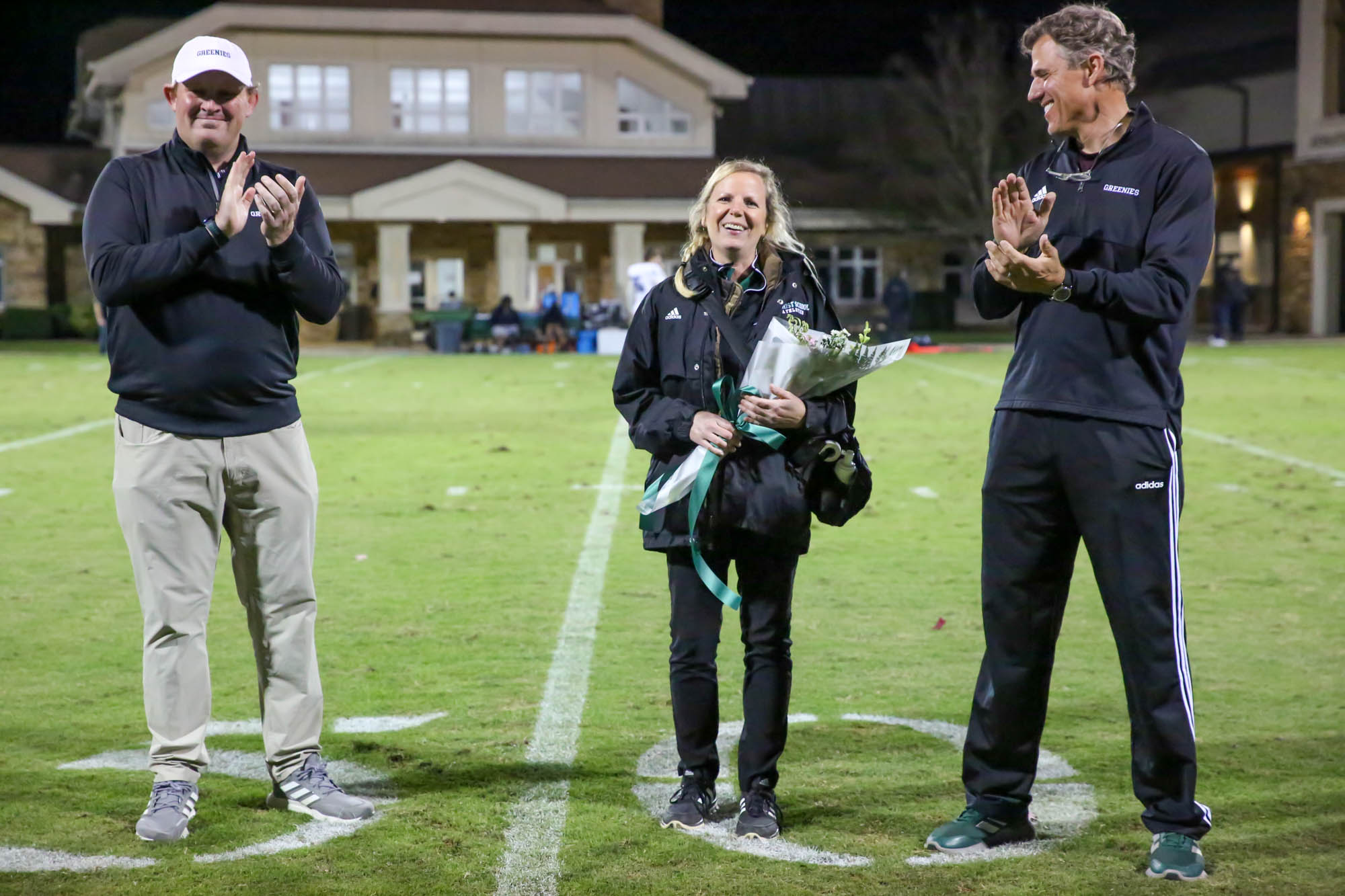 Heather Bower has been ready at a moment's notice to treat every ache and pain the last 17 years.
Her knowledge of sports medicine may be only surpassed by the kindness and care she has shown to Christ School student-athletes. Furthermore, "Miss Heather," as she is affectionately known, could fill several books with the successes she has witnessed as an athletic trainer:
15 team state championships, including the first-ever titles for Greenie basketball, football, golf, and lacrosse.
43 individual state champions in cross country, golf, and track.
17 professional athletes, one for every year she's been on the job.
167 boys who have gone on to compete at the college level.
Unprecedented national exposure for the athletic program with basketball games on ESPN and the school's first-ever McDonald's All-Americans – Mason Plumlee '09 and Marshall Plumlee '11.
Numerous facility additions or upgrades, including construction of the Close-Krieger Athletic Center, the Athletic Pavilion, Golf Short Game Facility, Jeff Miles Press Box, an expanded training room, and the first night games for football and soccer.
An increase in school enrollment from approximately 175 boys when she started to a record number of students (295) for the 2021-22 school year.
Saturday's football game at Asheville School is not only the renewal of the oldest rivalry in the Carolinas, but the end of an era for the athletic program. Heather is resigning her position at Christ School so she can join family in Kentucky. Saturday is the last athletic event of any kind she will work for the Greenies. 
"Every day I come through the front gate, I'm so grateful that God has given me this job all these years," Heather said.
"It's just an incredible place to be. It's an important job and one that I've tried to do well. It's going to be hard to transition out, but it's exciting, too, to venture into new challenges."
The Class of 2017 dedicated the Angelus yearbook to Heather, thanking her for taking a chance on Christ School. She had been living in Colorado when Heather found the job listing through an online search.
She has been a constant on the sidelines ever since.
Heather informed the school of her decision back in August, which has allowed her to say a slow goodbye these past three months.
"It's made me appreciate all of this all that much more. I will always have these great memories of what this school meant to me," Heather said.
"I wish Saturday's game was at Christ School but I'm going to definitely treasure it all the same at Asheville School. It's been such a special rivalry game over the years and I'm looking forward to a beautiful time together with everyone."
Saturday's game will kick off at 1:30 p.m. For fans who cannot attend in person, the game will be livestreamed here.