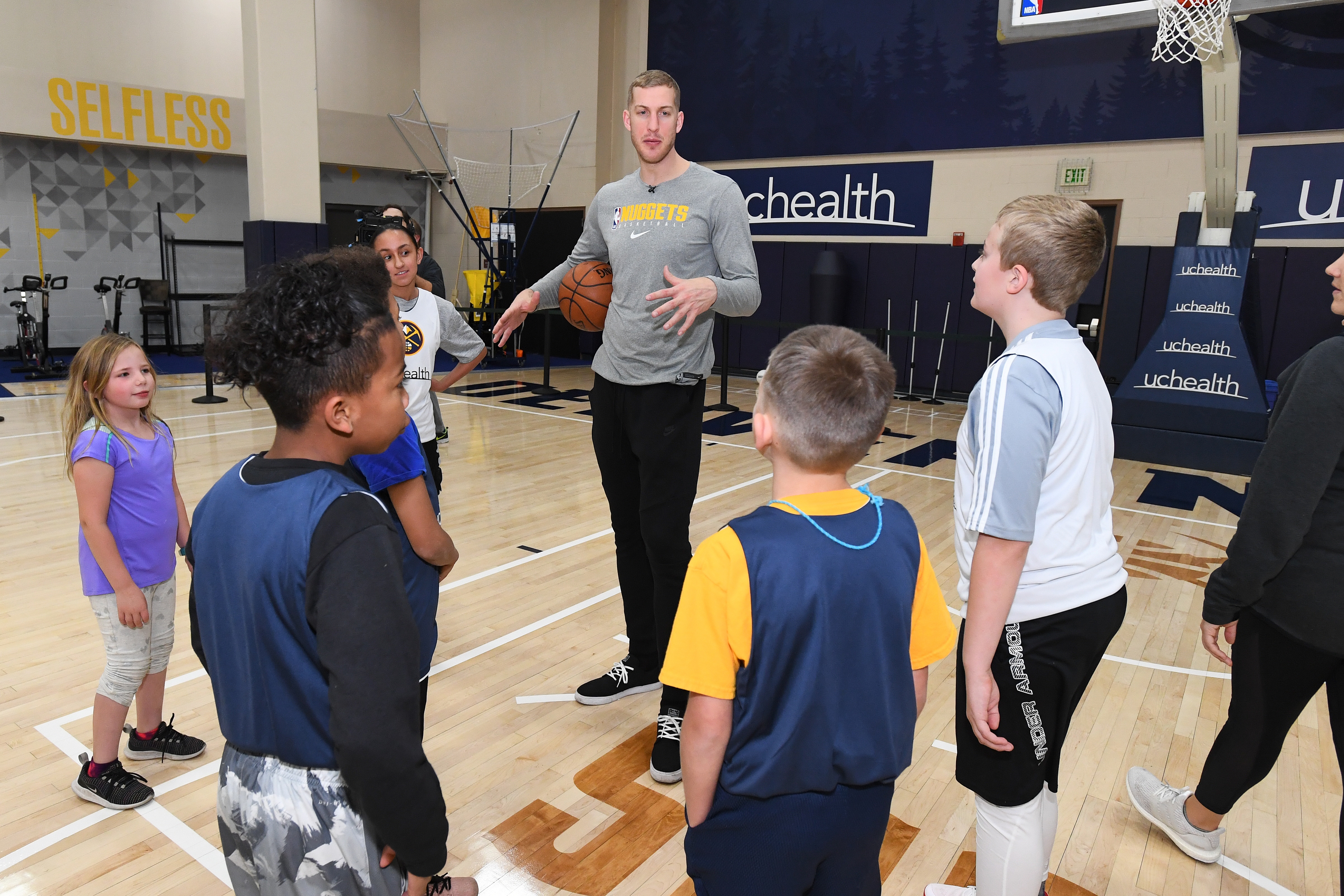 Fortune smiled on Mason Plumlee '09 when he found that a neighbor in Indiana had a private indoor gym suitable for all his basketball needs. That's right, arguably the greatest athlete in Christ School history is looking for silver linings during the COVID-19 pandemic the same as the rest of us. Plumlee celebrated his 30th birthday on March 5 and less than a week later his eighth NBA season was cut short by concerns over the coronavirus. He will forever be a part of history, dressing for the Denver Nuggets in the final NBA game before the league's work stoppage – a 113-97 loss at Dallas on March 11. Plumlee has since returned to his home state of Indiana to be closer to family. He spoke about not only using the down time to keep himself physically active but his interests off the court. Plumlee has long been inspired by entrepreneurs striking out on their own with startup businesses and has been personally interviewing those type of individuals through his Facebook Live Founder Series.
Question: Can you talk about how you've dealt with the roller coaster of emotions of this season? I know you were personally affected by the death of Kobe Bryant (Plumlee changed his jersey number from Bryant's No. 24 to No. 7 in January), and now we have this uncertain hiatus for the league.
Answer: It's been an unpredictable, crazy season. There's just been so much. (Former NBA Commissioner) David Stern and Kobe passing. A lot of unexpected and unprecedented things. Talking to guys around the league, we're still hopeful that the season can resume at some point. But we know as much as the average fan does.
Question: How are you staying prepared for a possible resumption of play and do you have any advice for our Christ School athletes whose sports have been interrupted?
Answer: I would just say you have got to look at everything as an opportunity. This is a tough time for our country as a whole. But it's also a great opportunity to do the things you never had time to. I know I've picked up a couple books that I've been staring at on the shelf for years. Don't do nothing. We all have a different tolerance through this. Sure, you can do the Netflix thing for a day or two, but we need to do better for ourselves. Reach out to someone who needs it. We need to keep ourselves strong.
Question: Your Facebook Live Founders Series focusing on startup businesses began in March, shortly after quarantines went into place nationwide. But I know you had been doing similar work in your free time before that. What speaks to you about these types of entrepreneurs and how do you select who to interview? I notice it's been a pretty broad spectrum of individuals.
Answer: I've always been interested in the startup space, I admire the people who are willing to risk it all and go after something, They know the statistics, the probabilities that say it's slim to none to have a successful startup. The numbers are against you at the outset. For someone to believe in what they are doing, I'm a fan of that. That is the attraction. How do I find who I interview? Friends and people I have supported in their journeys have naturally led to people reaching out to us. We vet them and decide who we want. It's been good, in real time, we get anywhere from 500 to 1,000 (live viewers) and after the fact we reach a couple thousand people. I realize there are people with vlogs who have millions of followers. Success for this is not based on view count, but about interacting with people who are interested and giving people something to get out of it. 
Question: Have these talks given you a better perspective into what you want life to be like for you after basketball?
Answer: I'm all in with my career right now and I believe I'm coming into the best years of it. That's where my focus is at. That being said, I'm always interested in the space. I think I'll follow it conveniently. You never know where it will lead, we'll see what happens. 
Question: Between all the individual awards and team championships (Plumlee was the first McDonald's All-American in Christ School history and led the Greenies to state titles as a sophomore, junior, and senior), I'm sure you have a lot of great sports memories from high school. But what else stands out and when you look back? How did Christ School aid in your growth as a person?
Answer: I just remember the people, that is what made it for me. We had a lot of great experiences, but I appreciate the people I had them with. The wins? The losses? For me, the classmates and teachers were the ones who made it special.