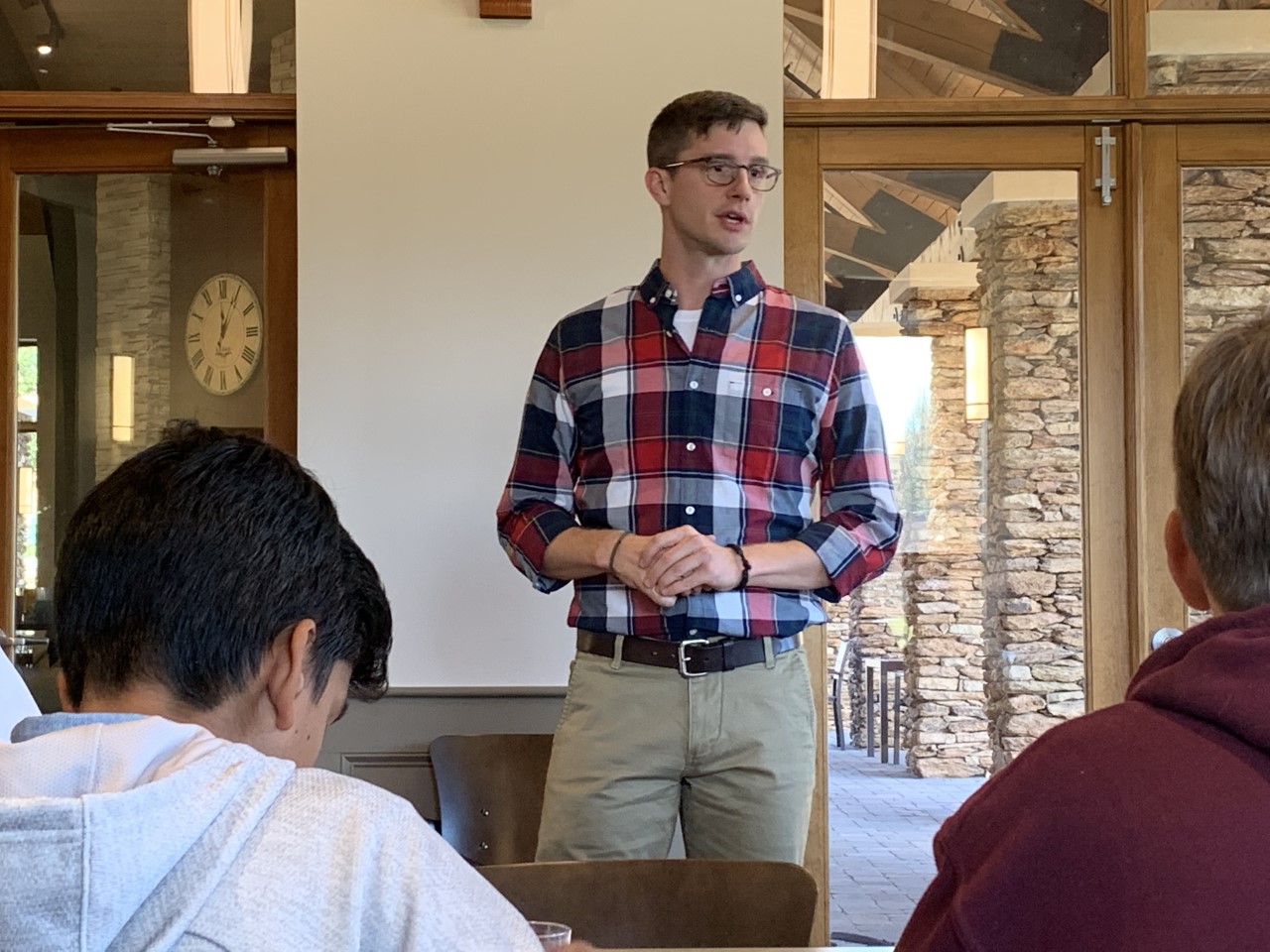 Logan Parker '05 tells anyone who will listen how lucky he was to attend Christ School.
That audience was the Greenies themselves on Monday, as part of the College Guidance Office's "Lunch and Learn" series. 
Parker's message to the boys was two-fold: They should look at their time here as an opportunity and not a struggle, and secondly don't allow complacency to creep in.
Parker was a shooting guard for Christ School's first-ever state championship basketball team his senior year and graduated at 16 years old. He is now based out of Charleston, S.C., where Parker is Vice President of Sales for City Site, LLC (Charleston.com) and The Chart Group Inc. (Tour Video Network). 
"Christ School is a very unique place. You will have the opportunity to really succeed here," Parker told the Greenies.
"Use it to your advantage. Realize that 99.9 percent of high school students don't have access to what you have here. I'm proud of you guys for being here. I was here for three years and the first few months, I had to figure it out until I met people who brought me into the Christ School family. After hours, being here with your friends, that was one of my favorite parts about being at Christ School."
Parker said his world revolved around basketball and little else before leaving his old high school to become a Greenie. He signed to play college basketball for Eckerd (Fla.), but quickly realized it wasn't a good fit. Parker transferred to the University of South Carolina where he obtained degrees in Business and Economics. He advised the Greenies to not be afraid of failure in their professional lives and pursue their passions. Put morals and ethics above making money, he said. 
For Parker, his passion is helping build the profile of Charleston-area businesses and tourism through Charleston.com. The Chart Group is an eight-person team of media professionals specializing in high-definition video, aerial content, photography, animation, web development, online analytics, search engine optimization, and marketing.
One of the group's main platforms is the in-room hotel channel, Tour Video Network, which is available in Charleston, Asheville, and Savannah, Ga.
"I just turned 32 (years old)," Parker said. "I'm finally finding what I'm passionate about, but it took me a long time to figure it out. If you haven't figured it out yet, I don't think that is a bad thing by any stretch. Take what you learn from here and know you are going to be ahead of the game. And know that failing is an important part of being successful."