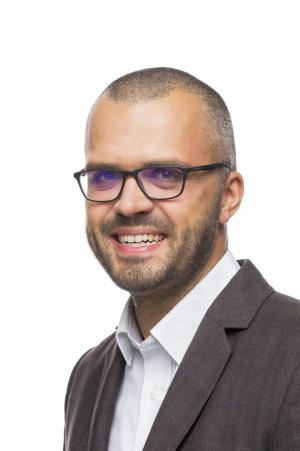 Kristaps Petermanis '00 still recalls the kindness and hospitality shown to him by Christ School families when it was impractical to return home to Latvia over breaks in the academic year. This warmth would sew friendships that remain to this day – Petermanis recently joined a Zoom virtual reunion for the Class of 2000, hosted by the Advancement Office. Professionally-speaking, Petermanis has been an International Cooperation Specialist with Frontex (an agency of the European Union) since last June. Frontex is headquartered out of Warsaw, Poland, where Petermanis provided this update.   
Question: I know you are coming up on a year at Frontex, can you talk about some of your duties as an International Cooperation Specialist?
Answer: I am part of a team that runs a project on cooperation with the Western Balkan countries and Turkey. I'm in charge of capacity building (training etc.) of officers dealing with irregular migrants. I also deal with what is called 'non-voluntary return', where a person gets returned to their home country if they have been denied asylum. For those who don't know, Frontex stands for the European Border and Coast Guard Agency. It's one of the institutions of the European Union assisting its member states in dealing with border management, from combatting crime to managing irregular migration. It currently has around 750 employees but is set to become the largest EU agency with 10,000 staff by 2027.
Question: What about this line of work appeals to you? I know your professional history is pretty rich with experiences in international relations and fighting for gender equality.
Answer: I've also worked for NGOs (Non-Governmental Organizations) in my past, but there is something about large institutions and their ability to tackle complex issues and do it in a more sustainable way that appeals to me. On a more personal level, it's immensely interesting to work with colleagues of over 20 nationalities at Frontex and regularly meet a half a dozen others in the field. The EU has about 40 specialized agencies (institutions much like in the U.S). There is even one that is dedicated to facilitating gender equality in the European Union. I worked there for three years before Frontex. I've somehow always had a passion for the topic and I'm happy I also could contribute to it on the national levels in my home country Latvia and the EU level.
Question: How are things with you and your family during the COVID-19 pandemic? And if any, how has it changed your day-to-day work routine?
Answer: Where I'm currently at – Warsaw in Poland – the situation is relatively stable. The average infection and mortality rates are much lower than, for example, in the United Kingdom or the U.S. thanks to an early, uniform, and rigorous government response. Of course, it was quite restrictive in March and April: no school for kids, going outside if one had a defined purpose. However, now we are already seeing quite a lot of measures relaxed or lifted. The Baltic States where I come from have already established a free movement zone as they trust each other's institutions will tackle any COVID-19 outbreak. I hope that Poland joins in soon so my family can more easily go home to Latvia for the summer holidays. My agency implemented a teleworking policy for all employees except a few core staff members. It's still in place and we don't know when we will return to the office. I'm very grateful that we live in an age where technology allows us to keep working with minor interruptions and still earn a living.
Question: With Alumni Weekend canceled this year, I know you recently took part in one of Christ School's virtual reunions with your class. What was that like?
Answer: It was nice to see folks I haven't seen in 20 years and how everyone has turned out. It's quite a difference from 1997, 1998 when I was in Christ School. E-mail had been around for a few years. International calls were darn expensive, at least for my parents at the time. Nobody really dreamt of making a video call, especially with the absence of any hassle. It's nice to have these small moments to appreciate the technological progress we are constantly experiencing, often without reflecting about and appreciating it. In case my roommate Thomas (Mathison '00) at Christ School reads this, it would be great to also see you at one of the upcoming virtual reunions or get in touch otherwise.
Question: When you look back, what are your memories of attending Christ School and how did it prepare you for the future?
Answer: I have fond memories of my year at Christ School. Of course, at the beginning it took a while to get used to the routine. Having sports five times a week and church four times a week was a lot to take on top of the regular classes. But we were well-taken care of and in the end it's probably what quite a lot of young men need. I'm very thankful to those schoolmates whose families took me into their homes during the various breaks. It was very kind and gave a good insight into American culture and society. I still sincerely appreciate that.