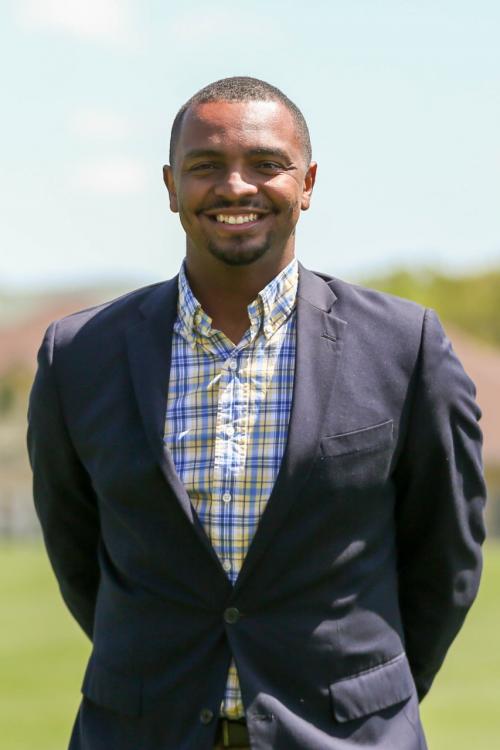 Josh Coley brings to Christ School a proven track record as an effective leader and winning coach. The school is confident that Mr. Coley will maintain our tradition of success as the Greenies' new Varsity Basketball Coach.
Coach Coley has nine years of coaching experience from Charlotte area high schools Garinger, Carmel Christian, and most recently United Faith Christian Academy, where he directed the N.C. Independent Schools Athletic Association program to a 94-28 overall record with four conference championships as well as a state finals appearance and two trips to the NCISAA semifinal round. During his time at United Faith, Coach Coley served as athletic director, where he was responsible for managing budgets and staff, as well as enforcing state association rules. More than 20 student athletes at United Faith signed basketball scholarships with Division I or Division II colleges during his time as Athletic Director.
"We are excited to have Josh and his wife, Tia, along with twin six-year-old sons Jacob and Joshua, join the Christ School community. Josh is an educator and coach who I'm confident will be a great leader for our basketball program and will be a very positive influence on our students both on the court and in the classroom," said Athletic Director Eric Thorp '01.
Coach Coley has professional coaching or playing experience from three leagues - the NBDL, American Basketball Association, and United States Continental Basketball League. He was a point guard for two pro teams in the Raleigh/Durham area (the Carolina Jaguars and Cary Invasion) from 2010 to 2012.
"I think that Christ School is a special opportunity and a special school," Coach Coley said. "I'm extremely excited to continue the process and the culture that has already been built. If we're able to take it to another level and expand on it, then great. But the most important thing will be affecting the lives of young men in a positive way and I'm grateful to be given the chance to do that."
Coach Coley graduated from N.C. Central University's Turner School of Law in 2012 with his M.B.A./J.D. after receiving a B.A. in Communication Studies from UNC Greensboro in 2008.
"I want to acknowledge and thank Matt Cioce '13 for his leadership of our program and I wish him the best as he pursues collegiate coaching opportunities," said Head of School-Elect Dr. Sean Jenkins. "Looking forward, Josh believes in and lives the values important to Christ School. We are delighted to welcome him and his family to our community. His experience as a teacher, coach, and senior administrator is impressive, as is his commitment to education and the development of the whole boy. Josh will be a dynamic contributor to Christ School."
Christ School has won six NCISAA state basketball championships (2005, 2007, 2008, 2009, 2010, and 2011) and appeared in the finals in 2004 and 2019 as well. Four alumni have gone on to play in the NBA.