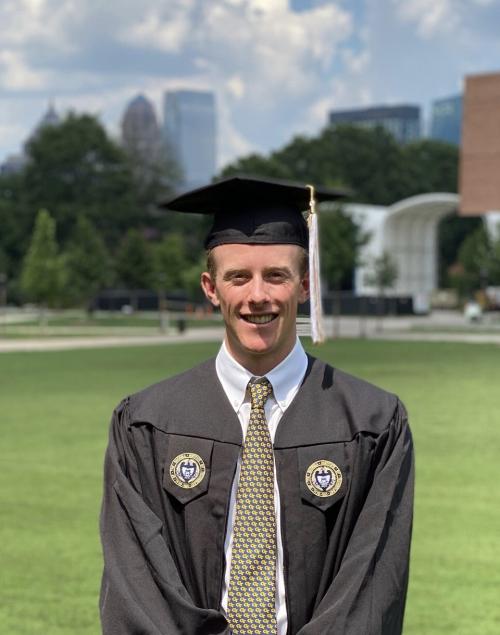 John Freeman '16 is a living testament to the saying "when you love what you do, you never work a day in your life." Freeman was an all-state golfer in high school and instrumental to Christ School's last state-championship team in the sport (2014). Not only that, he was in the field for the 2016 U.S. Amateur tournament shortly after graduation. Freeman is now a Research and Design Engineer for Mizuno's golf division, living and working out of the Atlanta area. Mizuno is a global corporation which makes a wide variety of sports equipment and sportswear. Freeman graduated from Georgia Tech last spring with a degree in Mechanical Engineering.
Question: First, can you tell me a little bit about your position with Mizuno?
Answer: I started June 1. We serve a lot of different sports in the U.S. Baseball is a big one, there is also softball, running, tennis, and many more. All of my responsibilities are in the golf design department. When I started in tech, I thought I was going to end up in the automobile industry. Somewhere around my sophomore or junior year (of college), I started to think that a lot of this stuff I was learning could apply to golf. So I started to think how I could apply engineering to golf and a connection I had helped me get a job here.
Question: What led you to pursue engineering as a career choice?
Answer: I've always been curious about the design side of things. In high school, I was always good at math so I decided to do something with a major that involved numbers and math. Georgia Tech is one of the best engineering schools on the east coast and really allowed me to pursue my passion.
Question: How much do you get to play these days and how are you coping with the COVID-19 pandemic?
Answer: The engineering job doesn't involve playing a lot of golf. We do have a testing facility at the Country Club of the South (in Johns Creek, Ga.) where we test clubs. So there is a little big of range time with the job, but it is mostly focused on design. I do get to play on the weekends some and I just joined a club called Rivermont Golf Club. I've got a lot of buddies there so I'm looking forward to playing with them on nights and weekends. As far as (the pandemic), I guess I've been pretty fortunate to get a job offer and keep it. A lot of my friends who just graduated got their start dates pushed back or got offers rescinded. Atlanta is one of the hot spots for the virus, so I have had to be really careful when I go out. It's been nice to have some buddies here and be able to play golf. I just moved into a new apartment with a roommate I had in college so that's been nice for both of us.
Question: I know it wasn't that long ago for you, but what stands out from your time at Christ School?
Answer: The biggest thing that stands out to me is the golf team. We had a really close group of guys. A lot of them went on to play Division I golf in college and I kind of passed that up to pursue engineering. Every tournament we went to, we had a lot of fun. I'm going to be friends with those guys for the rest of my life. Academically, one thing that really stood out was the relationships I had with my teachers. That is one of the great things about Christ School. At Georgia Tech, classes are so large that the teachers can't possibly know everyone, but I still think they did a good job.