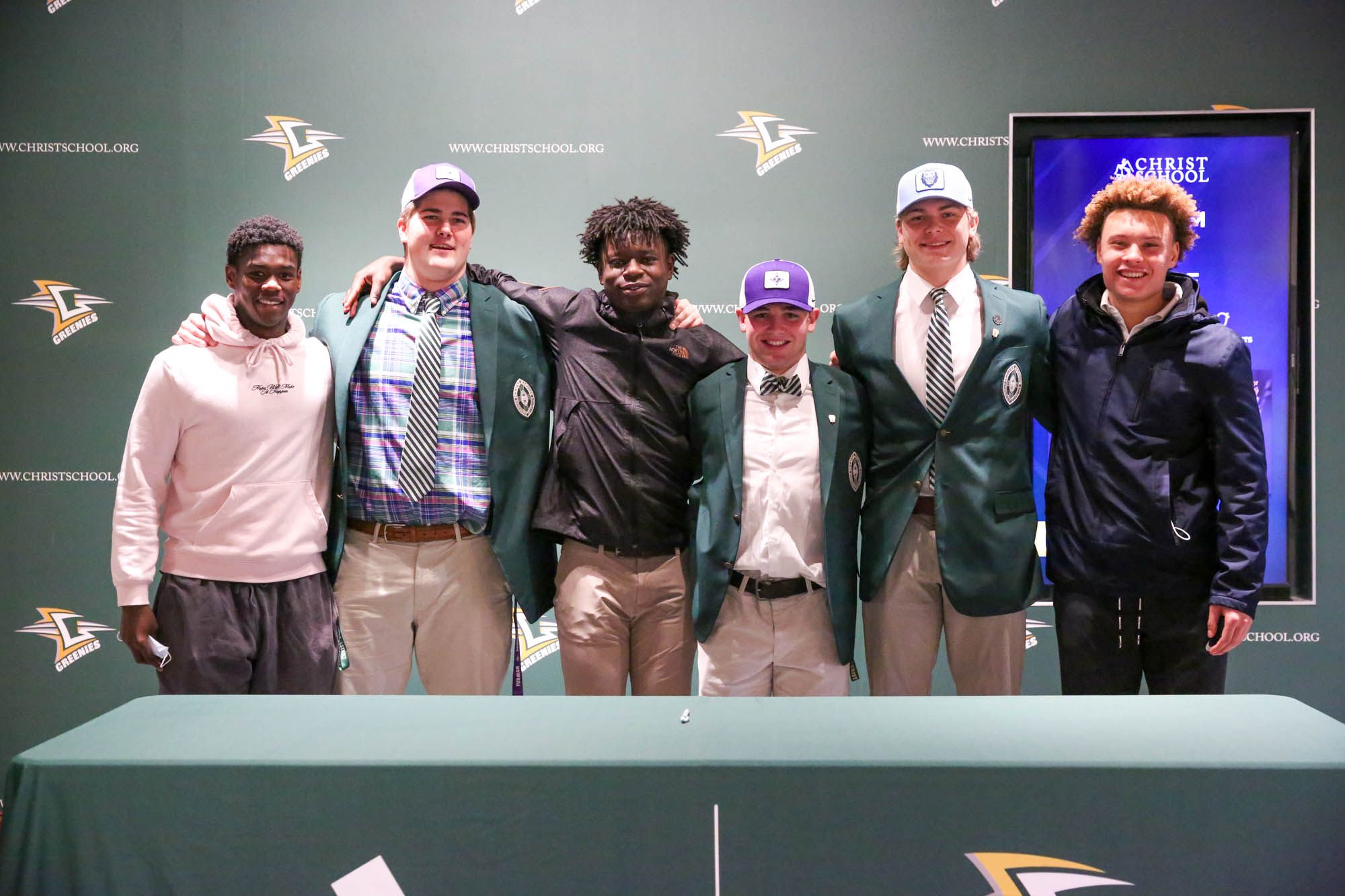 Leaving a legacy can be a tricky proposition.
By all accounts though, Christ School football's performance on the field and in the classroom was greatly enriched by the four seniors who were part of National Signing Day. 
A.J. Simpkins '22 (Columbia University), Brady Ioannidis '22 (University of Pennsylvania), Bryce Sain '22 (Furman University), and Eli Brasher '22 (Furman) put pen to paper before leaving for Christmas Break. Family, teammates, coaches, and local media gathered for a ceremony Wednesday morning in the Athletic Hall of Fame.
"Today is a day to recognize all the hard work you guys have put in and the impact you all have left on Christ School and this community, the school, and not just the football program," Athletic Director Eric Thorp '01 said.
"You guys are state champions, no one can ever take that away from you. You brought the school the first state championship in history. That will never be erased, but the impact you have had in addition to that is phenomenal. Thank you."
"We are forever indebted to you guys," Head coach Chad Walker said.
"I think you guys are all going to have great success. I'm looking forward to seeing you play and grow as men, not only football players."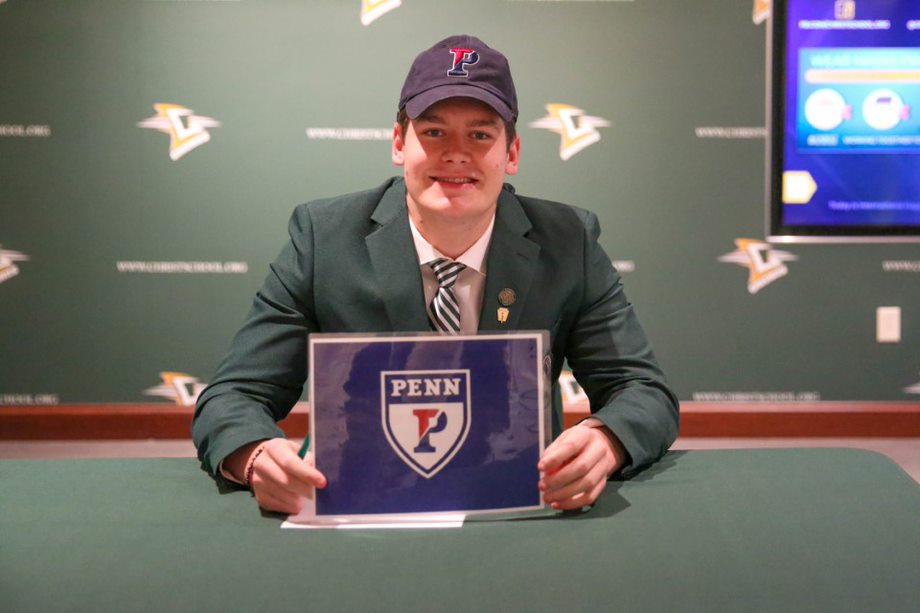 The four seniors were key cogs in Christ School winning the NCISAA Division II state championship in 2020.
This season's team battled through a slew of injuries and a tough nonconference schedule to finish 4-5. Despite the record, the Greenies had their moments. They were the last team to beat eventual NCISAA Division I state champ Charlotte Providence Day (25-21 on Sept. 24), defeated Charlotte Christian for the first time in 17 years (34-31 on Oct. 22), and kept the Fayssoux-Arbogast Trophy at Christ School for a record 10th consecutive year with their 60-24 win at Asheville School on Oct. 30.
A.J. was a 1,000-yard passer in both his seasons as the primary quarterback for the Greenies. Bryce was as busy as ever running the ball this fall and finished with over 5,000 yards in his high school career. He made the NCISAA all-state team as did Eli as an offensive lineman.
Brady is an outside linebacker/defensive end who suffered a season-ending hamstring injury early in the season. To his credit, Brady remained a positive presence on the sideline and in the locker room. He committed to Penn during his Senior Speech on Sept. 24, a speech which motivated the Greenies to go on and beat Providence Day later that night.
Brady and A.J. are the second and third Ivy League recruits that Christ School football has produced in the past two years. Former wide receiver Painter Richards-Baker '21 was part of Dartmouth's run to a conference championship this fall. 
More photos from National Signing Day can be found at this link.