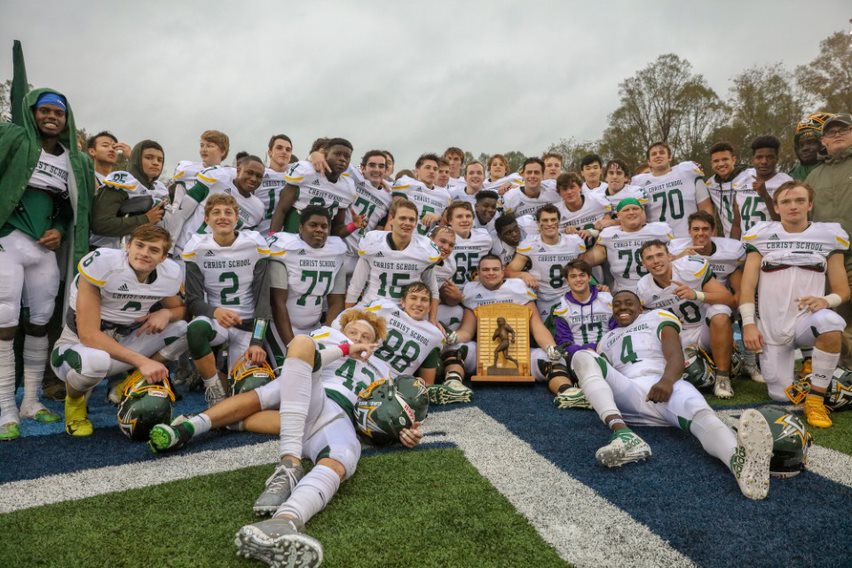 Historically speaking, Christ School football may still be playing catch-up when it comes to the oldest high school rivalry in the Carolinas. But also let it be said that the Greenies have turned the tide in a record way.
Navy Shuler '20 put touchdown passes in the hands of four different receivers Saturday – Aydan White '20, Cade Mintz '21, Cayden Jones '23, and Zack Myers '23 – and called his own number on a 79-yard quarterback keeper in a 40-13 win at Asheville School. Pierce Hammonds '22 rushed for his sixth touchdown of the season in the third quarter.
The Greenies (5-3) are now primed for next week's NCISAA state playoffs by winning "The Game" for an eighth consecutive year. Eight straight wins is the longest streak for either school in the 108 years of the rivalry. Asheville School had previously set the benchmark with seven wins from 1935 to 1941.
Saturday was the 93rd all-time meeting between the programs. The Blues still hold a 50-39-4 edge in the all-time series. The Greenies have gotten a leg up on Asheville School since the Fayssoux-Arbogast Trophy was introduced as the rivalry's annual prize in 1971 with a 27-19-2 count in Christ School's favor during that time.
The 2019 installment of "The Game" was the first to be played in Asheville School's McNaughton Stadium and the Greenies never trailed. Cade found the end zone at the 5:54 mark of the first quarter, tip-toeing the Christ School sideline for a 39-yard touchdown reception.
After Navy's second rushing touchdown in three weeks, Cayden made his first career scoring catch – a 13-yarder in the final minute of the second quarter. Christ School led 21-7 at halftime.
Aydan's first touch of the game was a 91-yard touchdown catch with 7:52 remaining in the third quarter. Finally, Zack shed his defender to snare a 48-yard touchdown from Navy with 6:17 to go in the game.
Christ School will now await Sunday's release of the pairings for the NCISAA football playoffs. Conventional thinking is that the Greenies will either be the No. 4 seed in Division I or the top seed in Division II.