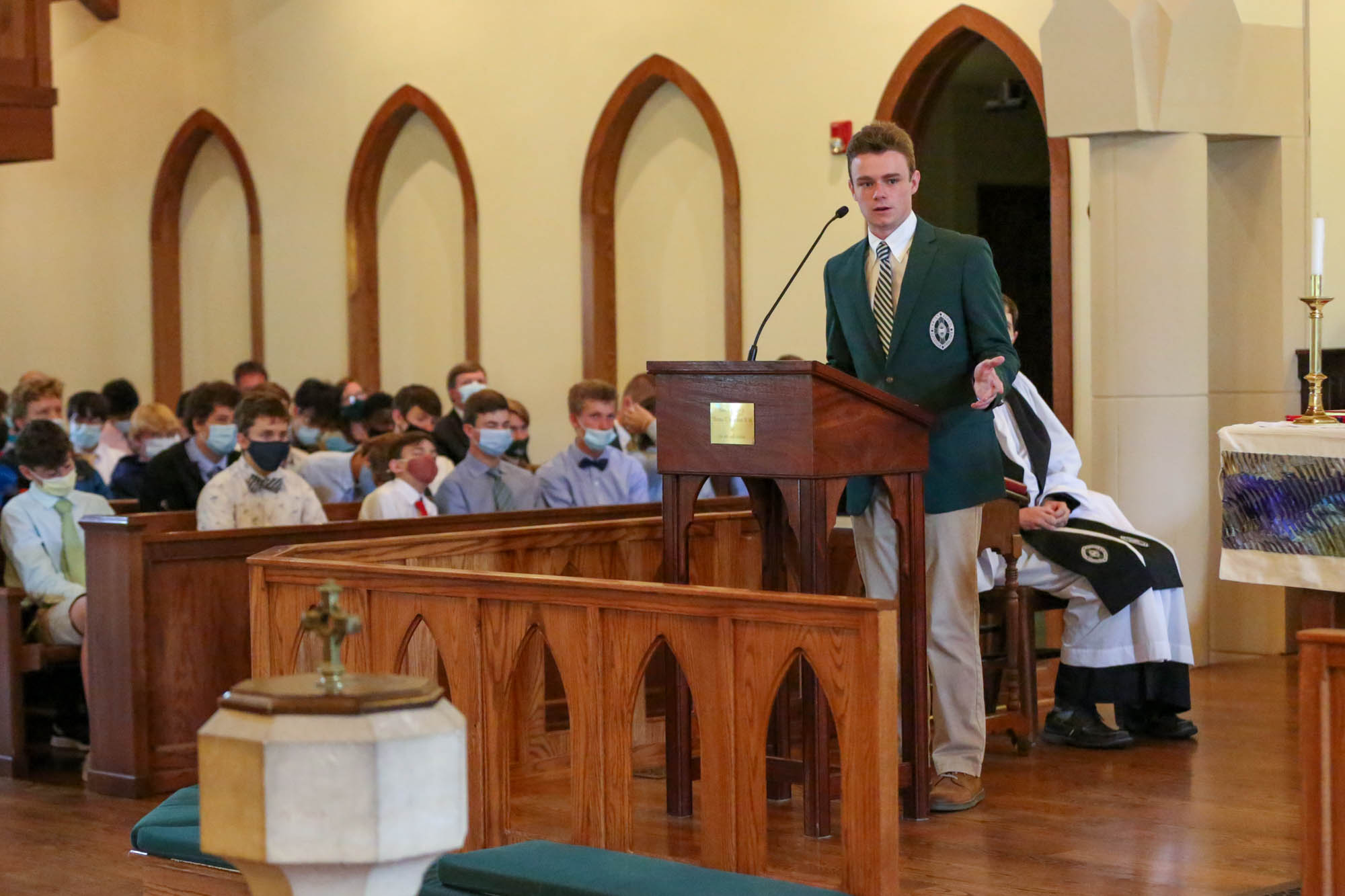 Perhaps no singular moment has come to encapsulate the Christ School experience more than the Senior Speech.
Standing up in front of the entire school requires courage from a boy. Not to mention it takes conviction to share insight and life lessons that have been helpful to his time as a Greenie.  
Colin Brazas '22 was the first member of his class to speak Tuesday in St. Joseph's Chapel, choosing reputation as the theme for his speech. The universal saying "your reputation precedes you" is true, but reputation also succeeds an individual, Colin said.
"It is what will be left behind when you're gone and leave a larger mark on the people you knew than anything else you did," Colin said. "As Napoleon said, 'there is no immortality but the memory that is left in the minds of men.'"
"Come to terms with the fact that you will never be able to please everybody," Colin continued. "Instead, choose those whose perceptions matter most to you, whose perceptions will open the most doors for you. Sacrifice then your reputation amongst those who won't for those who will. This will begin to shape your future."
Colin is a fifth-year senior from Asheville, a member of the Honor Council, and swims. He started out at Christ School the same year as his advisor, Dr. Brent Harris, who introduced Colin on Tuesday and shared his personal thoughts on the Senior Speech series.
"It will not at all feel routine when you come up here," Dr. Harris said.
"In fact, it's a break in routine for the 400 souls that are going to be in front of you to listen what you have to say to them. It will be a time of reflection on this five-year, four-year, three-year, two-year, or even one-year epic of your life. And what you share will be imprinted on our minds, my mind, the minds of this community and it will give us all something to reflect on in the future."
Former Chaplain Kirk Brown and former Headmaster Paul Krieger helped shape much of the current school culture and started the Senior Speech series more than 20 years ago. Every senior is given the option to speak, but it is not required. The boys are encouraged to be sincere, thoughtful, and loving with their message.