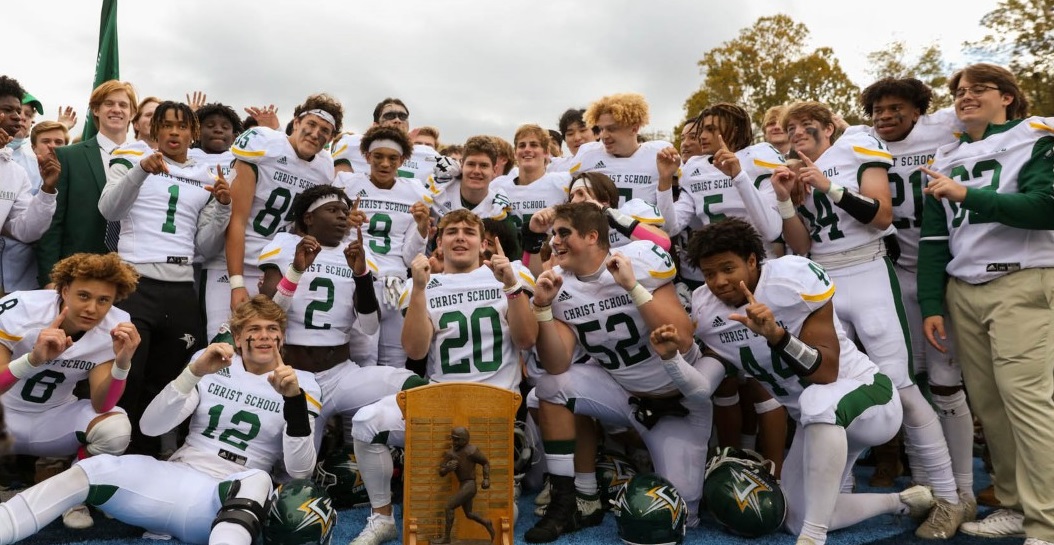 Sensing his football team could use a jolt, Chad Walker went to his bag of tricks Saturday.
An onside kick to start the second half may be the most important call the coach has made in his first year at Christ School. And it got the desired effect. 
The Greenies were energized enough by a recovery from Wilkes Thomas '24 to break a 17-17 halftime tie and take absolutely all the fight out of Asheville School, 60-24.
In his first game since verbally committing to Furman University, Bryce Sain '22 ran for three touchdowns (2, 17, and 67 yards). His quarterback, A.J. Simpkins '22 rushed for two as well (1 and 41 yards) and connected with Zack Myers '24 for his first of two touchdown passes – a 60-yarder at the 6:04 mark of the third quarter.
It was at that point that the Greenies (4-4) were finally able to get some breathing room in the 95th edition of "The Game." Seeking to avoid a record 10th consecutive loss in the series, the Blues (6-3) were a game opponent for the first two quarters.
However, it takes more than two quarters to hoist the Fayssoux-Arbogast Trophy.
Asheville School committed two of its four turnovers in the second half and was only able to score seven points. A.J. Jacobs' 22, back in the Christ School lineup for the first time since August, recovered a fumble. Lou Eesiah '24 and Jack Shimer '23 recovered a fumble as well and Zack '24 made an interception.
Bryce appeared to tweak a hamstring with his last touchdown run, but the offense did not miss a beat with Cooper Perone '24 stepping in at running back. He caught a 14-yard touchdown pass from A.J. Simpkins with 9:52 to go in the game and Lou provided the Greenies' final score via a 69-yard run with 3:38 remaining.
Matthew Hammel '23 not only successfully executed the onside kick, but made a 25-yard field goal for Christ School's first points with 4:11 to go in the first quarter. The junior was a perfect 7-for-7 on extra points.
The all-time series between the Greenies and Asheville School now stands at 50-41-4 in the Blues' favor. Christ School's 10 consecutive wins are the longest streak for either side in a rivalry which began in 1911.