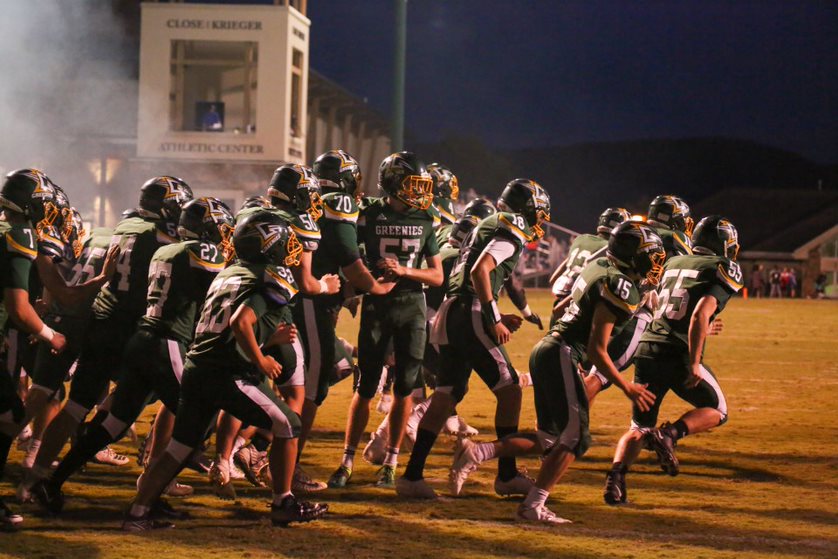 Even an impartial observer could argue that Christ School let Charlotte Christian off the hook not once, but twice in their last meeting.
Nonetheless, the biggest prize of them all is now waiting to be reeled in – the first state football title in school history. The Greenies (6-3) and Knights (7-2) are the combatants for Friday's NCISAA Division I championship game.
Kickoff is set for 7 p.m. in Charlotte.
Friday is the third meeting in two years between the teams. None of those games were as close as the one played October 11 at Fayssoux Field.
Despite falling behind 21-0 and managing just a single yard in its first three possessions, Christ School stormed back. Aydan White '20 returned a punt 94 yards for a touchdown, while Navy Shuler '20 completed touchdown passes to Charlie Browder '21 and Painter Richards-Baker '21. Navy capped off the scoring with a 15-yard quarterback keeper at the 1:21 mark of the fourth quarter that made the score 28-27 in Charlotte Christian's favor.
At that point, Greenies head coach Nick Luhm elected to go for the win, but a 2-point conversion run was stuffed by the Knights. And then Christ School couldn't take advantage of a Charlotte Christian fumble on the very next play from scrimmage. The missed opportunities allowed the Knights to run out the clock and escape with a win in a regular-season game that was televised locally by WMYA (40).
The Greenies are the No. 4 seed in the NCISAA Division I playoffs and coming off a 27-20 semifinal win at top-seeded Charlotte Country Day.
Navy (1,885 yards and 18 touchdowns with seven interceptions) found Painter (16 receptions for 227 yards and two touchdowns) for a 38-yard touchdown throw with just 13.1 seconds remaining last Friday. Other key receivers for Christ School have been Cade Mintz '21 (35 receptions for 512 yards and two touchdowns), Aydan (24 receptions for 498 yards and seven touchdowns), Lex Long '21 (17 receptions for 349 yards and two touchdowns), and Charlie (17 receptions for 185 yards and two touchdowns). The majority of the rushing has been done by Pierce Hammonds '22 (100 carries for 641 yards and seven touchdowns), Cade (28 carries for 309 yards and one touchdown), and Navy (30 carries for 244 yards and three touchdowns).
Defensively, the Greenies have relied mostly on Read Sunn '20 (127 tackles), Jasper Thomas '20 (107), Kiki Alcime '20 (56), Lex (32), Cayden Jones '23 (29), Eddie Willis Fleming '20 (21), Wilson Handy '21 (21), and Charlie Bednar '22 (21). Read made two sacks and blocked a punt last week.
Second-seeded Charlotte Christian has won five straight games, including a 14-7 state semifinal game with No. 3 Charlotte Latin. Matthew Tuoamala, a junior who was previously injured and did not play against Christ School, threw for 171 yards and two touchdowns.  
Christ School has been playing football for more than 100 years. The first organized team took the field in 1912, and the year before that, a pick-up squad played Asheville School for the very first time. The Greenies have been state runners-up on eight different occasions (1976, 1977, 1978, 1986, 2012, 2015, 2016, and 2018).
Friday's game will be live-streamed by Charlotte Christian and may be viewed at www.christschool.org/live. In addition to the Charlotte Christian live-stream, updates will be posted to the Christ School athletic department's Twitter (@greeniesports) as well.