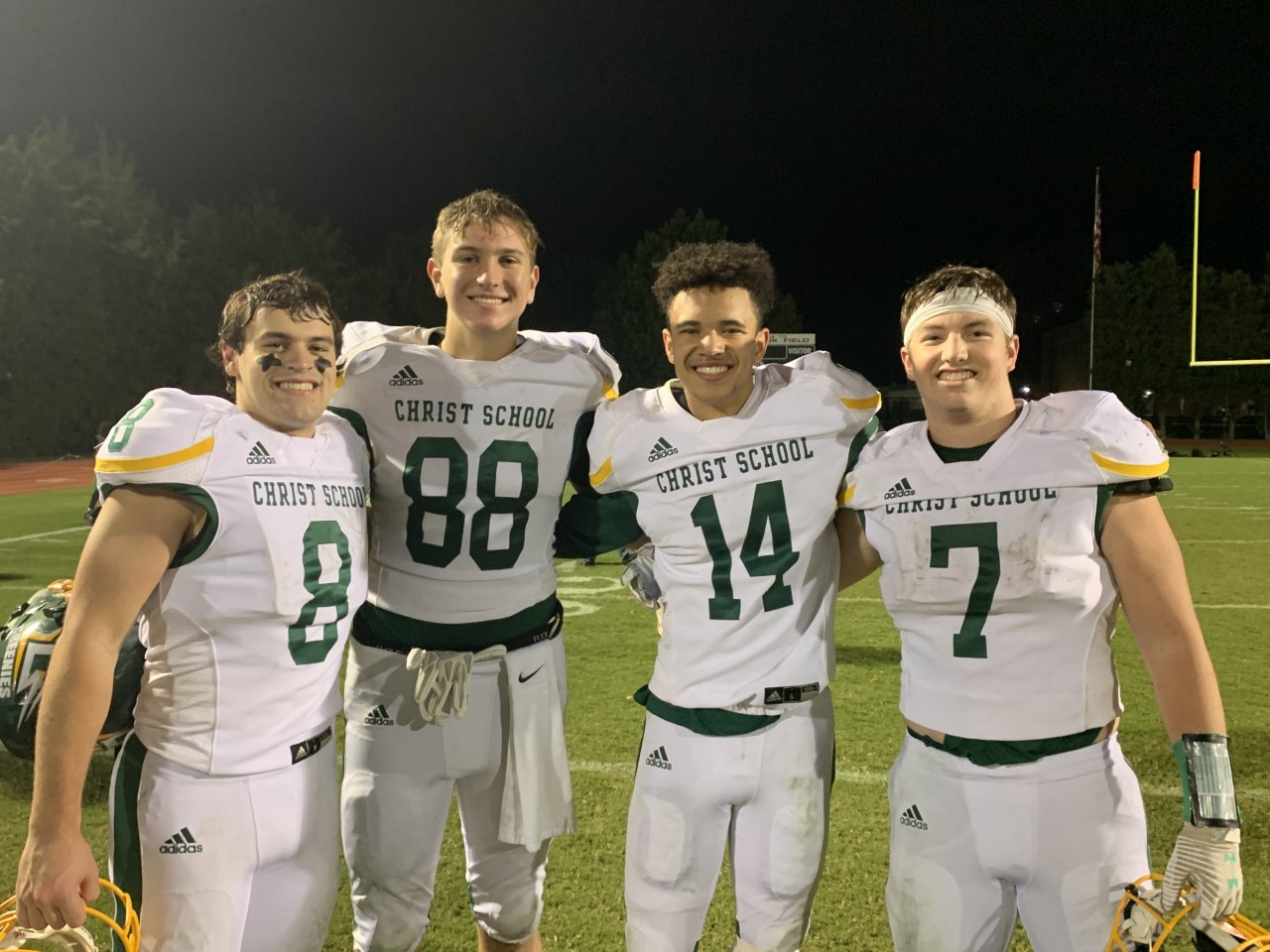 Like it or not, destiny has a sense of humor sometimes.
The path to reach this point has taken some unforeseen twists and turns for Christ School football. However, the special things that always looked like they were meant for this talent-rich Greenie team have come to fruition all the same.
Navy Shuler '20 passed for 151 yards Friday, with none of his 11 completions bigger than a 38-yard touchdown pass to Painter Richards-Baker '21 with 13.1 seconds remaining. The junior from Hillsborough, N.C., did the rest, separating from his defender for the score that would send Christ School back to a NCISAA state-championship game for the fourth time in five years.
Cade Mintz '21 carried the ball 15 times for 130 yards and a touchdown as the No. 4 seed in the Division I playoffs went on the road to upend top-seeded Charlotte Country Day in the semifinals, 27-20.
The Greenies (6-3) not only avenged last month's 13-7 regular-season loss to the Buccaneers (9-2), but punched their ticket to next week's state final at defending champ and No. 2 seed Charlotte Christian (7-2). Kickoff will be at 7 p.m. in Charlotte. 
"I'm proud of everyone. The offense, the defense, everyone," Navy said. "This is an awesome feeling. But we still have one more to go."
Charlie Browder '21 accounted for Christ School's first touchdown – an 11-yard reception at the 10:25 mark of the second quarter. From there, the Greenies ran the ball more than they have all season long, with Cade and Pierce Hammonds '22 doing much of the heavy lifting on a cold night in Charlotte. Pierce gave the team a 19-7 lead on his 1-yard touchdown run with 4:21 to go in the third quarter after Christ School had been in front 13-7 at the half.
Read Sunn '20 blocked a Charlotte Country Day punt and had two sacks. Aydan White '20 made an interception.
"Our guys finished the game tonight," Greenie coach Nick Luhm said. "It's so amazing to see them go out and do the things that we talk about and work on in practice. We were very confident in our approach and felt like we had solid plans for what we wanted to do. We didn't play a mistake-free game by any stretch, but we showed so much grit and resilience."
The Christ School offense only had 1:29 of time left for its final possession and drove 80 yards, including a fourth-down conversion deep in Greenie territory. 
Looking to next week, Christ School and Charlotte Christian know each other well. The Knights got the better end of a game on October 11 (28-27 at Fayssoux Field) and protected their own turf with last year's 43-14 win in the NCISAA Division I state finals.
The Greenies have never won a state championship in football and are due, having been a runner-up eight times (1976, 1977, 1978, 1986, 2012, 2015, 2016, and 2018).