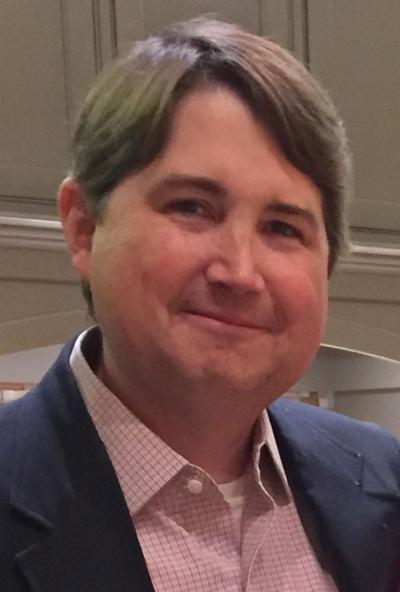 Everett Catts '90 is coming up on a big anniversary. In December, the Christ School alumnus will have been a full-time journalist for 25 years. Catts has worked as a writer and editor during that time, winning more than a dozen awards for his sports coverage. He has been News Editor for the Northside/Sandy Springs/Vinings Neighbor newspapers in Atlanta for the past 14 years. Catts began this conversation talking about how his time at Christ School inspired his career path.
Question: Looking back, do you remember what made you want to be a journalist?
Answer: A couple things. When I was at Christ School, I got to meet Gary Smith who was a writer for Sports Illustrated and knew Reed Finlay '58. That was a big moment for me. When I was in college, I also met Frank Deford and John Feinstein when both came to speak while I was at Presbyterian College. There was another influence. I had a Sports Illustrated subscription since I was 12 and always enjoyed reading lots of articles in other publications as well.
Question: Tell me about the paper you are at now and how has the business changed during your time there?
Answer: We are a weekly print newspaper, part of a chain of papers in Atlanta. Back when I started, the print edition had an average of 40 pages or more and I don't even think we had a website. Nowadays, our website is leaps and bounds beyond what it used to be. Once we post articles to the website, we post to Twitter as well. With the evolution of journalism, the print edition has gone down in size and our staff has gotten smaller over the years. Even though we are a weekly, we are constantly adding content to the website, constantly putting more resources and effort into it.
Question: I imagine this is an interesting time to be in your profession with the COVID-19 pandemic and civil unrest occurring at the same time?
Answer: (Pandemic coverage) has kept us busy, covering all the different businesses and organizations that are doing things and being impacted by the virus. There are lots of events being cancelled, postponed, or shifted to a virtual format. Right now, there is a lot of demand for a mask mandate in Atlanta and we've been writing about the possibility of that. Also, about once a week, we've done an act of kindness story. We haven't covered the protests a lot since most have taken place downtown and we only cover downtown on a secondary basis. We leave a lot of the big statewide news to the Associated Press or Capitol Beat news service.
Question: It's been 30 years since you graduated from Christ School. What do you remember about your time here?
Answer: I was just reading through The Galax and the senior experiences. My situation in high school is I had just finished my sophomore year and my grades were slipping. My parents decided to send me to Christ School so I could get my grades up and get into a good college. I would say I was sent kicking and screaming, but once I got there, within two weeks I was fine. Overall, it was a great experience. I had too many distractions back home and Christ School was an environment where I could focus on academics and try a lot of activities like rappelling and rock-climbing that I normally would not have. Boarding school in general was a good option and it worked. I don't know exactly what my GPA was, but I mostly made A's and B's.