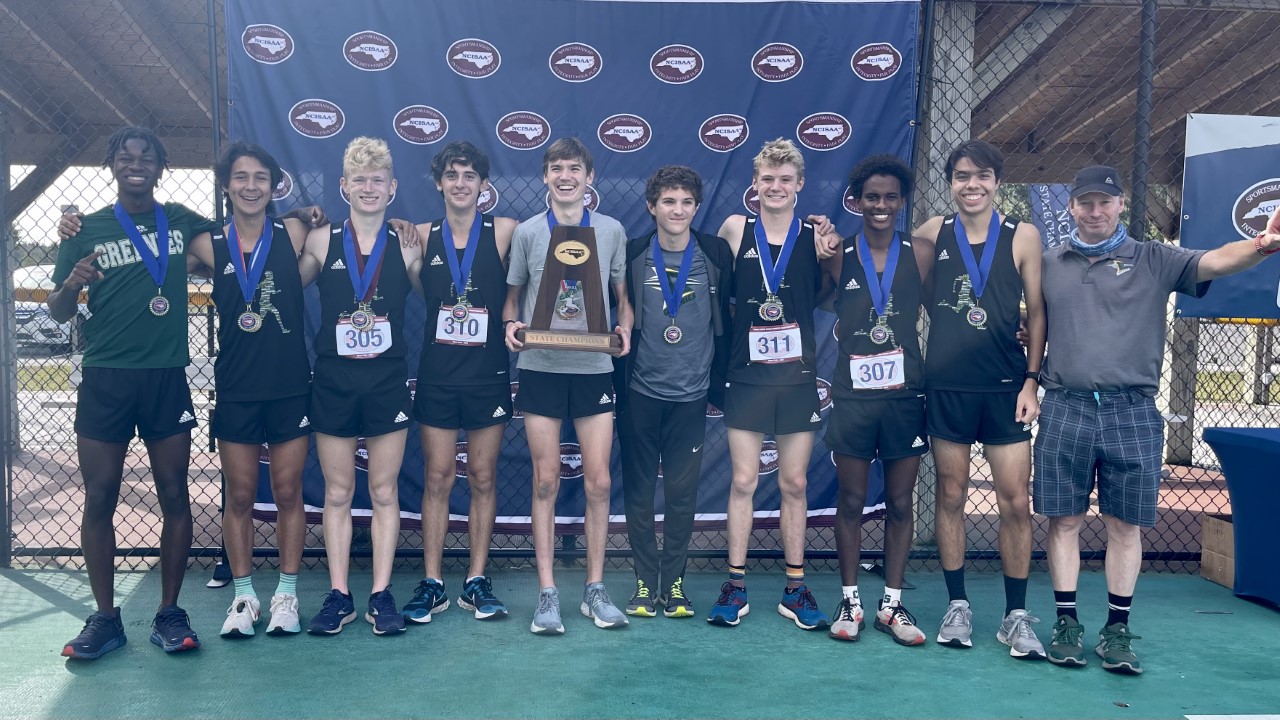 STATE champions, in every sense of the word.
Christ School runners saw a large swath of North Carolina outside their bus windows on a 320-mile drive that began in the Blue Ridge Mountains and ended in the coastal flat lands of Wilmington.
The final destination was historic.
Just as they've done all season long, the Greenies flexed their speed, endurance, and depth Friday to win the program's first-ever team state championship.
Rocky Hansen '23 (15 minutes, 21.80 seconds), Dawson Reeves '24 (15:47.10), and Jackson Burch '22 (16:07.90) took the NCISAA 4-A boys meet's top-three places individually. The all-state trio were joined by Jack Cross '22 (11th place, 16:27.90) and Eyob Gill '24 (18th, 16:54.00) to give Christ School a winning score of 35 points. Kahzi Sealey '23 (20th, 16:58.40) and Luke Parrish '24 (36th, 17:32.40) turned in strong races as well on the grounds of Olsen Park.
Durham Academy was a distant second place to the Greenies with 75 points and every other school in the 17-team field had more than 100 points.  
"The main guys coming back from last year had a Zoom call over the summer and one of the things we walked about was winning this first state title for Christ School," Coach Randy Ashley said.
"The kids were focused on a job. They had a goal and did everything we asked them to do to reach that goal in a dominant way. This is about as good as it gets. And to have Rocky as the individual champion is more than just icing on the cake. The boys really took care of business."
Coach Ashley said that being so far from home was actually a positive as the boys were able to race with minimal distractions. The team took a celebratory trip to the beach after Friday's awards ceremony. 
Christ School had been a state runner-up in cross country four times (1978, 1984, 1986, and 1988), but never gotten over the hump until this year.
Rocky is the fourth individual state cross country champion in school history with Friday's time being seven seconds faster than his own previous school record for 5 kilometers (3.1 miles).  It is the second-best time that has ever been run in a NCISAA boys championship meet.