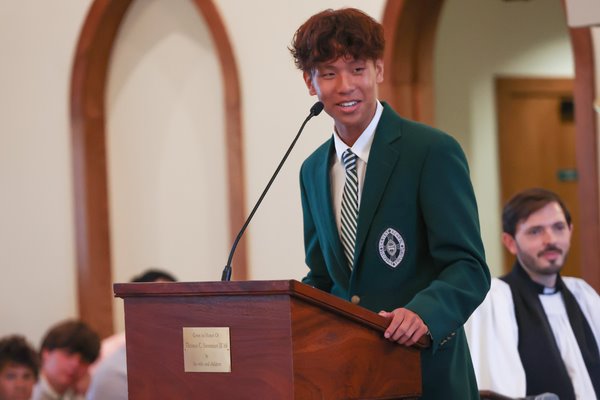 Jonathan Chen '23 laid it right out there in Thursday's introduction, with the kind of honesty and humor that could only come from a Christ School boy.
"To the juniors, here's a word of advice. I urge you to sign up for your Senior Speech unless you want to be assigned the very first spot. Thanks, Father Roberts," Jonathan said with a wry smile.
Maybe giving the first Senior Speech of the year was a great responsibility that wasn't ideal for Jonathan. But he had more than enough presence and confidence to pull it off.
As the boys typically do, Jonathan pulled from his personal experience to talk about the value of diligence and second chances. The turning point in Jonathan's life occurred in the early months of the COVID-19 pandemic when he was hospitalized with a kidney issue.
"I was given a second chance, but for many, second chances never come," Jonathan said. "It took a traumatic experience for me to develop a whole new outlook on life. That moment taught me that anything and everything can happen to you. Life isn't fair, and life certainly isn't long."
"Life is too short to be turning around and regretting the things you could have done," he continued.
"Regret is only good for wallowing in. If you don't do well on your first test, instead of feeling sorry for yourself and complaining, use that time to study. If you don't perform up to standards in the last game or match, look to do better in the next game. We all make mistakes. We all have struggles. We all regret things in our past. But you are not defined by your mistakes, you are not your struggles, and you all sit here now with the power to shape your day and future."
Jonathan is a member of the Varsity Soccer program and his hometown is Arden.
The Senior Speech series was started more than 20 years ago. Between now and next May, the rest of the Greenies from the Class of 2023 will be given the opportunity to speak about a topic of their choosing.
Each boy is introduced by their advisor with 2022 Teacher of the Year Hamid Najafi handling the honors Thursday for Jonathan.  
"This is one of the most special things we do," Father Roberts said. "I look forward to these speeches more and more every year."