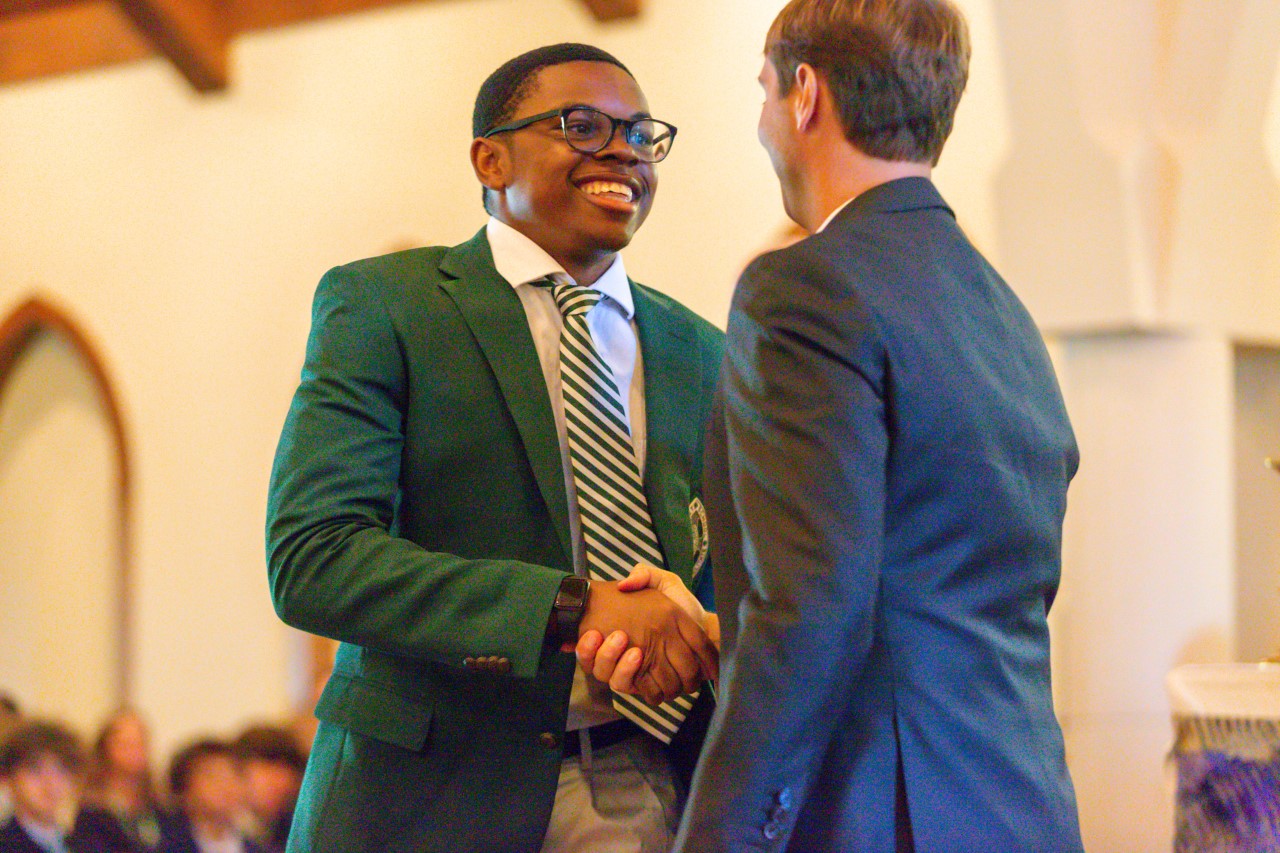 "Gentlemen: Wear this jacket with the same pride as you wear a Christ School uniform, on the field and on the court. You are winners. You are winners in the classroom, you are winners in athletics. You are winners because you work hard. You are winners because you are, and you will always be leaders. You are winners for having the opportunity to attend this wonderful school. It will set you apart from the crowd for the rest of your life."
- John Beard '84 P'18, Christ School Board of Trustees President
The Green Blazer is unlike any jacket a boy has ever worn before or will wear after.
It is "an outward sign of an inward change" as Father John Roberts succinctly put it in Wednesday's blessing.
Christ School's Class of 2023 is dressed for success as well as the school's reliance on them as leaders for the next nine months following Wednesday's presentation of jackets in St. Joseph's Chapel.
One by one, the seniors received their jackets and encouraging words from Head of School Dr. Sean Jenkins, who devised the idea for the all-school ceremony in 2021. Students and faculty bookended the ceremony by singing the school hymn, "St. Patrick's Breastplate," and school alma mater "Sing to Three, Christ School Eternal."
Board of Trustees President John Beard '84 P'18 spoke at the ceremony for the second consecutive year. Three generations of the Beard family have attended Christ School and John said Wednesday that his heart is set on autopilot when he makes the three-hour drive to campus from his home in Greensboro, N.C. He is President and CEO of Beard Hardwoods, Inc.
"Christ School taught me how to work hard and it taught me how to be an effective leader," John told the boys.
"For that, I am eternally grateful and it's why I try to give back every opportunity I have to this special place. I encourage you to do the same. I can't tell you how satisfying it is to come back and give back."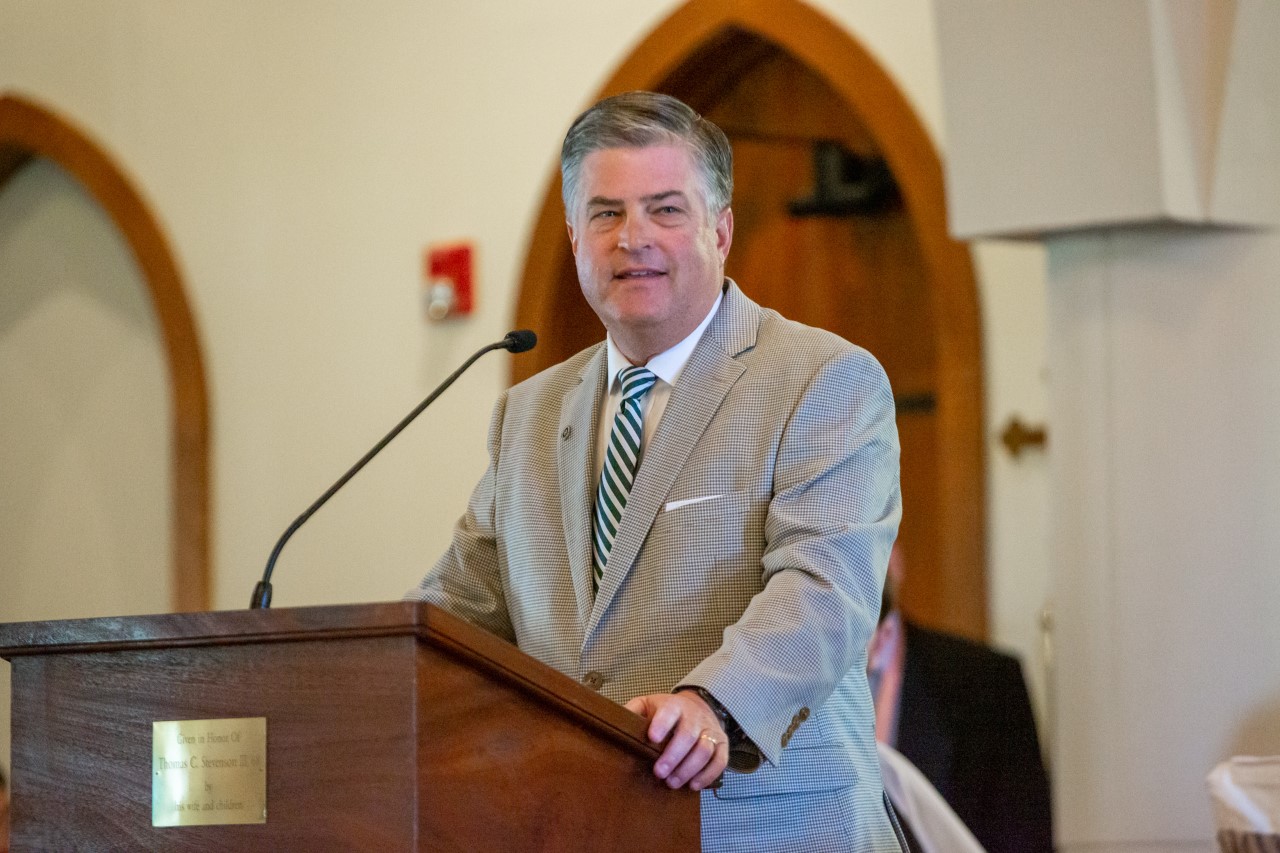 Christ School's Class of 2023 consists of these boys (in alphabetical order): Kennedy Achugamonu, James Baldwin, Raymond Berryhill, Meyhun Bhatt, Scott Brouse, Quinton Cancel, Jonathan Chen, Havilah Cooper, Ty Dixon, Michael Drendel, Rhodes Feild, Tidiane Gakou, Noah Graham, Chase Gribble, Matthew Hammel, Rocky Hansen, Max Hartwig, Steven Hernandez, Kenny Hesselson, Jack Hiller, Henry Holland, Christian Hudson, JoVaughn Hudson, Jamal Hutchison, Avery Kessler, Sebastian Knight, Jackson Knoll, Taylor Kuehn, Vovi Lagutin, Levi Lastinger, Wiley Lastinger, Dylan Lindsey, Phillip Lopez, Sam Ludington, Henry Lytle, Tray Mauney, Caleb McClellan, Parker McGuire, Chapin Mohney, Triston Mowry, Zack Myers, Henry Nicholls, Ethan Park, Will Peeler, Matthew Pethel, Johno Pierce, Brody Raleigh, Jack Rheney, Emanuel Richards, Jaron Richardson, Owen Riley, Alex Rivera, Peter Roberts, Anthony Robinson, Aiden Schook, Kahzi Sealey, Brian Sheridan, Jack Shimer, Brighton Shook, Seth Shuler, Matthew Sorrells, Jack Staley, J.D. Steven, Tom Tang, Campbell Vernon, Ian Williams, Ethan Xiong, Kevin Yang, and Bill Young.
Graduation for the Class of 2023 is scheduled for May 21, 2023. More photos from the Green Blazer Ceremony will be shared later Thursday on Christ School's social media channels.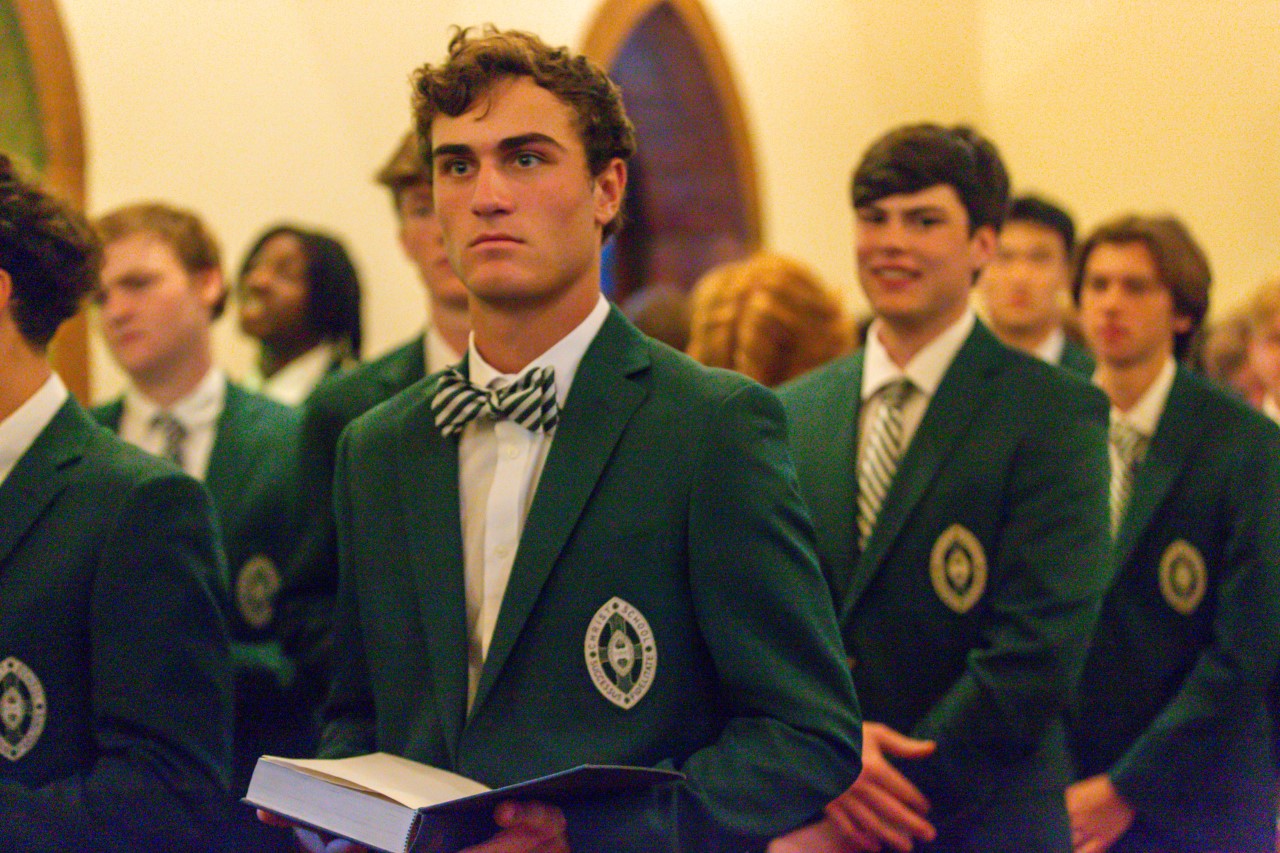 ____________
Founded in 1900 and nestled on 500 acres in the Blue Ridge Mountains in Asheville, North Carolina, Christ School is a leading all-boys college preparatory boarding and day school for 300 boys from 18 states and 8 countries. Christ School's mission is to produce educated men of good character, prepared for both scholastic achievement in college and productive citizenship in adult society. We achieve our mission through four pillars: academic rigor, leadership, spirituality, and the dignity of manual labor.