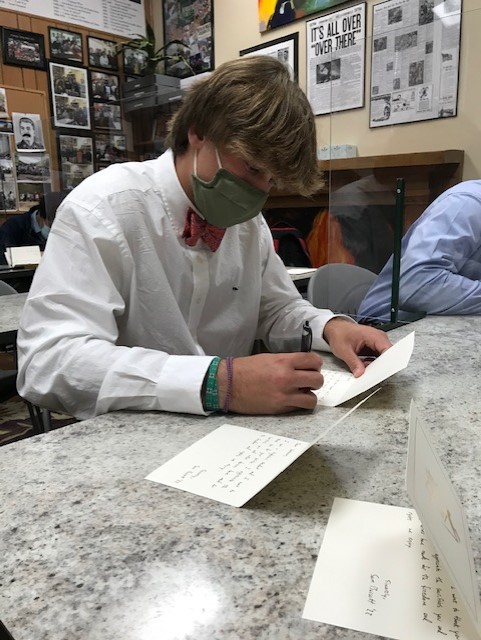 Christ School had an extra-special delivery Wednesday morning for nearly 300 veterans in the Asheville area.
Lately after school, Greenies have been writing thank-you notes by hand in History instructor Olga Mahoney's classroom and the boys built up quite a stack. Mrs. Mahoney said she dropped off 287 notes on Veterans Day to the local VA Hospital and Veterans Restoration Quarters.   
The notes were just a small token of appreciation from the school, which makes a year-round effort to recognize veterans.
Christ School's Veterans Service Club was founded with noble intentions two years ago by James Coleman '20. Membership has remained strong with 39 boys under current club president Connor Jones '21. Connor is a senior from Asheville who is hoping to receive an appointment to West Point.
The Veterans Service Club oversees volunteer opportunities at the VA and VRQ, which were more frequent before COVID-19. The club also organizes the annual 22 Push-Up Challenge in Alumni Plaza. Greenies do 22 push-ups for 22 mornings before class to raise awareness for veterans suicide prevention as it has been estimated that 22 veterans take their lives each day.
Along with Connor, other members of this year's Veterans Service Club are in alphabetical order: Reese Ballard '24, Sam Bassett '22, Charlie Bell '21, Tyler Bell '21, Colin Brazas '22, Sawyer Breiter '22, Stewart Buchanan '21, William Chaffe '21, Garrett Clapsaddle '21, Havilah Cooper '23, Parker Davis '22, Sean Dow '21, Colson Etheridge '22, Tommy Ferguson '22, Sanford Gardner '22, Jack Godwin '22, Noah Graham '23, Wilton Graves '21, A.J. Hesselson '22, Charles Howden '22, Frank Howden '22, Michael Jaber '22, Sam Jarrett '22, Jack Lee '21, Jake Liss '24, Alex Lontz '21, Phillip Lopez '23, Henry Nicholls '23, Jackson Ogren '22, Will Purvis '22, Luke Rheney '21, Owen Riley '23, Peter Roberts '23, Cade Rodriguez '21, Grant Ruch '21, Matthew Sorrells '23, Luke Stone '21, and Wesley Thomas '22.
Christ School has six veterans who are part of its faculty and staff: Mark Crawford (U.S. Army), Jennifer MacDonald (U.S. Army Intelligence), Mike Mohney (U.S. Navy), Lindsay Raiford (U.S. Army Nursing Corps), Les Thornbury (U.S. Navy), and Tad Wheeler (U.S. Marine Corps).