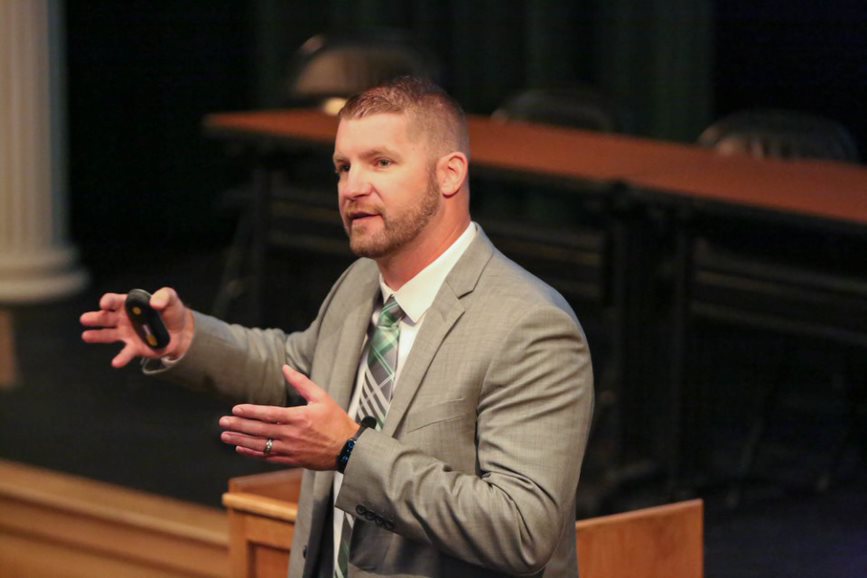 Christ School football experienced a seismic breakthrough in 2020 with the program's first-ever state title. The challenge of building on that success now lies with new Head Varsity Football Coach Chad Walker.  
Coach Walker was introduced to the school community Thursday, May 13, during Assembly in Pingree Auditorium on campus. 
"I'm excited about the opportunity to not only embrace the winning tradition here and maintain that success, but also to try and raise the standard to an even higher level," Walker said. "I've been blown away by the character and demeanor of everyone I've met and look forward to getting started." 
Walker has a proven track record in program building, player development, and a commitment to academic excellence. Coach Walker comes to Christ School from Cambridge Christian School in Tampa, Fla., where he was the 2020 Florida Athletic Coaches Association 2-A District 15 Coach of the Year. The Lancers (9-2) not only won on the field but also had the third-highest grade point average in the Florida High School Athletic Association. Walker, who will also serve as Athletic Department Assistant, brings that same dedication to education and academic pursuits to Christ School. 
"We are thrilled to welcome Chad and his family to Christ School," said Head of School-elect Dr. Sean Jenkins. "He is fiercely committed to excellence in both academics and athletics and has a proven record at the collegiate and high school levels. His values, faith, and ability to develop young men of character will enhance our community far beyond success in football." 
Prior to Cambridge, Walker worked for several collegiate football programs including as an assistant coach at Lafayette (his alma mater). He has experience training NFL veterans as well as prospects for their combines and pro days. He is also involved with the Lauren's First and Goal Foundation, a group that hosts the largest one-day football camp in the country to raise money for cancer-related causes. 
Walker was an all-conference player at Lafayette, where he graduated with a B.A. in Anthropology and Sociology in 2006. He played football professionally in Italy and Sweden before starting his coaching career in 2008.  
Chad will be joining the Christ School community along with his wife, Victoria, and their daughter, Elle (7).  
"We are excited to have Coach Walker and his family join Christ School. They will be a valuable addition to our community," Athletic Director Eric Thorp '01 said. "He not only has the ability to coach and train our collegiate-bound players, but also understands the importance of a strong, positive team culture, and that every member of the team is important to the program's success." 
Christ School began a nationwide search for its next coach in March. The Greenies went 6-2 last fall, winning their last six games, including a 55-21 victory over Harrells Christian Academy in the NCISAA Division II championship finals on Nov. 20.