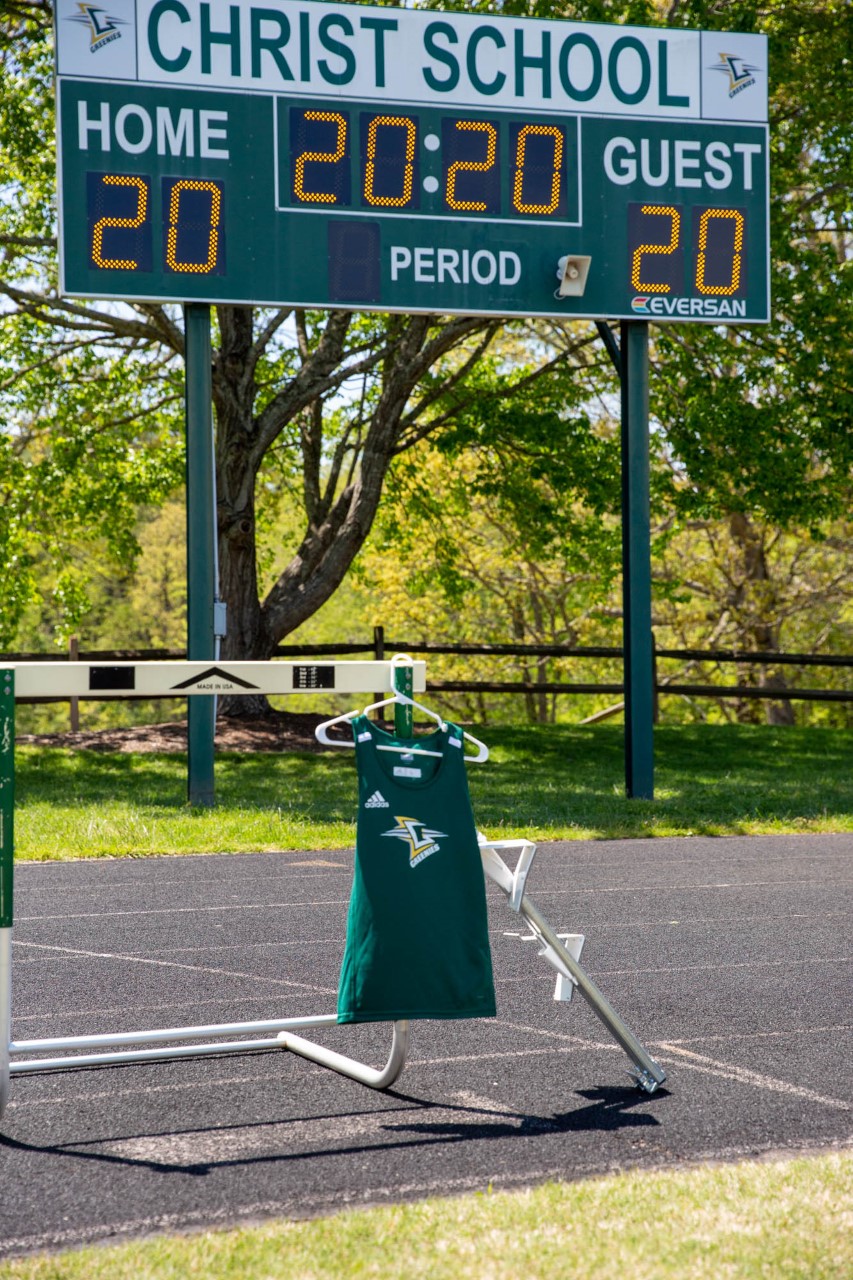 Christ School's Class of 2020 left an indelible mark on Greenie athletics, even if some seniors did not get the end to their high school careers that they wanted. In accordance with North Carolina's Stay at Home Order, the NCISAA announced on April 24 that the spring sports season was cancelled due to the COVID-19 pandemic.
Today, the Christ School Athletic Department continues a week-long celebration of the Class of 2020's spring sports athletes on our website and @greeniesports social media. Each day will be devoted to a different sport, with that coach reflecting on what the seniors meant to the program and the school.
Day 2: Track & Field
Even with some key losses to graduation in 2019, Christ School Track & Field was poised for a potential state-championship threepeat at this spring's NCISAA Division I meet. The Greenies were scheduled to run, jump, and throw at least 10 times this season, starting with a March 20 meet in Simpsonville, S.C., that never transpired.
Head coach Randy Ashley and assistant coach Emily Pulsifer P'15, P'17 collaborated on these remarks about 11 returning seniors who were expected to compete for the Greenies.  
Kiki Alcime: Kiki helped guide the Christ School sprinters to a strong work ethic during his sophomore and junior years. When his teammates might be tiring from a long session, Kiki had a way of smiling and saying, "Let's just get through one more, guys." He always hit the track with a smile and had a strong sense of team. He was a fantastic sprint relay team member and always pushed himself to his limits.
Aaron Chen: Aaron always stepped onto the track with a big smile on his face. He worked doggedly on the track and showed marked improvements with limited practice time because of his numerous music commitments. His earnest demeanor began immediately as a workout started and this characteristic will carry Aaron to success in every part of his life.
Thomas Doss: Thomas made huge strides during his time on the track team. Every year, Thomas gained strength and confidence, and his times reflected that growth.
Ray Faison: Ray Faison made an immediate impact when he stepped onto the Christ School campus in the middle of his junior year. In his first 800-meter race as a Greenie, he ran the second-fastest time in CS track history (1:56.74). He played an integral role in the winning of the 2019 state championship, anchoring the 3,200-meter relay team (which set a school record and earned a fourth-place finish), finishing second in the long jump and the 800-meter run, and leading off the 1,600-meter relay team which won that event. Ray is simply a great athlete, and we have not heard the last of this fine young man.
Miles Gardner: Through consistent effort and attention to the fine point of technique, Miles Gardner became one of the best hurdlers in track history at Christ School. Miles set the school record in the 300-meter hurdles (41.20 seconds) at the 2019 state meet. He also scored in the 110-meter hurdles and on a relay. Miles is the second-fastest 110 hurdler at CS, ever. Miles commitment to excellence in everything he does will serve him well at the University of Chicago.
Connor Hall: Connor came off the soccer field as an all-state player to give our 2019 track team the depth it needed. He was on the 3,200-meter relay team that set the school record, recording a personal best by five seconds. More than anything, his daily work ethic bolstered the Greenie philosophy of getting work done daily to improve. His wonderful, goofy personality shone through and will be missed as much as his impressive athleticism.
Andrew Hammel: Andrew is the best distance runner to attend Christ School. He set the 5-kilometer cross country school record multiple times and can claim the top-seven fastest 3200-meter times run in school history. He is also the third-fastest 1600-meter runner in school history. Andrew's work ethic is astonishing. He set a tone for the middle- and long-distance running programs at CS that will last forever. He proved that hard work equals strong results, and his attitude and performance have redefined the distance running program at Christ School.
Richard Lytle: Richard became a pole vaulter for Christ School in 2019. Drawing on his experience as an elite whitewater paddler, he showed the strength and patience necessary to develop into a skilled vaulter. The team benefitted from his example as a quiet, but committed member of the program.
Tommy Schleusner: Tommy Schleusner proved himself to be an incredible, versatile talent amongst a lot of talented track athletes. He helped the 2019 team by consistently performing well in the 300-meter hurdles and the high jump before becoming a legend in the 1,600-meter relay at the state meet. Running the third leg of the championship's final event, Tommy produced an epic burst of speed when a rival squad threatened to overtake him in the last 200 meters. It has been a joy to witness the growth of Tommy Schleusner, both as an athlete and a young man.
Joseph Visconti: Joseph will leave Christ School as the second-best 5-kilometer cross country runner and the second-best 1,600-meter runner in the school's history. He was a vital part of the four-man squad that set the school record in the 3,200-meter relay in 2019. With teammate Andrew Hammel setting the pace, Joseph demonstrated a work ethic that elevated his performance and secured him a spot on the list of legendary Greenie runners. 
Aydan White: In terms of state championships, Aydan White goes down as one of the most prolific track athletes in Christ School history (and of course, he achieved that level of excellence in just three seasons). Aydan won a state title in the 110-meter hurdles his freshman, sophomore, and junior seasons. He has the seven fastest 110 hurdle times ever at CS. Aydan won the high jump state championship in 2019 and finished second in his freshman and sophomore years. Aydan also led the 400-meter relay team to a second-place finish in 2019. Aydan's athleticism and strength as a hard worker set a tone for Christ School track as soon as he walked on campus. Confident but never arrogant, Aydan's impact on the program was significant.